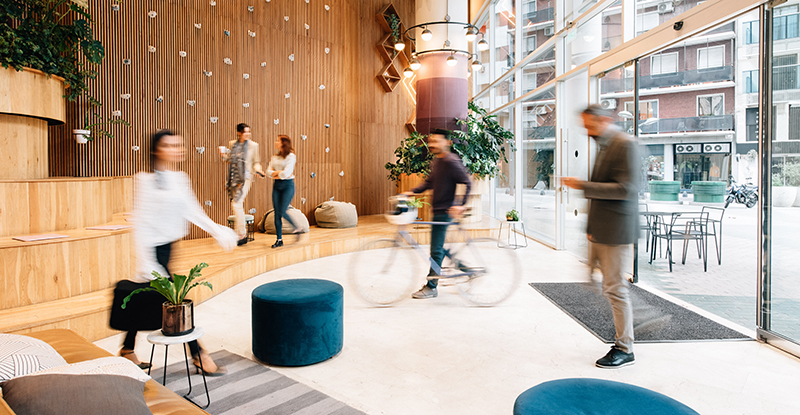 Photo credit: ferrantraite/E+/Getty Images
Learn how organizations can support their people as we return to the office with Lifeworks' Allison Kelly, director of research and analytics and Cam Sekora, customer success manager by listening to this podcast episode. Hosted by Kerri Brkich, vice president, external affairs and communications for CPABC. Part of our Coffee Chats with CPABC podcast series.
---
The COVID-19 pandemic has taken a toll on the mental wellbeing of many people. According to a Statistics Canada survey on COVID-19 and mental health conducted in 2021, one-in-four Canadians aged 18 and older screened positive for symptoms of depression, anxiety, or posttraumatic stress disorder (or PTSD), up from one-in-five in 2020.
This spring many workers are returning to the office, either in a hybrid schedule or permanently, for the first time in two years. It is important that workplaces support their people through this transition and beyond, and that workers also look after their mental wellness. To better understand what this transition means and what organizations can do to support their people, we spoke with Lifeworks' Allison Kelly, director of research and analytics and Cam Sekora, customer success manager.
What can you tell us about the mental health of Canadians in general and specifically working in the professional services industry?
Allison: At Lifeworks, we have been surveying Canadians through the Mental Health Index each month since April 2020 and we have and continue to see a significant decline in the collective mental health of the working population. At present, the mental health of working Canadians is more than ten points lower than our pre-2020 benchmark. In addition, one-quarter of employed Canadians reported a decline in their mental health, and 20% feel they are in crisis or have concerns about their ability to cope.
Some segments of the population have been more adversely affected than others. Women, parents, managers, post-secondary students, and people without emergency savings are the groups whose mental health has shown the greatest decline in the last two years. And while Canadians across all industry sectors have shown a reduction in mental health compared to before 2020, generally speaking, employees in professional services have done better than the national average.
However, it should noted that employees in professional services have had scores between six and 11 points below the pre-pandemic benchmark since April 2020. So while their scores are higher than the Canadian population, this group is still experiencing a significant reduction in mental health.
One of the factors that impacts mental health in the Canadian population is financial risk. Those employed in professional services typically have a lower level of financial risk, which is defined as a lack of emergency savings or having less than two months of savings for essential expenses. Another reason why this group might have better mental health compared to the Canadian population overall is flexibility, as they are more likely to have the option to work remotely given the nature of their work. Flexibility has been shown to be a mitigating factor and is very highly valued among employees. In fact, we found that those with flexible work arrangements have better mental health.
The hybrid work environment certainly created flexibility, but the flip side of it, is it could also be very isolating. So, how might some companies manage these new expectations?
Allison: It's important to recognize that people want a little less structure now. People will expect options, not necessarily unlimited options, but some clear options. It's important to recognize that there are different needs for different people. We found that in our research, over 60% of the workforce are craving in-person interactions. We've all kind of been isolated, so many of us are feeling a need for change, whether it's going back to the office or adopting more structured policy around work from home.
We need to recognize the differences between people and understand what's driving them to make the decisions as to what works best for them and respond to that as best as we can. And I appreciate that it's very difficult for an organization to make those decisions, but that flexibility is going to be the differentiator. Organizations that are willing to be flexible in how they look at schedules and how they manage their policies and step away from just general statements and policy mandates will stand out amongst others.
Cam: In order to build a more resilient workplace, organizations need to focus on the three pillars: workplace mental health; diversity, equity, inclusion; and enabled and empowered leadership. As such, we're also likely to see some increased expectations on business to not only address issues of diversity and representation, but also to take action to address equity and inclusion, which are critical to wellbeing.
Individuals who are coming back into an office environment want to feel like they can be themselves, and that they can express their feelings without fear of repercussion. Therefore ensuring diversity, equity, and inclusivity will be important in providing a psychologically healthy and safe workplace for workers.
How important is it for organizations to check in with their staff during these times of change?
Cam: Organizations need to ensure that their people are set up for success in the hybrid work world rather than just expecting things to happen organically. It's important to take a mindful approach and listen to their people and to foster, once again, a sense of belonging and connection.
People need to be connected to their purpose and understand their value in the workplace, as well as see respect for differences and concern for their wellbeing. For example, at Lifeworks, we do an internal survey where we've asked if the organization is concerned about my individual wellbeing. At a more informal level, it's also important to check in with your people regularly even just by asking questions such as, "how's it going?" or "how are you feeling?"
Looking at the impact on the employees now, what do we know about the longer-term impacts of the pandemic, in terms of the emergence of mental health issues and physical or cognitive issues?
Allison: There are some studies that followed the aftermath of other epidemics like the SARS pandemic, for example, and what they tell us is that increases in mental health that occurred during those crises continue for several years even after the physical health risk has subsided. Severe social restrictions, quarantining, and isolating can result in post-traumatic stress and depressive symptoms for as long as, if not more than, three years after that particular event, so we're going to continue to see a mental health impact long after the COVID-19 risk has subsided.
We're also hearing a lot about long COVID, which can include lingering cognitive and physical issues. We expect more information to emerge about COVID long haulers and the impact their symptoms have on recovery and functioning, but some of the common symptoms we are already hearing include physical symptoms akin to fibromyalgia, which is pain, fatigue, sleep issues, and general distress, as well as brain fog. Not only are these debilitating and frustrating challenges to deal with personally, they also impact work.
The impact can be significant because physical or mental exertion can exacerbate or heighten these symptoms and create further complications. For example, brain fog can result in a loss of productivity, but also result in higher risk of error and reduce quality of work. This is not only concerning for those who work in safety sensitive positions, and also for people working with complex or precise data. It is therefore very important for organizations to continue to communicate and reinforce the need to get support and self-care even after the pandemic has faded from our memories.
How can organizations best support the mental health of their people through this transitional period and beyond?
Cam: There are five key things that employees have indicated they need from their employers as they return to the office:
Control and flexibility - the ability to choose your own adventure in terms of returning to the workplace in whatever way, shape, or form that looks like.
Connection and belonging – whether they are working from home or at the office, employees need to feel they still belong to a larger organization and a bigger picture.
Meaning and being valued - individuals, regardless of their work situation, still want to be recognized for making contributions to a bigger workplace.
Psychological safety - A psychologically healthy and safe workplace for people to show up as they are to the workplace and feeling free to speak freely about situations.
Support – Having access to employee and family assistance programs and for CPAs, access to a member assistance program like Lifeworks.
---
Kerri Brkich is the vice president, external affairs and communications for the Chartered Professional Accountants of BC (CPABC). For more information about CPABC's support for our member's wellbeing, visit our mental wellness resource page.