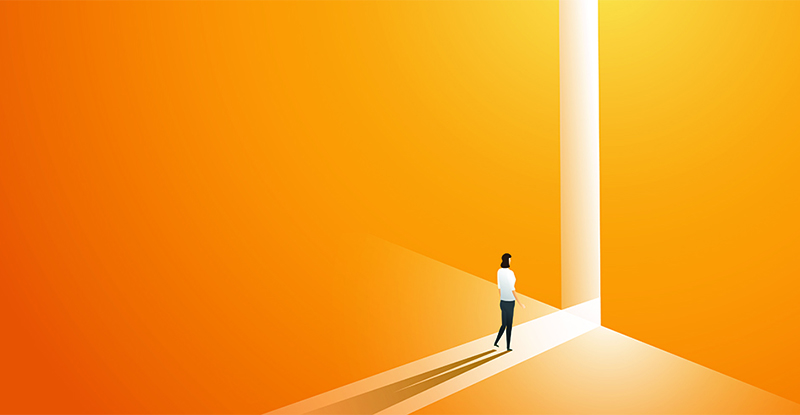 Photo credit: lerbank/iStock/Getty Images
Listen to our podcast episode with this article's author, Julian Robertson, senior student recruitment officer, CPABC, along with Vince Kanasoot, communications specialist, CPABC. Part of our Coffee Chats with CPABC podcast series.
---
COVID-19 has led to a significant economic downturn across the country, affecting all industries. With many companies forced to implement layoffs and hiring freezes to weather the storm, is now a good time to become a CPA?
Consider that at the start of the pandemic, accounting was deemed an essential service by the BC provincial government, recognizing the critical role CPAs serve in helping businesses navigate these challenging times. While the economic landscape is uncertain, the broad and invaluable range of competency CPAs bring to the table remains constant.
The BC Labour Market Outlook study conducted annually by WorkBC forecasts growth in professions across industries over 10-year increments. In its latest forecast released earlier this year, WorkBC had projected financial auditors and accountants, financial officers and financial managers, and bookkeepers to be some of the most in-demand jobs in our province over the next decade.
While conducted prior to the onset of COVID-19, the acknowledgement of the growing demand for CPAs tied to business success gives us reason to be cautiously optimistic about opportunities for CPAs, even in current conditions.
Therefore, now is a good time to become a CPA.
How to become a CPA
A key reason why CPAs are so valuable to businesses is the resiliency they possess, both in terms of diversity of skills and technical aptitude. Much of this is developed during the CPA designation process, where candidates demonstrate a high level of competency across different areas. In doing so, they are equipped with the skills that add value to organizations that employers seek out.
The CPA Certification Program is a graduate level program open to those who have completed a bachelor's degree in any discipline, along with the prerequisite knowledge areas for the program. Students typically complete their bachelor's degree first, and then obtain the prerequisites for the CPA Certification Program afterwards. Some students may find themselves ahead of the game, having already completed some prerequisites during their bachelor's degree.
The CPA Certification Program is made up of three different areas, easily remembered as the three E's:
Education: Once enrolled, candidates start to complete the education portion through the CPA Professional Education Program (PEP) consisting of part-time, online study.
Exam: After candidates complete their studies, they are required to write the Common Final Exam (CFE).
Experience: While completing the PEP and preparing for the CFE, candidates are required to obtain 30 months of relevant practical experience.
Once a candidate has satisfied the three E's, they will receive their CPA designation. The entire process takes on average 30 months to complete, although candidates can complete their designation over a longer period.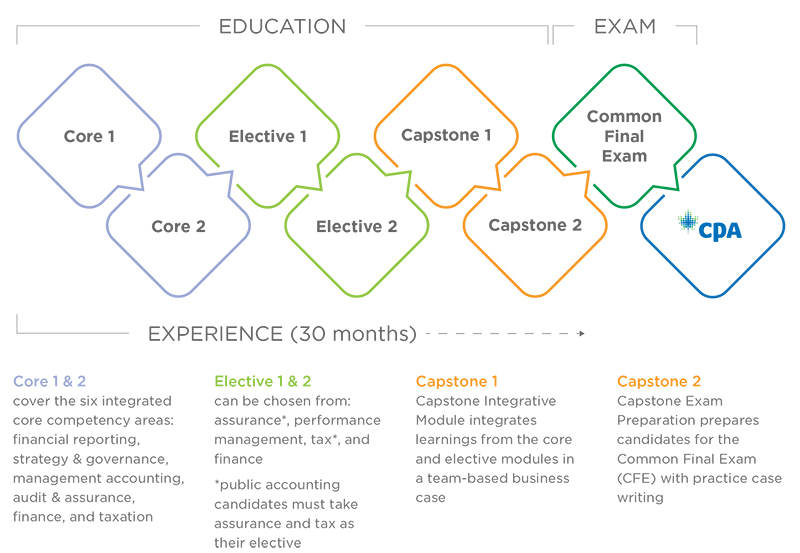 Fall recruit 2020
Now is a promising time to start becoming a CPA. As the economy restarts, so too has hiring activity. Each year, public accounting firms in BC hire new graduates pursuing the CPA designation, and co-op students intending to pursue the designation, for the next calendar year. This activity is referred to as recruit season and occurs from August through October.
Recruit season offers exciting opportunities to connect with employers and hiring managers, and job postings are often released during this time. The CPABC Post-Secondary Recruitment Framework provides guidelines on how students and employers in the accounting profession can effectively engage in the post-secondary recruitment process.
The recruit period typically saw many firms visiting campuses, attending networking events, and holding open office hours for potential applicants to visit. Understandably, a lot of this has changed. Employers have moved their recruitment efforts online to continue providing face-time opportunities for students and candidates, and to build genuine connections.
Advice to CPA students and candidates looking for employment
For CPA students and candidates looking for employment, being proactive is an excellent strategy. Here are some tips:
Connect with employers online through social media channels such as LinkedIn.
Attend virtual events listed on employer social channels and websites.
Do research on what employers are looking for, and what their work culture and application process is like.
If you're a post-secondary student, connect with your career centre and business or accounting club; these organizations often host events that may be of interest to you, and can provide information to help with your job search.
CPABC also provides excellent resources to students and candidates. Whether you're thinking about getting started, early on in your CPA journey, or nearing completion, our Become a CPA page has information to guide you. Check out our upcoming information sessions and events as well as our article on how to ace a virtual interview to help get you started on a successful career as a CPA.
Related articles
---
Julian Robertson is a senior student recruitment officer with the Chartered Professional Accountants of BC.