CPA Youth Financial Literacy – Money Basics for Teens CPABC Event
Event Date: Aug 25, 2022
Published Date: Jun 30, 2022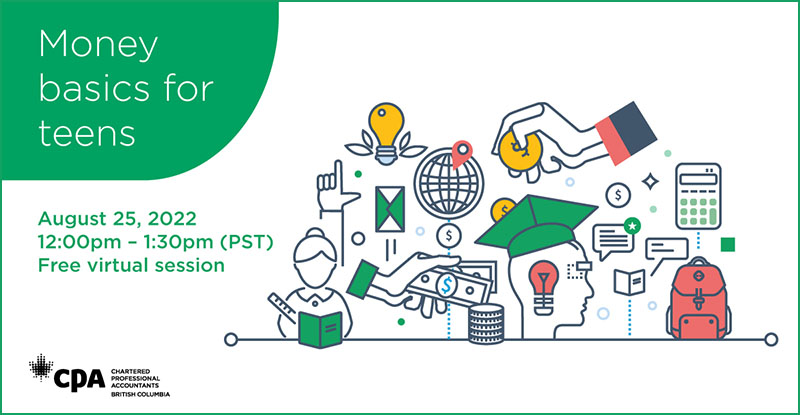 Photo credit: CPABC
Free Financial Literacy for Teens
Do you have a teen between the ages of 15 – 17?
Guide your teenaged children towards a smart financial path by encouraging them to attend this free virtual event on money basics hosted by CPABC.
This FREE virtual event is for youth between the ages of 15-17 who want to get a head start with information that will help teens make good financial decisions before high school graduation. They will also have the chance to win some fun prizes!

Attendees will learn topics that will help them manage money – including budgeting, debt, financial goal setting, student loans, and much more.
Money Basics for Teens

Date: Thursday, August 25th, 2022|
Time: 12:00 PM – 1:30 PM (PST)
Cost: Free
Format: Online
Audience: Youth ages 15-17
Presenter: Han Shu CPA, CA
Registration link: Click Here to Register
This event is not intended for CPA's and does not quality for CPD.
If you have any questions, please contact Tierra Pawluk at or at 604-484-7006.