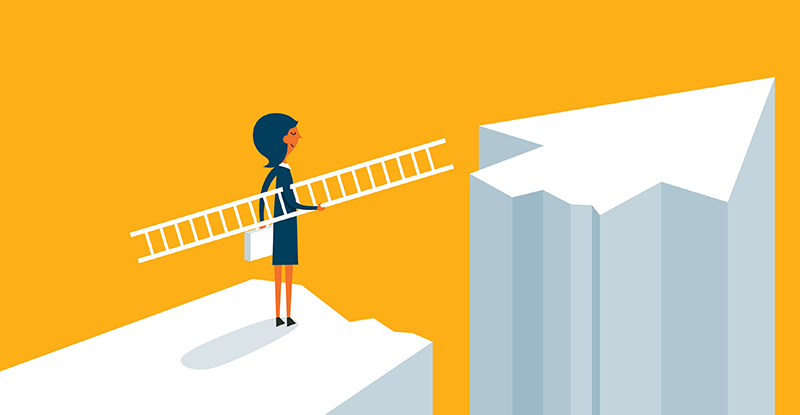 Photo credit: sorbetto/DigitalVision Vectors/Getty Images
In this podcast episode, Nicola McLaren, CPA, CA, vice president of professional development and learning at CPABC, speaks with Vivian Tse, director of communications at CPABC, about skills CPAs need to succeed in the remainder of 2023 and beyond. Part of our Coffee Chats with CPABC podcast series.
---
The pandemic demonstrated the importance of adapting to change. While it's impossible to predict how things will evolve, one thing is inevitable – change is certain and those who are open to new ideas, functionalities, and technological innovations will find themselves ahead of the pack.
As lifelong learning is a cornerstone of the CPA profession, CPABC recently spoke to Nicola McLaren, CPA, CA, vice president of professional development and learning at CPABC to get her insight on the type of skills CPAs can develop to thrive in the current business landscape and beyond.
Listen to the podcast episode for the full conversation. Below are some highlights from the conversation.
Save money with CPABC's PD Passport. This program gives you discounted bulk buy pricing on your choice of PD courses and Nexus Days, whether in-person, virtual live, or on-demand. Passports can be used for courses from September to August each year, and are available year-round with early bird pricing currently available until September 15.
---
Lifelong learning is a profession priority. Why is this important for CPAs?
Nicola: I think we're all aware of the pace of change. I even heard someone say at a conference a few years ago, "The pace of change will never be as slow as it is today." Therefore, lifelong learning is our antidote: it helps us with staying relevant and also dealing with the stress that comes with change. If we're not being proactive, we'll find ourselves left behind. Staying up to date should be a positive experience on many levels, since there are always so many interesting things to learn.
What are some developing trends that CPAs should keep an eye out for? Are there PD courses that can help CPAs better understand what's happening?
Nicola: ChatGPT and other generative AI tools have experienced explosive adoption rates. I read that ChatGPT reached 100 million users after only two months from its launch. It took TikTok nine months for this, and Instagram two-and-a-half years.
This adoption brings both excitement and alarm, as we must now consider the ethical implications of using such technology. We must be aware of bias, copyright, privacy, academic integrity, and other issues. CPAs are equipped to assess the risks associated with generative AI, promote ethical practices, and identify potential applications in business. To support this, we have PD seminars of various lengths and delivery formats that provide insight into generative AI and other technology topics. There are also many podcasts and articles available.
Why is it so important for CPAs to prioritize digital transformation?
Nicola: The world continues to change at an accelerated pace, so to stay relevant, we all need to stay aware of the changes, the tools available, and how changes are going to impact us.
We're working on launching a free digital transformation assessment tool for CPAs. This will allow members to assess their digital transformation readiness, and provide links to resources developed by the CPA profession to strengthen members' digital proficiency.
It's also important to note that this isn't just about applying the latest technology to existing processes. In fact, digital transformation requires a mindset shift. In each situation, we need to review what it is that we want to accomplish, and how we can use the available tools to get us there. It's not usually enough to just apply new tools to an old process; we might need to change the process to take advantage of the new tools. CPAs can lead the charge on this, because change management is part of our skillset.
Environmental, social, and governance (ESG) is another hot topic for businesses and the CPA profession. What are some things CPAs should know when they think about adopting ESG in their business or for their clients
Nicola: For CPAs, this is not a new topic. ESG has been part of our PD program for almost ten years now. However, the recent surge in awareness and demand for ESG reporting has now made it a core focus for corporate Canada and beyond.
CPAs are well-positioned to be key players in the ESG space, as we are trusted advisors and have the skills to analyze and report data in understandable and meaningful ways. ESG expands on our financial reporting and analysis skillsets and provides new opportunities to leverage those existing skills to non-financial reporting.
One thing to keep in mind is how rapidly the ESG space is changing. The first International Sustainability Standards Board (ISSB) reporting standards for sustainability-related disclosures were issued in June 2023. We're now waiting to see how this will be adopted around the world, including by The Canadian Sustainability Standards Board (CSSB).
Some exchanges, such as the U.S. Securities and Exchange Commission, are considering mandatory-related disclosures for listed entities. A big myth out there is that these types of disclosures are only for public companies. This isn't true. Private companies that form part of the supply chain for companies with mandatory disclosure requirements will need to provide ESG-related disclosures to their customers.
In some cases, organizations who provide ESG-related disclosures will also have access to preferential rates in financing. Therefore, this will impact more organizations than may be expected. CPAs who work for or advise companies will need to be up-to-date on ESG measurement and disclosure standards and norms.
One component of ESG that many organizations are pressing forward with is in equity, diversity and inclusion (EDI). As part of this, our PD team launched its Women's Leadership series last year. Can you tell us more about it?
Nicola: We're very proud of our Women's Leadership series, and we're pleased that it's meeting the needs of our members! What's unique about this program is that it combines a series of educational seminars on various topics related to the needs of female leaders, with moderated connection and reflection sessions. These sessions allow participants to test out the application of their new skills, build relationships with their cohort, and have meaningful conversations with their peers.
This fall, we're offering two different delivery methods for our Women's Leadership series: an option that spans approximately six months and offers a session every two weeks; and a compressed delivery option that runs about three months, with weekly sessions. We'll also be offering a Women's Leadership mini-series of some new learning sessions, focusing on new topics. This would be a great add-on for someone who's finished one of the earlier cohorts of the Women's Leadership PD series, but it's also available to anybody else who is interested in the topics.
The return to in-person programming also marks the return to in-person networking. What are some networking tips you have?
Nicole: I'm naturally an introvert, but over the years I've learned some skills to make networking fun and satisfying. I recommend treating networking like swimming in a lake – just jump in. Remember that everyone is likely feeling awkward, so don't assume that you're the only one feeling uncomfortable. A smile and a genuine "hello" is always a great way to start, as well as being prepared with some ice breaker questions. People are grateful when somebody else starts a conversation, because then they don't have to.
I always have a few generic questions up my sleeve such as "Is this your first time at this event?", "How was your travel getting here?", "What's the most interesting session you've had so far?". Whatever your questions are, it's good to have a few ready so you don't always have to make them up on the spot. I recommend asking questions that foster conversation, rather than "closed questions" that result in "yes" or "no" responses.
I also recommend having your business cards handy (i.e. in your pocket) or bringing up the QR code in your LinkedIn profile on your phone, so that you can stay in touch with your new connections. Of course, we also have courses in our PD program that can help you develop your networking skills if you'd like more formalized training.
As CPABC prepares its PD course offerings for this coming fall, what are some new courses you recommend CPAs be on the lookout for?
Nicola: I always recommend any new courses on changes to CPA Handbook Standards in accounting and assurance, as well as tax courses. As CPAs, we need to stay current on these foundational technical topics. Another thing we're excited to launch this fall is our CPA Pro wordmark. If you see this wordmark associated with course offerings, it indicates that the course was built for you by the CPA profession and has gone through our rigorous quality control processes.
Additionally, we've added more PD series to our fall programming. Besides our popular Women's Leadership series, we have series planned on hot topics in tax, as well as an ESG PD series. Be on the lookout in 2024 for a series on digital transformation. We're also partnering with CPA Canada to roll out their ESG certificate program to CPABC members, so check out our PD website to see all the new options available this fall!
One important change to note, is the format adjustment of our traditional Public Practice Nexus Day to a new Public Practice PD series. Practice management topics will be offered in shorter sessions, spread out over several weeks rather than in a single day. Many of our one and two day courses will also be offered in a "multi segment" format, which breaks the delivery of these down into several shorter sessions over one or two weeks. Several of our fall PD Series, including the Public Practice PD series, start in September, so we recommend that members check out our website early to see what's available. And don't forget to buy your PD passport to take advantage of the lowest possible price for CPABC PD seminars!
---
Vivian Tse is CPABC's communications director