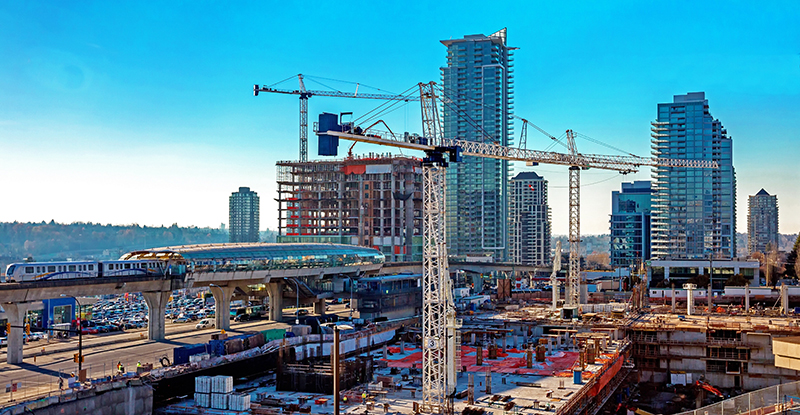 Photo credit: Alex_533/iStock/Getty Images
In this podcast episode, CPABC's economist Aaron Aerts speaks with Vivian Tse, CPABC's director of communications, about CPABC's BC Check-Up 2023: Invest report, including slowing inflation, BC building investment, and BC's economic outlook. Part of our Coffee Chats with CPABC podcast series.
---
Inflation rate reaches 13-month low
While inflation remains well above the Bank of Canada's 2% target, it continues to slow both provincially and nationally. In March 2023, overall prices in BC rose by 4.7% in BC and 4.3% in Canada compared to March 2022, the slowest rate in BC since February 2022. In comparison, BC's annual inflation rate was 6.2% to start this year and peaked at 8.1% last May.
This decline has been primary driven by weakening commodity prices, most notably in the price of energy products. A year ago at this time, the Russian invasion of Ukraine drove global oil and other commodity prices up significantly. In March 2023, BC energy prices were 4.9% lower year-over-year.
Inflation has also been slowing for other key products, including the price of food. Food prices were still up a significant 7.8% compared to March 2022, but the rate has lowered from the peak of 10.2% seen in January 2023.
While overall inflation has been declining, the cost of carrying a mortgage has increased and continues to raise the cost of living for many Canadians. Mortgage interest costs have increased by 26.4% from January to March of this year, and are anticipated to continue to increase as 1.1 million Canadians are expected to renew their mortgages this year.
The overall slowing of inflation further strengthens the likelihood that interest rates have peaked in Canada. The Bank of Canada forecasts the inflation rate to fall to around 3% over the summer and to reach its 2% target in 2024.
BC's strong labour market continues to provide economic stability
Despite significant economic uncertainty and rising costs, BC's labour market has remained remarkably robust. BC's unemployment rate was 4.5% in March 2023, 0.6 percentage points lower than in March 2022 and lower than the 4.7% posted in 2019. So far this calendar year, the province has added 14,300 jobs; since March of 2022, there have been jobs added. Canada's unemployment rate was 5.0% in March 2023, down from 5.3% last March.
Job vacancies have lowered from the record level seen in mid-2022, but remains elevated compared to historical averages. There were 120,625 open job positions in BC in January 2023 (latest data available), compared to 131,500 unemployed residents that month. This indicated a 4.7% job vacancy rate, down from 5.9% in January 2022 but above the average of 4.3% in 2019.
Key commodity exports weakened by lower prices
BC exported $4.8 billion-worth of commodities in January 2023, 0.7% lower year-over-year. While this is a relatively small decline, the situation varied significantly by product category. The strongest performer was machinery and equipment, up 23.3% over that period, and pulp and paper products, up 27.2%.
Conversely, some of BC's historically high-performing commodity export industries struggled over the past year. Metallic mineral product exports were down by 29.7% due to prices falling by almost 10% year-over-year and weakened global demand. But the largest decline in exports was in the provincial forestry sector. BC exported $602.9 million solid wood products in January 2023, down by almost $390 million year-over-year. Forestry products prices have fallen by 50.1% over the past year, and there has been significant turmoil in the industry, such as the announcement by Canfor suspending or permanently closing some mill operations in northern BC.
---
Aaron Aerts is CPABC's economist