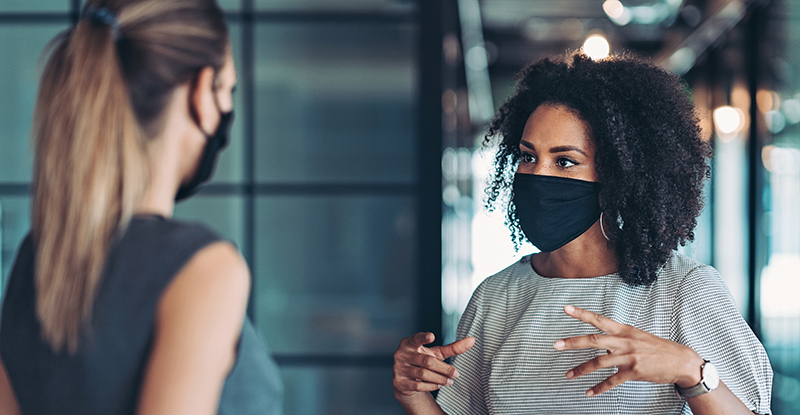 Photo credit: pixelfit/E+/Getty Images
In this podcast episode, leadership and executive coach Carrie Gallant speaks with Leah Giesbrecht, communications specialist at CPABC, about how we can use our conversations to achieve business and organizational goals. Part of our Coffee Chats with CPABC podcast series.
---
Take the next step in your leadership journey with CPABC's Women in Leadership Certificate Program, designed specifically for women in the accounting profession. All sessions in the series are in-person and participants should attend all. There are two upcoming offerings: Our standard offering from September 13, 2023 to February 7, 2024; and a compressed offering from September 12, 2023 to November 28, 2024. Learn more and register to save your spot.
By now, we've all heard of the "great resignation"—or, as I like to call it, the "great awakening." During the pandemic, a lot of people have awakened to what's truly important to them. Many have realized they're unhappy in their current jobs, and they're leaving as a result. In fact, according to a recent Bank of Canada survey, almost one in five workers plan to leave their job in 2022.
This great awakening has only intensified the struggle to find and retain employees. So what can business leaders do?
Honing in on what matters
First, it helps to understand some of the reasons behind the trend. Many workers are leaving because they don't feel connected, valued, or cared about. Others are leaving because they don't believe their values are aligned with their work or workplace.1 Some are leaving because they feel there's toxicity in their work environment.2
Recognizing this, it's critical that business leaders focus on holding productive and meaningful conversations. Yes, conversations.
Consider that it's generally through conversations that we make ourselves heard, learn about the needs of others, work through conflict, and come up with solutions that can move us forward. It's through conversations that we can establish (or re-establish) connection, seek to understand different viewpoints, find areas of commonality, and identify what's important to us—individually, collectively, and as an organization.
And it's through conversations that today's business leaders can start bridging the engagement gap.
Letting go of being "right" (and other conversational tips)
One of the most effective ways to make conversations more productive is to let go of the need to be right. When we focus solely on advancing our point, we don't listen.
Instead of focusing on proving that we're right, we need to get curious—curious about ourselves and our values and curious about the other person and what they care about. When we get curious, we connect, we build trust, and we make progress.
Being curious also means accepting that we don't have all the answers. It means being willing to be uncomfortable—as they say, there's no growth in the comfort zone. So it's important for business leaders—particularly when discussing matters related to equity, diversity, and inclusion, for example—to be willing to be uncomfortable. Also, when we focus on staying curious, we're better able to process what we learn without being reactive.
Another tip, given the hybrid work environment in which many of us find ourselves, is to focus on finding new ways to connect and create spontaneity. It could be as simple as picking up the phone to work through a problem. Or it could mean creating breakout rooms in Zoom meetings so participants can have a chance to connect on a smaller scale. It will take a bit of creativity to create connections in today's hybrid workspace, but any effort will be well worth it, especially given how much today's workers value connection.3
Seeing recruitment and retention as a two-way conversation
With nearly one million unfilled jobs across Canada, organizations are facing a huge challenge when it comes to finding and keeping the right people.
To help with these efforts, business leaders need to think of recruitment and retention as a two-way street. When we're looking for talent, we generally know the attributes we're looking for, but do we know what prospective employees are looking for? If not, it's time to find out.
The people we'd like to bring on board—what do they say they want? When we understand this, we can phrase our recruitment efforts appropriately. Specifically, we can communicate in such a way that enables prospective hires to see themselves in the role—to see that it will be possible for them to accomplish their goals and be true to their values if they join our organization.
And when it comes to retaining workers, we need to ask ourselves: How are we valuing them? How are we showing them that they're valued? How are we building connections? Do we know what's important to them? Have we asked them recently? Are we giving them a chance to grow? Retention today, especially when it comes to younger generations, has a lot to do with how appreciated workers feel and how much opportunity for growth they're being given.
Using conversations to propel us forward
Whether we're trying to solve a problem, advance a cause, sell a product, or innovate in the marketplace, we rarely succeed all by ourselves. We've got to be having productive conversations, and the right conversations, with our team members and our peers—both one-on-one and at an organizational level—if we want to move forward successfully in the post-pandemic world of work.
As one of my mentors, the late academic and author Judith E. Glaser, put it: "To get to the next level of greatness depends on the quality of our culture, which depends on the quality of our relationships, which depends on the quality of our conversations. Everything happens through conversations." 4
---
Author
Carrie Gallant is an international leadership and executive coach who specializes in helping clients communicate, negotiate, and resolve conflict persuasively, authentically, and ethically. She is the founder of The Gallant Leader™ Institute and the EARN Your Worth™ Leaders Lab. For more of Carrie's insights, check out her blog at The Gallant Leader.
1See: Tammy Robertson, "The Future of Work – What It Means For Leaders," CPABC in Focus, May/June 2022 (32-35).
2See: "Detoxifying the Office: How to Create Healthy and Secure Workspaces" (interview with Melanie Pump, CPA, CGA), CPABC in Focus, May/June 2022 (36).
3See: "Envisioning the Post-Pandemic Workspace," (infographic), CPABC in Focus, May/June 2022 (30-31).
4Judith E. Glaser, Conversational Intelligence: How Great Leaders Build Trust and Get Extraordinary Results, Bibliomotion Inc.: 2013.