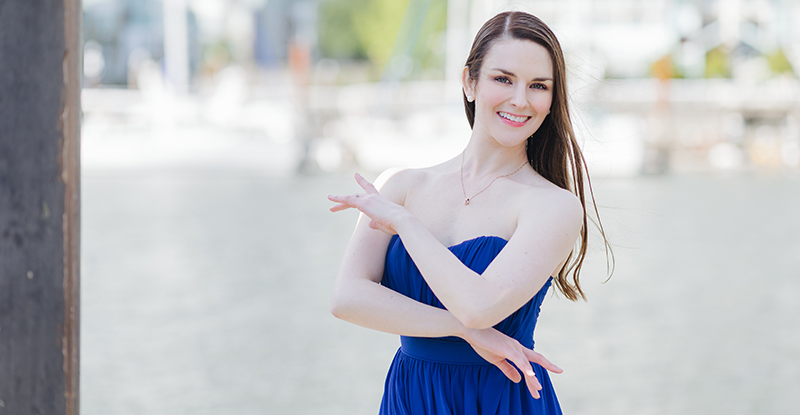 Photo credit: Bobo Zhao Photography
From the ballet barre to the boardroom, Amanda Collinge Bae shares her story with CPABC's communications specialist Vince Kanasoot in this podcast episode. Part of our Coffee Chats with CPABC podcast series.
---
Amanda Collinge Bae dances to her own musical score – a score that doesn't hesitate to transition to different key changes and dynamics. Amanda is a CPA, CGA; an advocate for inclusion, diversity, equity, access (IDEA); and a ballerina. In fact, it's the love that she's had for dance from a young age that has helped develop her drive and integrity as well as her dedication to helping others.
Amanda is Senior Manager, Operations Performance and Rapid Response Team at Raymond James Ltd, a multinational independent investment bank and financial services company. Her achievements at Raymond James led to her being named to the Top Under 40 Investment Industry Association of Canada's 2021 list.
A passionate advocate for DEI, she also serves as the Western Canada Chair for Raymond James' National Diversity & Inclusion Council, and her volunteer work also includes involvement with CPABC, serving on the Board of Directors for the Canadian Alliance of Dance Artists, and holding charity dance fundraisers for causes close to her heart.
Recently, Amanda chatted with CPABC to share her personal career story, which began in broadcast journalism and eventually led to a unique CPA path. Her full interview is available in this podcast episode.
Below are some highlights of the conversation. No matter where Amanda's journey takes her, it's clear that she will always move forth with confidence, style, grace, and empathy for others.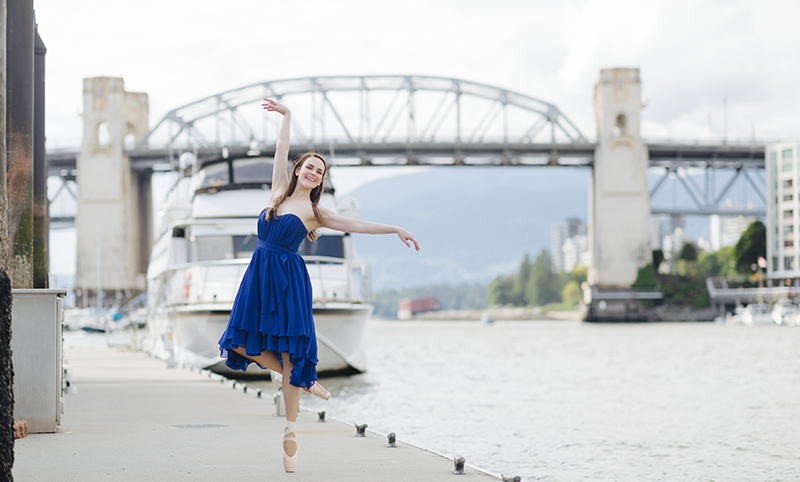 Photo credit: Bobo Zhao Photography
After high school, you pursued broadcast journalism. What led to this decision?
Amanda: I've always loved being attuned to current events and being knowledge hungry. And of course as I dancer, I've also loved performing. So to me, the perfect combination of these pieces was broadcasting journalism. Growing up, I loved Lloyd Robertson. He was fantastic on CTV News. One day in high school, I woke up and said, "I want to do that." So then that's what took me down the path of studying broadcast journalism at BCIT when I graduated high school.
Why did you shift from broadcast journalism into accounting?
Amanda: I loved broadcasting, because I enjoyed being able to be at the forefront of news, and to perform and communicate. But I wasn't so keen on the actual industry itself. It was very cut-throat. At one point I was producing for a radio talk show about politics. We were on air one day, and then the next day we were suddenly off air because our ratings had dipped. So, job security was something that wasn't so great in the industry.
This experience made me really reflect and say to myself, "Okay, what are other great skills do I have?" In high school I was a "mathlete", and I remembered how I had attended a CPA information session. I was drawn to the session because of the free pizza, but then found myself very interested in learning about the career possibilities in the accounting world. When I decided I wanted to transition from broadcast journalism, I thought the accounting path would be a great choice.
I started taking accounting courses at Langara College, in their continuing studies program because I thought, "If I don't make it all the way to the end of a CPA, at least there's a certificate at the end." While in the program, I realized that the CPA route was definitely what I wanted to do. CPA is a fantastic education program – it takes you from 0 to 10,000 in your skill set, gives you a holistic perspective, and there's so many great career opportunities.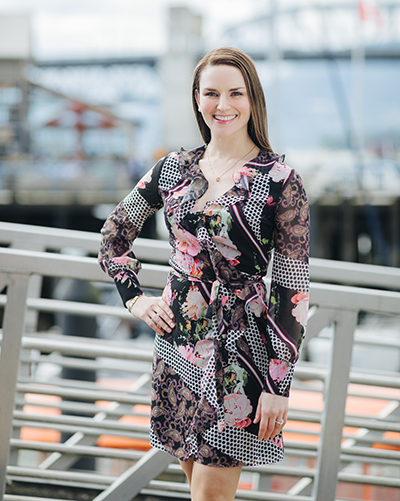 What eventually led you to working at Raymond James?
Amanda: Before I joined Raymond James, I had finished a contract at a Crown corporation where I was a consultant working on the financial side of projects. They had renewed my contract a few times, and then I realized I didn't want to continue doing contract work.
And so I went to Costa Rica and did my yoga teacher training and became free spirited Amanda for a couple of months! When I came home, I realized, 'Okay, it's time to get a job again. No more wearing elephant pants and Buddha heads for me all day!'
I received an offer at an organization, but because I had been involved in projects at a few different businesses, a recruiter also reached out to me about a potential project manager role available at Raymond James. When I met Yvonne, the VP of project management at the time, I knew instantly that I wanted to work with her. She was fantastic! Yvonne was willing to offer me a project manager role without me ever having been a project manager. She said she would be open to mentoring me and bringing me up.
There has always been continual growth at Raymond James, both for the organization and for myself personally. At one point, the Senior VP of Operations realized we needed to develop our business analysis and strive for continuous improvement, and so the department I now manage, which is called operations performance, was formed. I got to be the first ever manager of operations performance and make the department my own.
Since then, I've built my department to be business analysis, data analytics, process improvements, learning and development, graphic design, and communications, all from the operation standpoint to help make Canadian operations more efficient. And I also present on a regular basis to our COO on how operations is performing. I've been able to grow my team, and I now have a wonderful mentor in my boss, the aforementioned Senior VP of Operations.
I was also recently promoted to AVP – I'm just waiting to write a regulatory exam so I can officially use the title. So, my journey with Raymond James has been incredibly exciting. I love the organization and I've been very lucky to have such great opportunities and to grow with them.
How do you manage your time?
Amanda: I am very efficient at everything I do. I'm organized and structured in my approach to my days. Being very detailed, planning ahead, setting alarms set in my calendar, and always knowing my schedule really helps. I also have a very supportive fiancé*. He is very much the same as me in the fact that we're both very driven individuals and we share the same values. So we understand that our days are going to be long and busy. But when we get to have time together, we really make it special.
I've also realized how important the power of saying no to things is, and I plan my life according to my personal values. For example, how can I use my free time to volunteer to give back to the community and help lift up others? I believe it's our duty when we're in a place of privilege to do things like that. I also always make sure I schedule downtime. I have to have a day in the week when I can sleep in!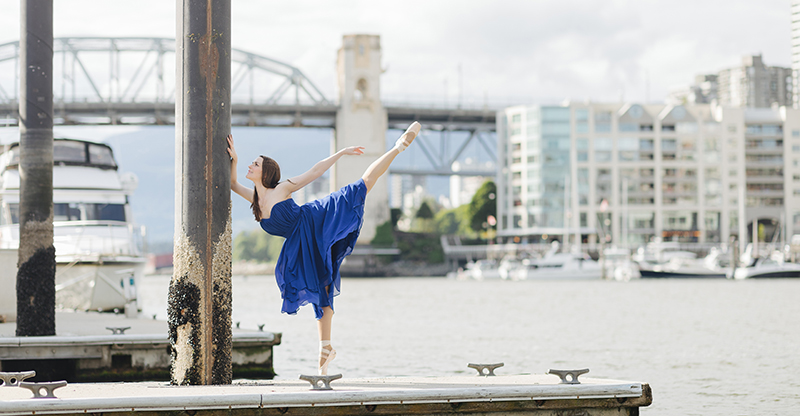 Photo credit: Bobo Zhao Photography
One of the ways you give back is by serving as Western Canada co-chair for the National Diversity and Inclusion Council at Raymond James. What are some things that you've been working on?
Amanda: So first of all, I think every organization needs to be doing this work. I think it's good that so many organizations are finally making EDI a priority because it has to be. Working in the investment industry, I've seen a need to shift things to make the industry a more equitable place where there's opportunity for everyone.
One initiative that I'm really proud about is called IDEA Tuesdays. IDEA stands for inclusion, diversity, equity, and access. Once a month, we put out a micro learning video. In our Instagram/TikTok world, people don't have time to spend half-an-hour in a seminar or take the time to read a book or go to a conference. These are two to three-minute-long videos where we have an external speaker on a specific topic talk involving their personal story and experience, and provides a takeaway for our viewers on what they can do to make the workplace or their lives better.
We've had a wide range of topics including Black Lives Matter, accessibility in wheelchairs, and Autism Awareness Month. We've done over 20 episodes and it's all volunteer-based, consisting of myself, my phenomenal graphic designer Quintn Parker, and a few other team members. We started off posting these videos internally, but we've now started sharing them externally as well. I'll be putting them up on my LinkedIn for people to watch.
I'm really honoured and happy that I was given the green light to go ahead with and have the support to be able to do this. DEI work is really everyone's responsibility. In our National Inclusion Council, we have monthly meetings. We're trying to change the conversation and move the needle and create lasting change.
However, we have also had pushback, which has surprised me the most. I am all onboard for equity for everyone to bring their whole selves to work, and to truly be whoever they are and to be acknowledged and appreciated for that. However, that's not the case for everybody and that just tells me we have so much more work to do.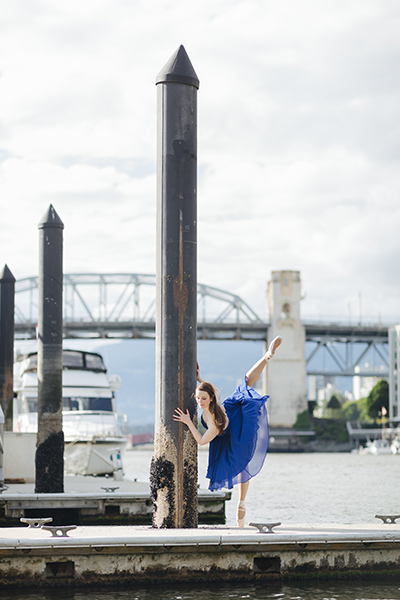 You regularly hold dance charity fundraisers for causes close to your heart. Can you tell us about this
Amanda: Mental health is something very close to my heart. I think mental health is something that touches everyone in some kind of way in their lifetime. Even if it doesn't affect you personally, someone you love may be impacted by mental health. And so breaking the stigma and raising funds for better programs is important to me. Therefore, I've been involved in the past with Brilliant and Shine fundraisers, which was a huge production that happened for multiple years at the Commodore Ballroom, raising funds for mental health.
During COVID-19, there were a lot of news stories about women who weren't able to flee abusive situations due to pandemic-related restrictions. I organized a couple of outdoor ballet-inspired workout classes in a park. Participation in the class was by donation, and the Raymond James Canada Foundation matched every dollar that I raised. The funds were donated to the Battered Women's Support Services.
I also organize an International Women's Day Bingo annually through Raymond James, which is a lot of fun. It's done virtually, and people get to learn a lot of interesting facts about equality. Instead of using Bingo words, we use famous female names, and each time a name is called, we provide a statistic to make players think about equity. People participate by donation and again, the Raymond James Canada Foundation matches donations dollar for dollar. We'll sponsor different charities through this each year, but the funds always go toward women who are in challenging situations.
I also recently did another dance fundraiser where I gathered three of my close friends who are dance teachers in different styles. Again, by donation, people were able to come to these classes, with proceeds going directly to supporting those affected by the BC floods.
It was devastating to see people lose their homes. Again, the Raymond James Canada Foundation matched all donations, and in total we were able to raise nearly $3,000 (with matching, almost $6K!). I also had a female-led local business, MyMomentum, provide swag bags of healthy snacks to participants.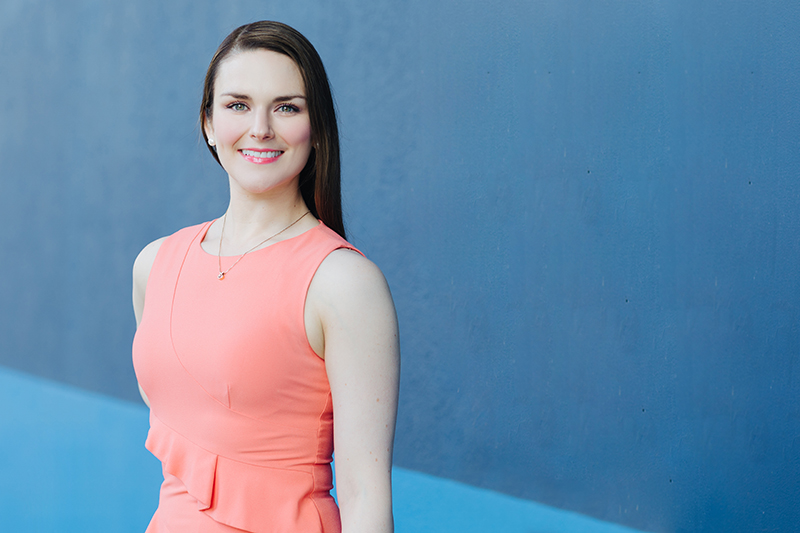 Photo credit: Bobo Zhao Photography
Fun facts
What's your fav motivation music?
Amanda: I have a very eclectic and weird playlist, but probably something by Whitney Houston. I love her upbeat songs and power ballads.
What are some of your favourite power foods?
Amanda: I absolutely love kombucha. Every day I also drink matcha made by a local company in Nelson, BC (Matcha Mountains). It's organic blueberry matcha, and it's the most delicious thing I've ever tasted in my life, and it's a power food because it's matcha. I also absolutely love pomegranate as well.
What are your guilty pleasures?
Amanda: Food-related, I love pastries, specifically French pastries…specifically macarons and lemon tarts. I cannot walk past a couple of the patisseries we have in Vancouver without going in. It is such a problem. I love it too much. Give me all the macarons, totally.
What are your top three favourite movies?
Amanda: White Christmas, The Wizard of Oz, and something historical and important like Schindler's List.
What are your favourite podcasts?
Amanda: Besides Coffee Chats with CPABC, I like any podcast that talks about investment and money management. My fiancée loves a basketball podcast called The Old Man and the Three with JJ Redick and Tommy Alter, and now I'm kind of hooked on it even though I'm not really huge into basketball.
What are your favourite books?
Amanda: The Ride of a Lifetime: Lessons Learned from 15 Years as CEO of the Walt Disney Company, Michelle Obama's Becoming, Shoe Dog: A Memoir by the Creator of Nike, and I've started to read An Astronaut's Guide to Life on Earth by Chris Hadfield.
What's your morning routine?
Amanda: I have my morning cup of blueberry mocha, and I set my priorities for the day and begin with an attitude of gratefulness.
Warren Buffett once said to write down all your priorities and then scratch out everything except for the top three, and focus on those - because that's where your mind really should be focused. So I try to follow that ideology. I also make it a point to connect with people in my morning, touching base with people on my team or others so that we're all starting off the right way.
*Since this interview, Amanda has married her fiancé. Her legal name was Amanda Collinge at the time of the interview and she is now Amanda Collinge Bae.
---
Vince Kanasoot is a communications specialist with CPABC and dancer.