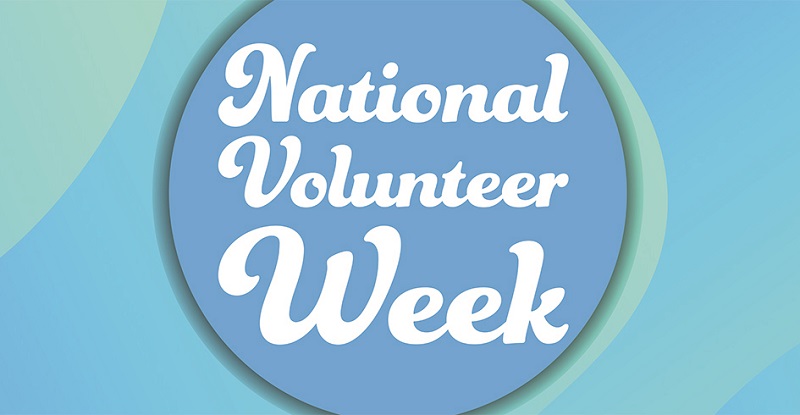 Photo credit: Bulgnn/iStock/Getty Images
At CPABC, we are proud of the contributions our members make not only to their workplaces, but to their communities as well. This year's commemoration of National Volunteer Week (April 19-25, 2020) is especially significant, given the COVID-19 pandemic and the outstanding efforts some CPABC members are making to help others during this time of need.
Transitioning into hand sanitizer manufacturing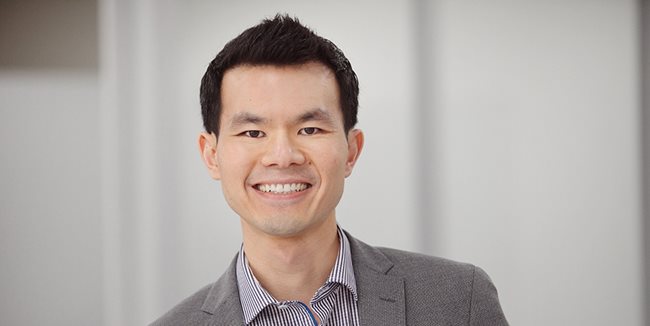 Gerald Chang, CPA, CMA, managing partner of Summit Labels
Gerald Chang, CPA, CMA, is managing partner of Summit Labels, in Port Coquitlam, a company that uses leading-edge printing technology to provide its clients with custom manufactured product labels. A large segment of Summit's clients are craft breweries and distilleries, and when COVID-19 hit, many of these organizations started to use their resources and supplies to manufacture hand sanitizer.
To help support this cause, Gerald and his team began an initiative to print and donate free labels to these clients. The goal was to not only reduce costs for these companies, but also to get labels to them quickly so that more hand sanitizer would become available to frontline workers as soon as possible.
"So far, we've helped 26 companies get over 100,000 units of hand sanitizer into the hands of the people who need them most – our heroic healthcare workers, police officers, firefighters, and frontline community members," says Gerald. "Compared to the amazing dedication and work they're doing, our contribution is small, but we're seeing it make a difference."
Face masks for frontline workers in Vancouver's Downtown Eastside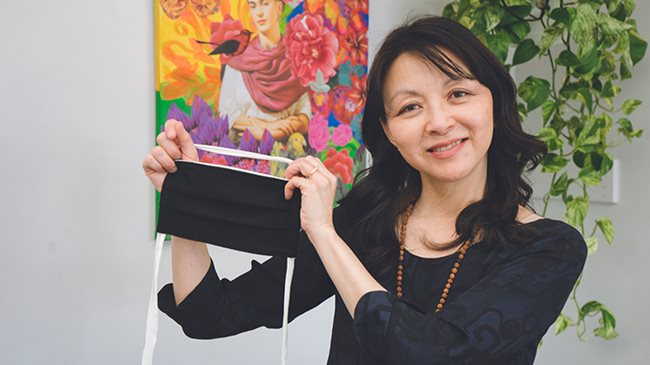 Suzanne Siemens, CPA, CA, CEO of Aisle
Suzanne Siemens, CPA, CA, is the CEO of Aisle, formerly known as Lunapads International, a Vancouver-based company that specializes in washable cloth menstrual pads and period underwear. Since the rise of COVID-19, Suzanne's company has been working with its local manufacturing partners to produce washable, reusable fabric masks for frontline workers in Vancouver's Downtown Eastside.
"The response to our COVID-19 initiatives has been overwhelmingly positive. Our team, suppliers, lenders, customers, and business colleagues have all stepped up to support us because they know we have the skills and integrity to do this well," says Suzanne. "At a time when people can feel helpless or overwhelmed at the magnitude of the challenge caused by COVID-19, being able to support a campaign that they believe in is a meaningful way to make a difference."
Suzanne's team started with an initial run of 1,500 masks, with a revised goal to produce 2,500 masks. Aisle has a GoFundMe page to help with the necessary fundraising.
Providing digital skills to local restaurants
One of the industries hardest hit by COVID-19 has been the restaurant industry. While many businesses during this time have increased their online activity, there are many restaurants – particularly smaller operations – that lack the resources and expertise on how to make this transition.
Under the leadership of its co-founder Karm Sumal, CPA, CGA, Daily Hive collaborated with West Coast Technology Innovation Foundation (WCTIF) and IT in Canada Collective, to launch Adopt My Shop – a digital platform that provides digital assistance to restaurants across Canada.
Restaurant owners can apply to be part of the Adopt My Shop program through its website. Once part of the program, restaurants receive help with enabling digital features such as providing gift cards, managing online orders, and creating an online store via Shopify or Square. Restaurants in the program are also featured on Daily Hive's website and social media channels.
Customers can also nominate their favourite restaurants for adoption into the program, and the platform connects customers directly with restaurants so they can place orders for takeout or delivery. The Adopt My Shop program supports business owners in a number of languages including Punjabi, Cantonese, Mandarin, Vietnamese, Spanish and Portuguese.
CPA Canada's Financial Literacy Program
Many CPABC members are involved with CPA Canada's Financial Literacy Program, which provides free education to Canadians on a variety of topics, all designed to help individuals make smarter financial choices at any stage of their life.
From teaching school-aged children how to save for the future, to guiding adults on how to invest and manage their funds, and to helping entrepreneurs design business plans, volunteers in the program are able to share their professional expertise in ways that provide tangible, long-term value to communities.
While the sessions are usually done in-person, in the face of the COVID-19 pandemic, the Program has shifted to virtual sessions. On April 7, CPABC delivered its first free virtual session, "Disabilities: Accessing Benefits" to patients with the ALS Society of BC. This one-hour session provided guidance on registering for the Disability Tax Credit and Registered Disability Savings Plan, as well as benefits and procedures to best support patients and their families.
For CPABC members interested in getting involved with the Financial Literacy program, there's always plenty of opportunities. In 2019, over 300 workshops were delivered in BC. And in light of COVID-19, there's a greater focus on online presentations, which increases accessibility to both presenters and audiences.
Contact our CPABC FinLit team to find out how you can get involved.
CPABC volunteer experiences
While the current situation has put a pause on many activities, CPABC members are encouraged to consider the various volunteer opportunities through CPABC in the future. These include serving as a CPABC Ambassador, joining a regulatory committee, and getting involved with a local chapter. All these initiatives are great ways to network with other members and support a local presence for the profession. Visit CPABC's Volunteer Resource Centre to stay up-to-date on volunteer opportunities available.
This National Volunteer Week, we would like to congratulate our members for supporting their communities, especially during these challenging times, and we look forward to continuing to welcome CPABC members to our volunteer programs.
Related articles
---
Vince Kanasoot is a communications specialist for the Chartered Professional Accountants of BC.