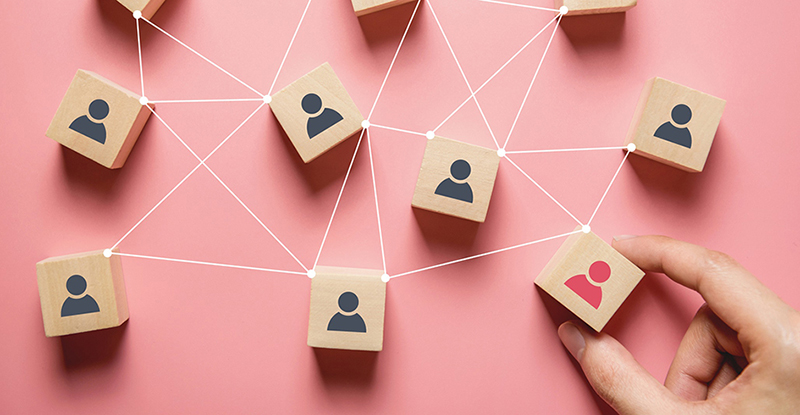 Photo credit: oatawa/iStock/Getty Images
Listen to our podcast episode with this article's author, Vivian Tse and CPABC's employer relations manager, Stephanie Roy. Part of our Coffee Chats with CPABC podcast series.
---
Whether or not you are in the job market right now, having an up-to-date LinkedIn profile is important – especially in this day and age. As interviews and events shift online and interactions done through direct messaging, and video or teleconferencing continue to increase, having an updated LinkedIn profile is fundamental to making new professional connections online.
Better yet, having a LinkedIn profile that helps you stand out amongst your peers will get you on the right path toward virtual networking.
Review and purge your current profile

Does this spark joy? That is the famous catchphrase from Marie Kondo in her tip on how to minimize the clutter in your life. Similarly, you may have clutter in your LinkedIn profile that you can purge. Often, people are guilty of including every professional and volunteer experience in their LinkedIn profile, but this is not the best practice. Always consider your LinkedIn as your professional portfolio – it's easily accessible by the public – so you always want to present your best side.

The question you should ask as you review your profile is: Do I need this to highlight my value? If the answer is yes, keep. If the answer is no, delete.

Find the keywords in your dream job description

Even if you may not be looking for a job, you should always cater your LinkedIn profile to the job description of your dreams. By finding a job description that best describes your next career move, you can use the responsibilities and requirements in it to determine what to include in your LinkedIn profile. As you update your profile, look for opportunities to highlight the skills, knowledge, or experience, that you already possess.

How to identify keywords you should include in your profile:

What are some recurring keywords in your dream job's description?
What are some critical soft skills required for the job that you have?
What are some technical skills or knowledge required for the job that you have?

Show off your superpower

Not all superheroes wear capes. Everyone has a superpower; we just may not yet recognize what it is. Think to yourself:

What do you want to be known for?
What are some highlights/compliments you receive consistently during feedback?
Why should someone hire you over another candidate?

Find your niche and showcase your expertise in your field. You don't have to put all of your past professional experiences in your LinkedIn profile (although it's good to have it saved in a document for future reference). Instead, you should pick and choose which experiences best highlight your skills.

Tell your story

Storytelling isn't just a marketing buzzword. Think about your favourite childhood stories – how did they draw your attention?

On LinkedIn, storytelling is how you can capture your audience's attention. Even if you have a rich career history, if you lay out a two-dimensional profile, you will have a hard time capturing someone's interest. Try to tie in your personal background story and professional motivations to hook your audience.

The best place to do this is in the headline and about sections of your profile:

Headline: A brief description that appears next to your name. It should entice your audience to want to learn more about you:

Use a job title people will recognize
Include a value proposition, e.g. helping X to do Y
Skip the jargon and be humble

About: Tell your personal story here by defining who you are in your own words. You can use this space to put career choices in context, highlight your biggest achievements, or show off your personality. This summary is your chance to put your best self forward and strengthen your first impression in a way no other section can.

Here are some examples from LinkedIn Talent Blog.

Strike a Pose

Similar to your headline, your profile photo is the first thing anyone sees when they come across your profile. It is important to make sure you make a strong first impression by having a professional photo. If it's older than three years, it's probably time for a new profile photo. Here are some tips to taking a professional-looking photo at home during COVID-19:

Find a simple background (e.g. blank wall) with natural lighting in your home. Avoid taking photos that are shadowy or in a bathroom (or any) mirror.
Wear professional clothing that represents who you are and wear light makeup if you desire.
Have someone in your household take the photo for you. If you must take the photo yourself, either prop your phone on a popper, a selfie stick, or tripod.

Alternatively, play with your camera's angle until your arm that is holding the phone is not shown in the photo.

Strike a simple pose and remember to smile naturally.
Skip the filter and don't try to make it look artistic (remember this isn't for your Instagram).

Once your profile is updated, you are ready to connect with others on LinkedIn! We'll look into how you can make meaningful connections in a future article.

Related articles
---
Author
Vivian Tse is the manager, communications at CPABC. Follow us on LinkedIn for more articles on career development. If you are CPA member, candidate, or student, access our Careers Site to make your next career move!