Karm Sumal, CPA, CGA
CEO & Co-founder, Daily Hive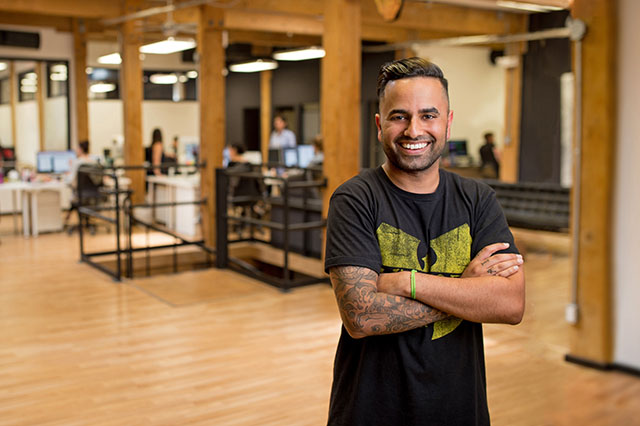 I'm not usually what you picture when you think of a CPA," says Karm Sumal.
He's right. We all know the bean-counter stereotype is a cliché, but it's still not every day that you meet a tattooed CPA who wears classic rap t-shirts to work, has a pro wrestling belt hanging from the rafters of his office, and spends his free time planning city-wide parties as the vice-president of the Vancouver New Year's Eve Celebration Society.
 
The 35-year-old's non-conformist attitude is reflective of his entrepreneurial spirit. The move to become his own boss began in 2008, when he and friend Manny Bahia co-created Vancity Buzz, a local news blog, in their South Vancouver basement. Geared to readers under 35, the digital publication aimed to connect Vancouverites with "hyper-local" news and events. Over the next eight years, Karm worked on Vancity Buzz in his spare time while holding down a full-time position as a controller for Blenz.
"The traditional accounting career path was great," he recalls, "but I needed something that allowed me more variety."
So in 2015, after Vancity Buzz's growth had exceeded even his own expectations, Karm made the leap to full-time digital media entrepreneur. "The greatest thing about my current role," he says, "is meeting people from different industries."
The company's success continues to build. After a rebranding as "Daily Hive" in 2016, the digital publication expanded into the Calgary, Toronto, and Montreal markets. It currently employs 35 staff at its head office in Vancouver, three in Toronto, and nearly 100 freelance contributors Canada-wide, and averages 7.5 million page views per month.
"The name change allowed us to scale nationally," Karm explains. "We haven't looked back since."
Now the goal is to become as strong in other cities as they are here at home.
"People said it couldn't be done in Vancouver, but we did it," says Karm. "Now we're ready to do it again in Toronto."
As they chart their continued growth, Karm and Manny are careful to hold onto their grassroots beginnings. Daily Hive's Yaletown office maintains a casual vibe and even has a designated area for playing video games.
"The best businesses are the ones that don't feel like work," says Karm, "and where Mondays are something you look forward to."
The pair have already earned several notable accolades, but Karm says the opening of the company's first office remains his proudest achievement: "That was a great feeling."
He credits his ability to reach that milestone in part to his CPA.
"Having accounting knowledge allowed me to understand the cash needs of my business," explains Karm. "It's an advantage that many entrepreneurs wish they had because knowing your cash flow is key to growing your business."
That isn't always easy in an industry that's constantly changing.
"'Long-term' means 12 months, if we're lucky," he says. "We need to be adaptable to the greater market forces and industry trends, so we're constantly evolving all facets of our business. But that's what makes this business fun."
Owning a digital publication may seem like a far cry from accounting, but the change-management and strategic-planning skills Karm uses on the job are strengths expected of all CPAs.
"You still have to keep up with the dynamics of the accounting sector," he says, "but there's a lot more to being a CPA."
That's a message he's now sharing as a mentor to an up-and-coming CPA in his company. Another is that entrepreneurialism is a rewarding career option.
"For me, owning a business has been liberating on many fronts," says Karm.
He adds with a laugh: "One of them is setting your own dress code."