Carey Dillen, CPA, CA
Q&A With Carey Dillen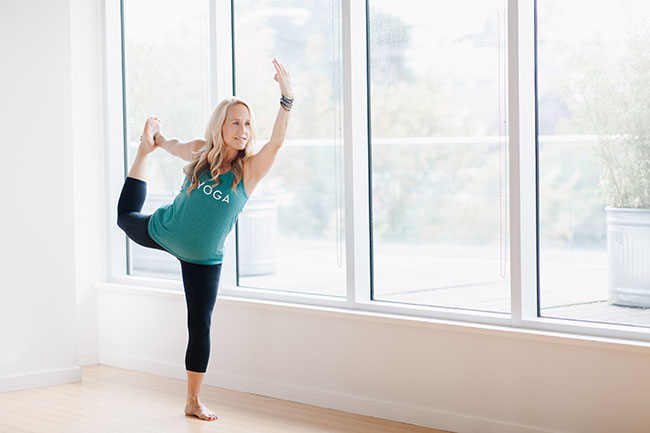 Photo: Bobo Zhao Photography
Job Title: President at YYOGA
Years as a CPA: 18
Unique on-the-job experiences: Meeting polar bears while working for KPMG
Most memorable moment: Carrying the Olympic torch in 2010.
Before declaring her university major, Carey Dillen was preparing for law school—until a copy of Fortune 500 changed everything. When she saw how many high-ranking business people had accounting designations behind their names, it sparked her curiosity and redirected her career trajectory. Since then, Carey has earned her CPA designation, worked for some of Canada's biggest brands, including Boston Pizza and MEC, and shared her leadership with organizations that align with her passion for sports.
Among the highlights? Pairing her passion with her financial aptitude as vice-president of finance and controller for the Vancouver Organizing Committee for the 2010 Olympic and Paralympic Winter Games (VANOC). A self-proclaimed adrenaline junkie, Carey likened the experience to "drinking from a firehose for five years." After the 2010 Winter Olympics, she went on to serve as an advisor to the games in London and Sochi.
Post-Olympics, Carey was ready for a different pace. Her current role as president of YYOGA allows her to balance her CPA skills with her go-to outlet for critical thinking: yoga.


Photo: Bobo Zhao Photography
How important is yoga to your work-life balance?
Yoga is the gateway to get into my body and quiet my mind. When I come out of that space, I have clearer thinking. Sometimes, it even helps me find the answers for the problems I've been trying to solve.
At YYOGA, we make intuitive decisions that are backed up by data-driven business practices—which I love. For me, yoga is the vehicle that allows those two sides to settle. Setting logic aside and focusing on my intuition and the present moment to check and balance solutions is part of my regular practice.
"Intuition" isn't typically associated with accounting. Or is that just the public's perception?
People are often surprised when I tell them I'm an accountant. When most people think of accounting, they only think about the conservative, rules-based, structured, detailed side of things... and of course, about their taxes!
And some accountants do love details and spreadsheets, while others love strategy and the big picture. I'm more about the big picture—the business drivers and the stories the numbers tell. But I can dive into the detail if I want to, to figure out the roots of the issues/problems. My CPA gives me the foundation to take in information, distill it down, and understand how it all fits together.
What I've learned in my years as a CPA and through my encounters with other CPAs is that there are opportunities in this profession to fit a multitude of skill sets and personalities. My advice to anyone considering the CPA program is "don't believe the stereotype."


Photo: Bobo Zhao Photography
Did you ever expect that your accounting background would take you to the Olympics? What was it like to be part of organizing the world's largest athletic event?
I've been fortunate in my career to have worked with some talented people on amazing projects, and for me, the Olympics was a dream come true. I've been involved in sport all of my life, and I know the power it has to transform people and bring together communities. I was able to combine my skills with my passion in my home country, on the biggest stage, with the world watching. For me, it was an unforgettable experience to be part of a team who delivered this event to Vancouverites, Canadians, and everyone else across the globe.
We had a lot of really tough economic conditions we had to deliver within—construction escalation, financial crisis, and foreign currency changes, to name a few. My CPA designation was critical during this stage. We had to collaborate across 53 different lines of business, and I needed to be able to pivot and problem-solve issues quickly. I'm extremely proud of what we accomplished and how the 2010 Winter Olympics inspired Canadians to be patriotic in a way we had never seen before—with flags waving and parties in the streets. It was a special time for Canada.
What's your definition of success?
I measure success by how I'm spending my time: what I get to do and who I'm around. Having a clear understanding of what truly lights me up has changed the course of my career throughout the years. My North Star has always been having a purpose and making a difference on a business and personal level—whatever that looks like. It's not a drive to be at the top; it's a drive to learn, connect, grow, and support others to be better.
---
Carey's "student of life" ethos is the driving force behind her quest for continuous improvement both professionally and personally. While she continues to lead YYOGA's expansion across Canada, she's also challenging herself physically and spiritually in her personal yoga practice: This past summer, she completed her 200-hour yoga teacher training. So if you practice yoga in Vancouver, you might just meet Carey in the studio.