Leaders and Change Makers: CPAs Celebrated at Virtual Member Recognition Event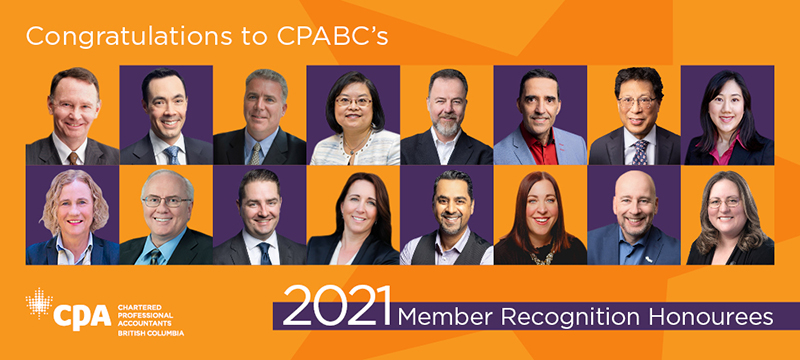 On May 16, 2022, CPABC celebrated the honourees of its annual Member Recognition Program, which recognizes individuals who have made notable contributions to the CPA profession, the business community, and/or charitable endeavours.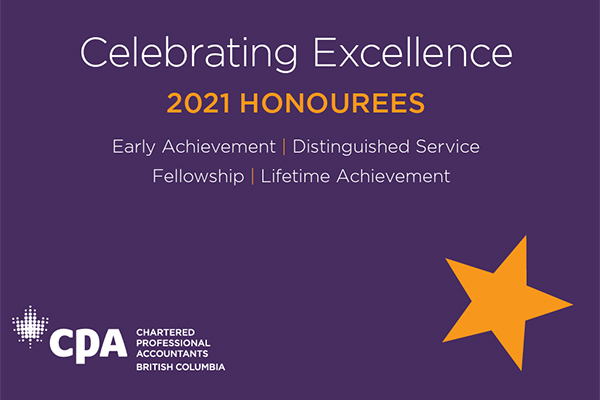 May 16, 2022
Member Recognition Celebration
Watch the celebration of CPABC's 2021 honourees.
Approximately 60 people from across the province attended, including award recipients' family members, friends, and colleagues. The virtual event included congratulatory remarks from CPABC's leadership team, interviews with the recipients of the Early Achievement and Distinguished Service awards and Fellowship recipients, and a roundtable chat with the recipient of the Lifetime Achievement Award. 
Opening remarks were provided by Lori Mathison, FCPA, FCGA, LLB, president and CEO of CPABC, and Geoff Dodds, CPA, CA, immediate past chair of the CPABC board and chair of CPABC's two member recognition committees. In congratulating the honourees, Mathison noted that, "The members we are celebrating are both trailblazers and trusted advisors. They are a source of financial expertise, leadership, and integrity to the communities and organizations they serve. They have also played a vital role in leading recovery from the pandemic and through the many other challenges posed by our complex environment."
Board Chair Karen Horcher, FCPA, FCGA, CFA, also spoke at the event, and commended the honourees for their service as trusted advisors, saying, "Whether in a leadership role at work, steering the profession through service on CPA chapters, committees, and task forces, or lending your insight to a community-based organization, you provide the skills and guidance required to navigate today's demanding business landscape."
Video interviews with the honourees followed, in which they shared impactful moments from their careers and reflected on their diverse professional and volunteer experiences. ¬The event concluded with an online networking reception.
Leaders and Change Makers: CPAs Celebrated at Virtual Member Recognition Event
Leaders and Change Makers: CPAs Celebrated at Virtual Member Recognition Event