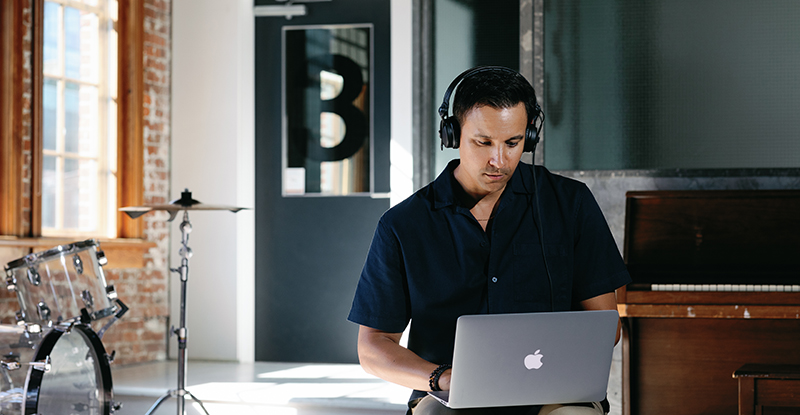 Photo credit: Bobo Zhao Photography
In this podcast episode, Justin Davis, CPA, vice president, relationship manager at Wells Fargo, speaks about his career journey and love for music, which has led to him DJing and being involved in the music scene for most of his life. Part of our Coffee Chats with CPABC podcast series.
---
Justin Davis, CPA, follows the beat of his own music. He fell in love with music at a young age, growing up in a household where music was used to bring family and friends together. This love for music led him to become a DJ and music producer, while also earning his CPA designation. Alongside all of this, Justin's appreciation for arts and culture inspired him to actively support local organizations such as Ballet BC, Beaumont Studios Artists Society, TEDx Vancouver, Diner en Blanc, and Big Brothers of Vancouver in various capacities which include board membership and volunteering.
Justin has been working at Wells Fargo since 2017 and is now vice president, relationship manager. We caught up with Justin to hear about his personal career journey and how his passion for music and culture has helped him achieve balance in his life.
Listen to our podcast episode to enjoy the entire interview. Below are some highlights from the conversation.
All photos courtesy of Bobo Zhao Photography unless otherwise specified.
---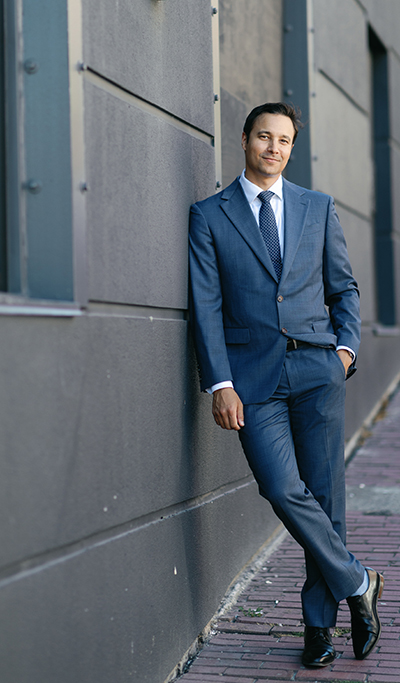 Tell us about how you first got involved with music.
Justin: I grew up in a very musical family. As far back as I can remember, there was always music playing in the house, and dancing. I was exposed to artists as diverse as James Brown, Curtis Mayfield, Santana, Aretha Franklin, and Nina Simone. As I grew, my tastes started to include current music of the times, such as 90s alternative rock, hip hop, and dance music.
When I was in high school, I started collecting records and also bought my first pair of turntables. I started DJing for high school dances, birthday parties, and other local events.
What did you do after you graduated from high school?
Justin: I took a couple of years off from school and backpacked across Southeast Asia and Australia, tree planted, and worked at an art gallery as well as for TOMS shoes. During this time, music continued to be a huge focus for me. I hosted a radio show and continued DJing. The electronic music scene was growing at that time and I held DJ residencies at local clubs and hosted international acts.
Tell us about your transition to entering post-secondary and what inspired you to pursue accounting.
Justin: I realized that accounting aligned with my personality, because of my curiosity in how things work and my analytical nature. I knew I wanted to have a career in business in some form and so I complete a Bachelor of Commerce in accounting from UBC, and eventually earn my CPA designation.
You worked at EY for a number of years before moving on to Wells Fargo. Can you speak about your experience at EY and then what led you to Wells Fargo?
Justin: I started at EY while still earning my CPA, and it was great because my schedule was structured to allow me time to study, and I was always surrounded by like-minded students striving to achieve the same thing. My experience at EY was incredibly fulfilling. It was a lot of hard work and it was the best business experience I could have asked for. I was able to quickly learn about a wide variety of industries, and developed a valuable technical skill set and work ethic. I also had the opportunity to travel for work, including working in LA and Denver.
A couple of years into my time at EY, I learned about the banking field and was intrigued. From my experience working in the US with EY, I gained a broad understanding of U.S. Generally Accepted Accounting Principles (GAAP), and I thought it would be interesting to work for an American bank. I learned about Wells Fargo's cross-border platform, which allows its clients to transact on both sides of the US/Canada border. After meeting with the Wells Fargo team here in Vancouver, I felt that the organization would be a great fit for me.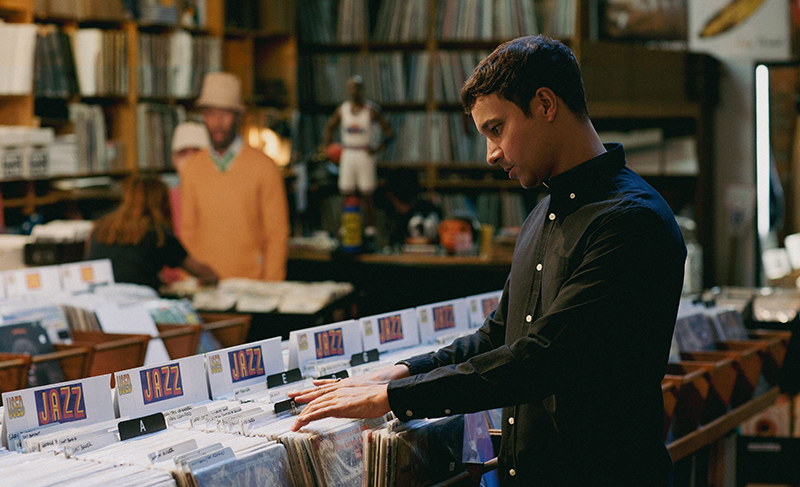 Photo credit: Trinity Photographs
Your current role is vice president, relationship manager at Wells Fargo. What do you do in your role and how has your CPA background prepared you?
Justin: I have a portfolio of clients who have a variety of banking needs and products. I serve as the one point of contact at Wells Fargo for these clients, helping them access a variety of services from lending to capital markets to treasury management. My CPA designation prepared me for this by building my analytical skills, such as understanding financial statements and how they speak to each other.
There's a lot of risk management involved in my role, and my CPA background and experience at EY also prepared me for this. Additionally, the soft skills that I developed from obtaining my CPA helped set me up for success in the relationship management aspect of my role.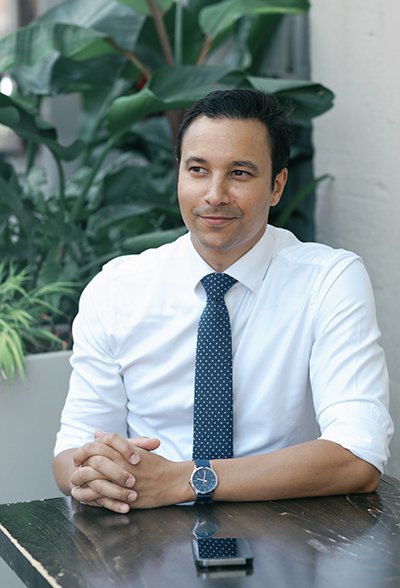 How has your background in music and your involvement with the cultural scene helped you in your CPA career? Conversely, how has your CPA background helped you with the work you've done outside of the office?
Justin: My passion for music and the arts has helped create balance in my life. It's an outlet for me to decompress. Conversely, being a CPA has furthered my organizational and analytical abilities, as well as my drive – which benefits my endeavours outside of work.
I've been involved with board work for arts and cultural organizations, and my CPA skillset allows me to make a positive difference to these organizations, such as contributing my problem-solving and providing financial expertise. Many not-for-profit organizations lack full-time staff, so being able to roll up my sleeves sometimes and help with number crunching or situational planning is something I've been happy to help with.
What do you see for yourself on the horizon? Where would you like to take both your career, as well as your efforts outside of work?
Justin: I'm very happy at Wells Fargo, given the type of work and clients that I get to manage on a daily basis. As well, my team is great and we're all friends and hang out outside of work. Music will always be a big part of my life and I'll continue to explore it as a passion for as long as I can. In particular, I'm very interested in music production. I'm excited to be releasing more music this year too!
When you're not busy working, what do you like to do for fun?
Justin: DJing will always be something I do for fun. As for my music production endeavours, I've put out a few songs on platforms such as Apple Music and Spotify. My producer/artist name is Ricco, if anyone wants to check me out. Beyond music, I'm a big fan of hikes and travelling. Last year I went to Tulum, Mexico, which is great for the beach and music scene, and next year I've booked a trip to Quebec City and Montreal in the summer which I hear is a great time to be there.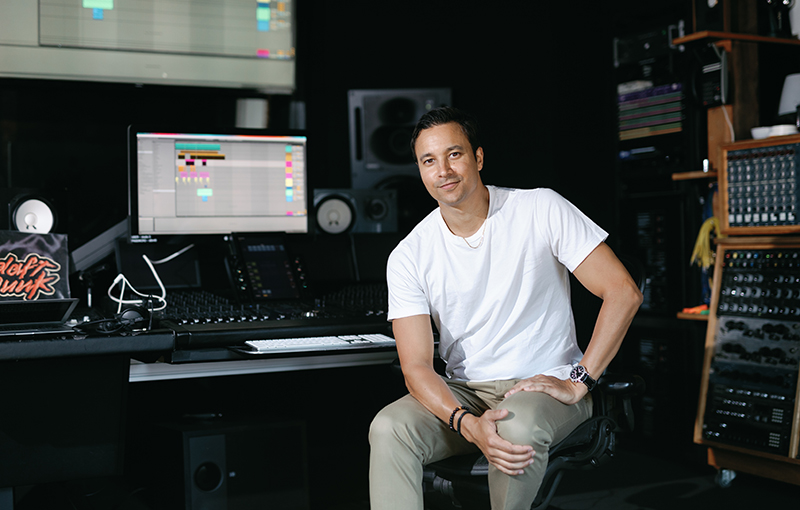 Fun facts
Do you listen to podcasts, and if so, what are some of your favs?
The Tim Ferriss Show, Freakonomics, and CBC's Ideas.
What are some of your favourite books?
Shantaram, A Fine Balance, The Alchemist, and A Short History of Nearly Everything.
What are some of your favourite motivational songs or music?
A song that really gets me going is "Little L" by Jamiroquai.
What's been your favourite music festival to go to and why?
The Bass Coast Festival in Merritt, because I always come back inspired by the music and people.
Where in the world do you most want to travel to?
I would like to go to Brazil for the music, food, and culture.
What are some of your favourite records in your collection?
Daft Punk's, "Homework", any of the albums in Mark Farina's "Mushroom Jazz" series, Quantic's "Mishaps Happening", and any albums by James Brown and Herbie Hancock.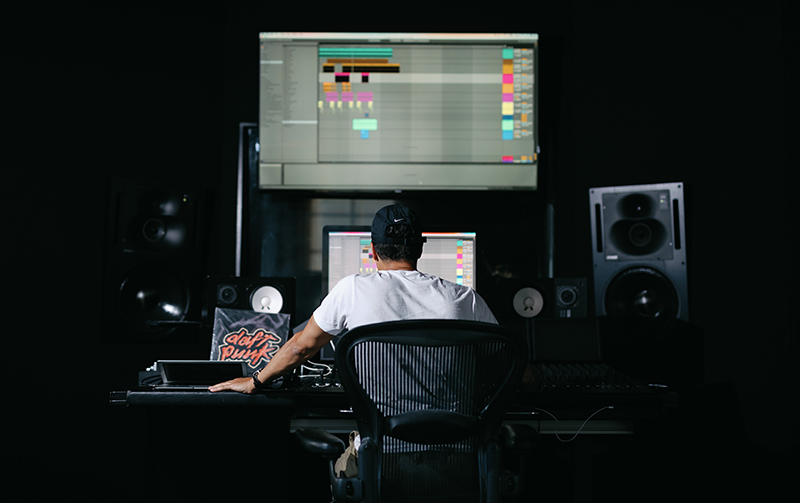 ---
Vince Kanasoot is a communications specialist with CPABC.