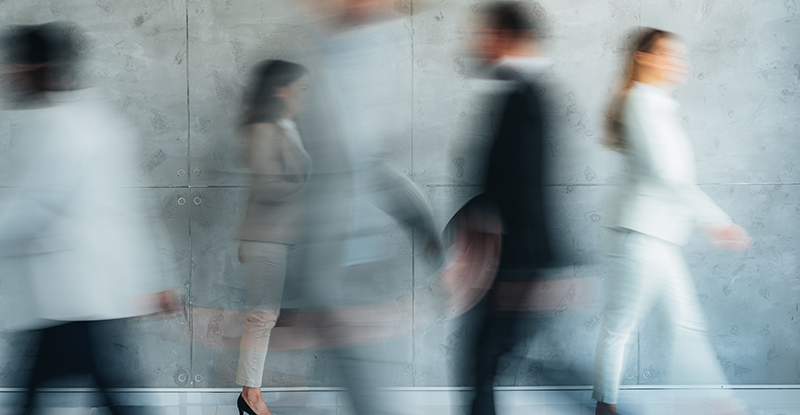 Photo credit: filadendron/E+/Getty Images
In this podcast episode, Paul Schmidt, CPA, CA, chief operating officer (COO) with Baker Tilly Canada speaks with Amy Lam, FCPA, FCA, executive vice-president of corporate services and CFO at CPABC, about how his role as COO allows him to support effective change management and ultimately, organizational growth. Part of our Coffee Chats with CPABC podcast series.
---
"The rate of change is so quick these days that we aren't wired as humans to deal with it," says Paul Schmidt, CPA, CA. Paul has been with Baker Tilly Canada for over 33 years and now serves as chief operating officer (COO). Over his time with the firm, he's supported change throughout the organization. This includes helping to oversee the Vancouver office's recent renovation, which was designed to encourage forward-thinking use of technology and team collaboration.
Below are some highlights from Paul's recent conversation with Amy Lam, FCPA, FCA, executive vice-president of corporate services and CFO at CPABC.
It seems like the hybrid work model is here to stay. How is Baker Tilly navigating hybrid work to ensure productivity remains high and your people stay connected?
Paul: Our firm's approach is unique, because prior to the pandemic, the Toronto team opened a new office, where the entire space had been rebuilt to align with our vision of being "an office of the future". Our intention was for it be an office where employees could work from anywhere. COVID-19 dramatically accelerated this process as virtually overnight, everybody was suddenly working from home. Since we were already preparing for remote working capabilities, this was a relatively seamless transition.
These days, there are different expectations on how to approach remote work. I'm a believer in balance. In certain situations, especially for younger professionals and students who may be going through a steep learning curve, it can be more beneficial to work in-person and be able to ask questions face-to-face.
Ultimately, our goal is to find the right balance between working from the office and home. Right now, the expectation at Baker Tilly is to come into the office about three days a week. We don't mandate specific days, leaving it to employees to work with their managers to schedule what works best for their teams.
The most important part of all of this is to maintain the culture of our firm. When co-workers spend a lot of time away from each other, they can lose their connections and forget that working together can be fun! Part of the reason why we've renovated and updated our Vancouver office is to encourage in-person collaborations. I'm happy to report that our office is super busy these days and our employees are enjoying themselves in the new space.
In redesigning the new Vancouver office, what were some ideas you used to encourage collaboration and adapting to the needs of your people?
Paul: Our strategy ran counter to what we were seeing out in the market. Throughout the pandemic, a lot of organizations were planning on downsizing once they got back into the office, thinking they would need less office space in light of the new remote work culture. We went the other direction by expanding our space, and aligning with the recent Toronto office redesign, which we referred to as "an office of the future".
For our renovation, we ripped out an entire floor stud to stud, and we rebuilt it from scratch. Now, it's extremely bright, tech-savvy, and has multiple collaboration rooms, equipped with Microsoft Teams. As for workstations, we've removed the old pods and replaced them with sit-stand desks.
Perhaps the most notable thing we've done is that we've created a centrepiece for the entire office, which now serves as our social hub. It's the most beautiful part of our office, overlooking the Burrard Inlet. The idea is that we want people from both floors to come down and spend time together. This area also has audio and visual capabilities for presentations, which can be used for work purposes as well as for social functions.
Adapting workspaces for hybrid culture is a great example of change management. Based on this and your other experiences serving as COO, what do you feel are some keys to effective change management?
Paul: The rate of change is so quick these days that we aren't wired as humans to deal with it. I believe that as a leader, if you want things to move in a specific direction you need to be persistent and stay the course. You can't lose sight of what you want to achieve, because there will be bumps along the way.
Going hand-in-hand with this is communication. Constantly communicating what you're trying to achieve and reinforcing your messages regularly is key. Again, change is hard and to be successful, you need to readily accept that things are changing all the time and not get bogged down along the way.
Speaking of change, Gen Zs continue to enter the labour market and they have different expectations of their employers compared to other generations. How are you navigating this change?
Paul: One of the unique traits of Gen Zs is that they've entered their professional careers at an unusual time in history. This has accentuated some of the differences in the way that they see things. They think differently from previous generations and ask questions that we perhaps would not. In some respects, that's a really good thing.
We need to ensure we have two-way conversations with them. It's great that young people are asking questions, and in turn, we have a responsibility to explain things and develop the thought process to support where the organization wants to go.
Developing the success of Gen Z in the workplace requires a collaborative approach. As leaders, we need to keep listening and constantly reevaluate the way we're doing things to make sure we're not stuck in old ways of thinking. Gen Zs are the future for all organizations and there's great talent out there. We're at a time right now where many organizations are struggling to attract talent, which further reinforces the importance of having two-way conversations with young people and helping them grow.
Before your role as COO, you led the IT group at Baker Tilly, so I'm curious about your take on Generative AI, such as ChatGPT and how it can innovate the work that CPAs do.
Paul: One way in which I've already seen AI being utilized by firms is on the learning and training side. Technology such as AI can, for example, make finding information much quicker and easier, and also improve teaching complex topics to learners.
At the same time, AI also brings up some legitimate privacy fears. These include concerns about protecting client information and not allowing it to be used in unintended ways. It's a brave new world out there and things will continue to change in ways we can't anticipate right now.
Technology in general has been changing very rapidly during the past 10 years. AI is the latest thing that everyone is talking about. However, I would argue that we've been adapting and leveraging technology for a long time now, so we've been down this road before. Now we're widening the scope to include digital transformation in the workplace.
How has technology disrupted or enhanced business at Baker Tilly? And how have you embraced the quick pace of change?
Paul: I have a unique perspective on this, because of my background working in audit for many years, before migrating into technology and operations. For example, I'm familiar with the work required in traditional services and I've also seen how advances in technology can support efficiency in these areas. Key to embracing today's quick pace of change is working with the strong IT staff we have and helping them understand that we're not rolling out new technology just for the sake of it. Instead, we're utilizing new technology as a support mechanism for our business. As such, I encourage my IT team to always be on the lookout for technological advances that might help enhance our business.
It's also very important to be supportive of the people on the front lines using this technology, because it can be daunting. When they're aware that they have our support, it reduces fear and improves efficiency. Encouraging a culture that invests in new technology and supports team members using it, sends a message that our mindset is focused on moving forward progressively.
Do you have any other tips to share about effective operational leadership?
Paul: Someone once said to me, "The biggest battle is to find the places where you should be focusing your time." In operational leadership, there are so many things you may be asked to do, so much so that you can get buried in details. I recommend being mindful of how you use your time and efforts. To be successful in this, you'll want to build a good team around you to distribute tasks and responsibilities. I have a reputation for being a hands-on person. Sometimes I have to remind myself to consider whether I should be doing specific tasks or if I should distribute them. You need to remember to put your energy toward the things that are going to have the biggest impact on your organization.
---
Vince Kanasoot is a communications specialist with CPABC.