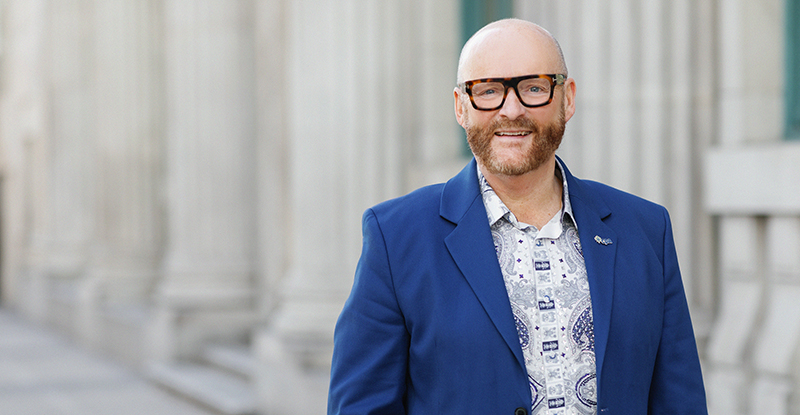 Photo credit: Bobo Zhao Photography
In this podcast episode, Michael Pickup, FCPA, FCA, Auditor General of BC, speaks with Vince Kanasoot, communications specialist at CPABC, about his career journey, and how his family and life experiences helped shape who he is. An advocate for EDI and mental health wellness, Michael shares how he's striving to move the dial in the workplace. Part of our Coffee Chats with CPABC podcast series.
---
When Michael Pickup was growing up in Cape Breton, he watched in admiration as his nan (grandmother) led a healthcare union. Michael's nan achieved career success that was uncommon for females in the 1970s and 1980s, while also serving as the matriarch for a large family. Her ability to use her business savviness and leadership skills to serve the public good while simultaneously acting as a strong, loving family leader was inspirational to young Michael. She was, in Michael's words, "a unicorn", for how rare and special she was.
"My nan told me that everything she was doing at work was for the betterment of healthcare services delivered to the public," recalls Michael. "I always saw her as a role model dedicated to helping others, while never compromising on her family."
Throughout his childhood, Michael also watched his nan actively engage in the political scene. While this sparked an interest in politics within him, Michael also found himself increasingly fascinated by entrepreneurship (he was a Junior Achievement company president at his school). Michael would later decide to study economics at Acadia University, hoping it would allow him to eventually work in a field involving numbers and political science. After a period of working for an accounting firm in Cape Breton following university, Michael fulfilled his desire to enter the public sector, joining the Office of the Auditor General of Canada's office in Halifax, during which time he received his CPA designation.
"I was really drawn to two things there," he says. "One, the range of the financial audit portfolio, which included mining, transportation, and manufacturing. Secondly, the opportunity to audit how effectively public services such as healthcare and water supplies for Indigenous communities were being delivered across the country, and to provide recommendations for improvement."
Michael had found his calling. He eventually headed to Ottawa to work for the Office of the Auditor General of Canada. He remained with that office for almost 25 years, advancing to the role of principal. In 2014, Michael returned home to Nova Scotia to accept a position as the province's Auditor General, becoming the first person to ever depart the Office of the Auditor General of Canada to lead a provincial audit office. Along the way, he also received his FCPA and FCA recognition. In July of 2020, he made another big move – relocating to Victoria, BC, to serve in his current role as Auditor General of BC.
Similar to his most recent role in Nova Scotia, Michael leads audits in areas that affect the public wellbeing such as fraud and public services, and passes on his reports with recommendations to the provincial legislature. "We strive to positively impact the lives of the most vulnerable, including women and children leaving violent situations, people living in remote areas, Indigenous offenders, and so on," states Michael.
Recently, Michael commissioned an audit on access to mental health and substance use services for indigenous people in correctional facilities. Michael explains, "We wanted to look at the whole continuum of services these individuals have access to when they enter a facility to when they leave. We found that the services weren't consistently being provided as the Provincial Health Services Authority had outlined they should."
This year, Michael and his team also plan on following up on past audit recommendations they've made to the BC legislature, to see which recommendations were acted on. This is something Michael had done during his time leading the Nova Scotia Auditor General office, where notable progress was made.
"In my first year as auditor general of Nova Scotia, 50% of recommendations that we made were complete within two years. When I left six years later, the completion rate was 75%. We credit the people who work in public service, who implemented these changes, for this progress," recalls Michael. "Now, we're going to do this same thing in BC, for the first time ever."
Another driver in Michael's decision to relocate to Victoria, was the opportunity to enjoy new lifestyle experiences and share his wisdom in a new province.
"I hadn't previously experienced life on the West Coast," explains Michael. "I thought that serving as Auditor General of BC would be a great way to close out my career, see the province, and bring some of the things I learned in Nova Scotia and Ottawa here to the BC team."
Moving the dial on EDI and mental health
One of the things Michael had learned over his career is the importance of bringing one's whole self to work. This is also an area where Michael has experienced great challenges throughout his life.
"When I started my career 30-odd years ago, one of the biggest struggles I faced in trying to advance in my career was being a member of the LGBTQI community and bringing my whole self to work. The world wasn't what it is today. When it comes to equity, diversity, and inclusion (EDI) in the workplace, I feel that we've progressed from a lack of acceptance and understanding; to tolerance; to appreciation and respect – which is where we are now. There's still lots of work to be done and I don't know if there's ever going to be a point when the work is complete."
One initiative that Michael took in recent years was completing a certificate program in diversity and inclusion from Cornell University. Since then, a number of his leadership team members have also completed the program. "We now have similar understandings on terminology and concepts in the diversity and inclusion space. It's been wonderful to see people go through this certificate program, so that we can all move forward together," says Michael.
Similarly, Michael also led his team on a two-day offsite training course, where they received certification from the Canadian Mental Health Commission on mental health first aid. This initiative, Michael believes, has helped to further achieve an inclusive mindset among his team.
"I think if you're not providing the right supports for mental wellness in the workplace, it's hard to have safe environments, which are the foundations for diversity and inclusion."
Michael's commitment to EDI has extended externally to his office's work as well. "We recently released an audit on the governance of diversity and inclusion in the public service. Therefore, alongside topics such as fraud, we're also measuring diversity and inclusion as a performance audit. We've come a long way, but there's still a long way to go. We will always be challenging ourselves to stay top of game on this."
Laughing every day
What's another key to fostering a positive workplace environment? "We have to be able to laugh, including at ourselves," Michael says. "I laugh at myself all the time. Maybe I'll show up to work accidentally wearing one black shoe and one brown shoe. It's ok, it's not the end of the world. Let's create safe environments where people feel free to grow and develop, and if they make mistakes along the way – which is inevitable – it's ok. They can learn from their mistakes. I've never screamed or yelled at anybody at work. There's no reason to create a workplace culture based on fear. The type of work we do at my office is of course, serious. But no matter how serious your work is, you still need to find ways to have some fun while you're doing it."
When asked what type of legacy he would like to leave, he says, "I hope that when I leave my office, it will be a very diverse and inclusive place as a result of the focus I've placed on building a supportive workplace culture. I've already seen excellent progress from my executive team – the type of work they've done in EDI has been amazing."
"Just as important, is the focus on the work that we do. I always say diversity and inclusion should improve the work that we're doing. I want to be remembered for the work that we have done both from a financial perspective, as well as how we've helped improve public programs and services through our reports and recommendations to the legislature. Ultimately, I hope that both the external results from our audits will be better, as well as our internal systems, because of the foundation I helped build."
Every day, Michael fondly remembers his nan, who served as an inspirational role model to him. In fact, Michael honoured her legacy by writing his book, Nan-Made: How a Grandmother Made a Man, published in 2018. It's likely that the impact he's made in his workplaces and industry, as well as the uniqueness of his progressive leadership, will garner him a similar appreciation from those whose lives he's touched.
---
Vince Kanasoot is a communications specialist with CPABC.