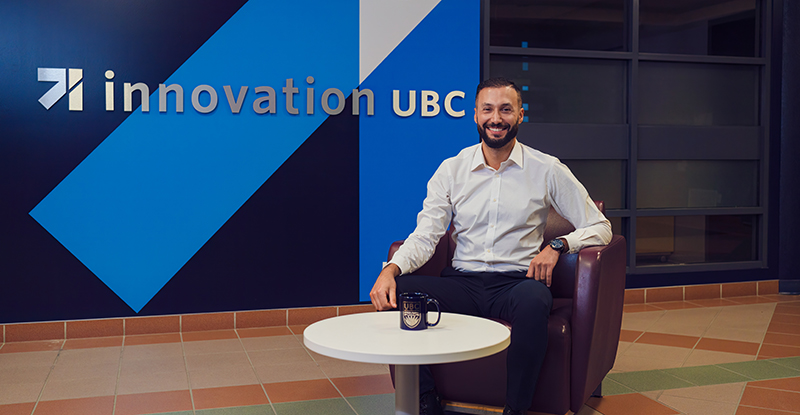 Photo credit: Shoaib Shabir
In this podcast episode, Anas Qartoumeh, finance manager at UBC Okanagan and CPA candidate, speaks to Leah Giesbrecht, communications specialist at CPABC, about his journey from his home country of Syria to Kelowna, BC, in pursuit of personal freedom and career success. A proud member and advocator of the LGBTQ+ community, Anas shares his inspirational story. Part of our Coffee Chats with CPABC podcast series.
---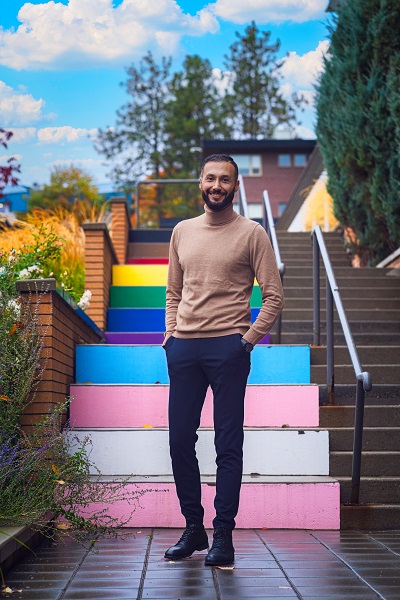 "I'm not part of this war." This affirmation set in motion Anas Qartoumeh's decision to leave his home country of Syria on a journey that would take him to Lebanon, Iraq, and eventually Kelowna, BC. "The war in Syria started in 2011, one year after I obtained my accounting designation," he explains. "I was working with Ernst & Young in Damascus at the time. I had already done mandatory military service in 2007, but now the government was calling people to service again. I was fearful of doing military service again as I did not want to participate in any sort of violence. In addition, I risked being exposed as an LGBTQ+ person – LGBTQ+ people are criminalized by the Syrian government. I realized it was time to leave."
Now a finance manager at UBC Okanagan and a CPA candidate, we spoke with Anas to find out about his career path, his journey as an asylum seeker to the Okanagan, and his activism in support of the LGBTQ+ community. We started by speaking about his accounting career in Syria.
Career, interrupted
Says Anas, "Back in 2007, I graduated from the University of Damascus and got my bachelor's degree in accounting. I then had to spend one-and-a-half years completing mandatory military service. When I was done, I felt like all my information from my education was gone because I hadn't had sufficient practical experience after graduating. I felt like I had to start from zero. I took whatever job I could get and I decided to obtain my Certified Public Accountant* license and I finished in 2010. At that time, I was full of hope as a young person, I had dreams, but our country, unfortunately, has very limited opportunity for innovation and dreams."
To make it, you need to rock it
He started looking for jobs with international companies in Syria because he knew that they came with policies and systems that are more just, in addition to international skills and knowledge. "But to land one of these positions," Anas says, "You really need to rock it. You need to speak a minimum of two languages, and you have to be the best in your college, the best in your program."
He worked extremely hard to achieve all of those requirements and secured his first job at Ernst & Young as an auditor, then moved up to senior auditor. "This was life-changing because I got to practice all of the technical knowledge from my accounting education," says Anas. He audited other companies and had exposure to different industries, which gave him the confidence and the required skills to travel and pursue jobs outside of Syria.
"So I left for Lebanon, which is very small country and at the time, it was overwhelmed by refugees from Syria," he continues. "While there, I continued to work remotely for Ernst & Young and I started looking for opportunities in different countries. My first offer was from Deloitte & Touche in Iraq and I immediately accepted." While in Iraq, he corresponded with the Central Okanagan Refugee Committee and Rainbow Refugee, an organization that supports LGBTQ+ refugees and helps them flee their countries where they face discrimination and homophobia, and he applied as an asylum seeker for LGBTQ+ protection.
After about two years, Anas made it to Canada and secured a job at KPMG in Kelowna as a senior auditor. This allowed him to learn more about Canadian accounting systems and he worked for First Nations organizations, school districts, manufacturers, and companies in hospitality. "I am very grateful that I got to start my new professional life with such great exposure to so many areas," he says.
Never waste your time
"If I could speak to young people who are facing a similar situation, I would tell them that in any decision you make in life, there are always pros and cons, so you need to assess those," says Anas. "Once you make a decision, focus on the pros, and have a mitigation strategy for potential cons. This will help prepare you for whatever might happen.
And as a piece of advice, never waste your time. When you face any challenge, make a plan and move forward, rather than, say, complaining about the situation or being frustrated about things that are not under your control.
My journey has up and downs, and I definitely didn't always try to make the best decisions. But I would check in with myself and ask, 'Okay, what went wrong? Did I do the right things? If not, then what does this experience have to teach me?' That was the only way I kept motivated to carry on and move forward.
Coming from the Middle East to Canada, there are plenty of pros like being in a country that respects human right, where I can be myself. I can feel secure. I can feel safe. But the cons were that I had to give up a lot. I had already progressed in my career. I already had my accounting designation. I was an assistant manager at Deloitte and Touche, and I had great potential."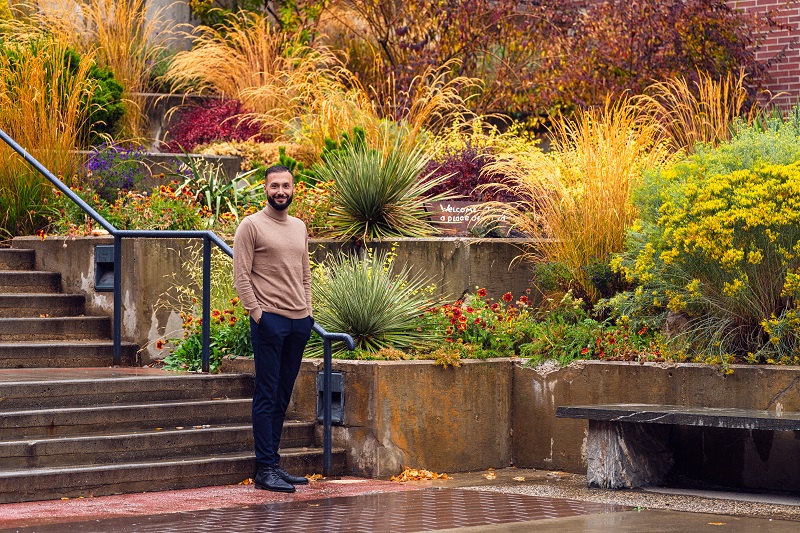 "I felt like I had to work harder than others to prove myself"
Having to re-do a credential is a challenge faced by many newcomers to Canada. Coming to a new country, Anas felt he had to start over pretty much from the beginning, and the toughest part was the feeling of incompletion. "It was really hard because when I came to Canada I had all of this experience. I felt like, I can do this, I can work as a CPA," he says. "But because I didn't have the Canadian designation, I had to redo my education. I felt like I had to work harder than others to prove that I can do it.
But the rewarding part was when I passed each course. And on another positive note, I felt that in redoing my education, all my knowledge was refreshed and that made me feel way more confident. I can deliver current information to my team. I can quickly do research to answer questions. If there's something I don't know, I know how to get there because I have the tools and the resources I need. I had to give up all of what I had accomplished in Syria and Iraq, but now I have created an awesome life for myself."
Current role: Innovating and teamwork
Today Anas is a finance manager at UBCO for the vice-principal of research and innovation with the innovations precinct and business operations units. Day to day, he ensures that financial transactions conform to policies and are in line with the relevant standards. He also does monthly and quarterly reporting and analytical finance and ensures that controls and procedures in place are all sufficient to prevent any errors or mistakes.
His work is not only accounting, it also includes developing short and long-range financial plans to optimize the portfolio's financial effectiveness. "I also provide strategic recommendations to the unit's leader and I work with diverse teams who provide innovative ideas and comes from diverse backgrounds," says Anas. "Some have accounting backgrounds, some don't, some have PhDs, and some are researchers, professors, administrative employees, and executives. So I get to work with all kinds of people and I get to learn something new every single day. I really love that."
Different approach, same goal
Working with a diverse team isn't new to Anas, given his international experience with firms like Ernst & Young, KPMG, and Deloitte & Touche. "Working with different types of people has opened my mind to understand and know that there are always different ideas. We may both have the same target, but everybody has a different approach. So that makes me open to all kinds of ideas," he says.
Reflecting on how he works and leads, Anas says "In Capstone One in the CPA Program, I had to complete a group project with five teammates, and every single student has a different opinion, but we all had the same purpose – we were being marked as a group and we needed to pass. I realized how important it is to listen to others because it can't be a one-person effort. This is exactly what you face in the work environment. You deal with the team. And every single person comes from a different background, has different ideas, and different experiences. And we all need to help each other to come up with the solutions that enable us to achieve what we need to achieve."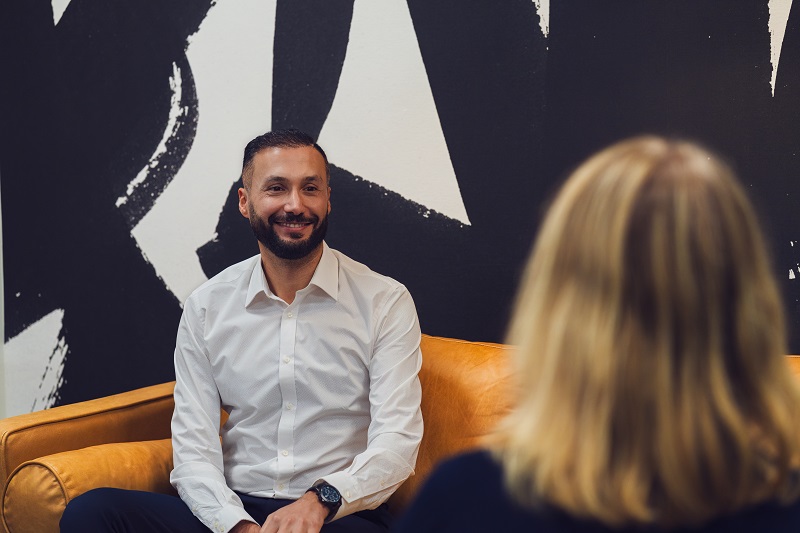 "Either you do it now, or you never will"
Along with getting established in Kelowna and completing his CPA education, Anas has also made time to give back and get involved at the community level, serving as the grand marshal for the Kelowna Pride parade and making a point to speak to the media about LGBTQ+ issues.
"Before I came to Canada," he says, "I had been in the closet for my entire life and I hadn't really heard any stories about people from my community coming out publicly because people choose to stay in closet, whether for their own safety or because they don't want to cut relations with their families and community.
But when I came to Kelowna, the local community approached me. They had heard my story and asked if I want to come out and be myself and share my story at Kelowna Pride in 2018 – on a stage in front of a crowd of about 10,000 people. In the beginning, I was very scared and I said, 'No, I don't want that.'
But one person helped me a lot in making my decision. Her name was Carol Taylor. She came to Canada from San Francisco to protest the Vietnam War, and she was also an activist against nuclear proliferation and homophobia. She actually hosted me when I first arrived in Kelowna and we became really good friends. She told me, 'Either you do it now or you will never do it.' Her words are still ringing in my ears.
So I decided to do it, to tell everyone who I am, in the hope this story would go out and inspire others to be themselves. So I came out. I became myself," he says. This did come with challenges. On social media, he received many negative comments from people outside of Canada who were against LGBTQ+ people. But he also received many positive notes from Canadians and also from the LGBTQ+ community in the Middle East telling him that his story was very inspiring and it helped them to know that they are not alone.
We've heard lots of awesome plans, but what we really want is action
"There's lots of work to be done," says Anas about LGBTQ+ equity. "I think what we really want is action. We've heard lots of awesome plans. I appreciate that organizations that have resources can take action, like implementing EDI training or strategy. But we need everybody's participation.
Your action could be as simple as just showing up, for example, by just saying no to homophobia, by saying no to discrimination. You can stand up for the community by saying no to wrong actions. Small actions can make a significant difference. The more allies we have, the more powerful an impact we will make. So I appreciate every ally who comes to a Pride Parade, who shows up, who make safe space for others, and says no to homophobia. People who believe in diversity and inclusion are exactly what we need.
Like in the workplace, in life we all need to help each other to come up with the solutions that enable us to achieve what we need to achieve."
Fun Facts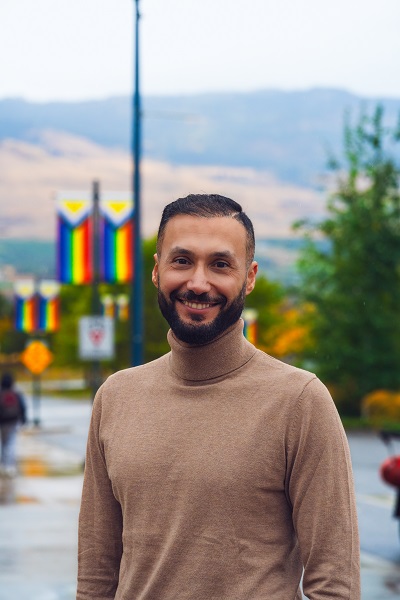 What's your morning routine like?
I love yoga. I start my day with 20 minutes of yoga, minimum.
Do you have any favorite power foods?
Yes, Thai food is my favorite.
Do you have any guilty pleasures?
Yes. Buying myself treats, especially after I feel I've accomplished something important.
And your favorite movies or piece of music?
One is a movie on Netflix called The Swimmers. It's a story of two young ladies who fled Syria to Europe. It's very inspiring story, I highly recommend it.
Any favorite podcasts?
Yes, I listen to Notes to Self, daily and I also love CBC's Ideas.
Do you have any favorite apps?
Duolingo is my favorite and it's my savior.
*In this article and the associated podcast, both the Syrian Certified Public Accountant (CPA) license and the Canadian Chartered Professional Accountant (CPA) designation are referenced. When "CPA" is referred to in the Syrian context, it refers to the Certified Public Accountant license. When "CPA" is referred to in the Canadian context, it refers to the Chartered Professional Accountant designation.
---
Leah Giesbrecht is a communications specialist with CPABC.