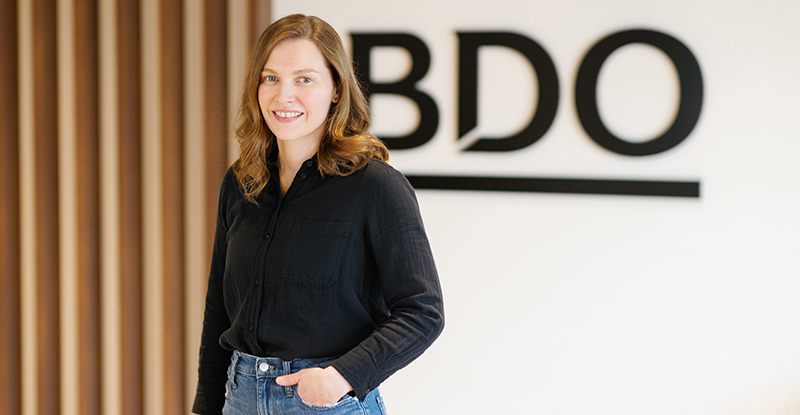 Photo credit: Bobo Zhao Photography
In this podcast episode, Ashleigh McTavish-Wisden, CPA, manager in audit and assurance at BDO Canada's Vancouver office, speaks with Vince Kanasoot, communications specialist, CPABC, about her path to becoming a CPA, and how her background in criminology supports her work at BDO. Part of our Coffee Chats with CPABC podcast series.
---
Ashleigh McTavish-Wisden, CPA, focuses on getting to the bottom of things in a calm, rational manner. In fact, her undergraduate degree is in criminology. Now that Ashleigh is working as a manager in audit and assurance at BDO Canada's Vancouver office, she's able to combine the investigative research skills from her criminology background with her CPA skill set to get to the bottom of things.
CPABC recently caught up with Ashleigh to learn her story. Listen to her podcast interview to hear the full interview. Below are some highlights.
Can you walk us through what your journey was post-high school?
Ashleigh: After graduating, I went straight to Simon Fraser University (SFU) to pursue a sociology and criminology joint major, with the ultimate goal of becoming a lawyer. I had always been interested in the application of the law in society, and the art of building rational arguments. However, after my first two years of study, I was burned out and I really needed to take a break.
I stepped away for a while, switching to the creative field of professional makeup, as my family is involved in the film and television industry. I also spent some time living in Mexico, studying Spanish. My time away from SFU allowed me to develop my creativity, gain life experience, widen my perspective on the world, and ultimately advance my focus and drive.
With this new mindset, I returned to SFU to complete my criminology degree.
Did you still intend to go into law after you graduated from SFU?
Ashleigh: Yes. After I completed my undergrad, I wrote the LSATS and did well. I also did some informational interviews to get a better sense of what a law career would look like for me. During this period, my aunt suggested I try accounting, because she felt it aligned well with my skills and interests. Thinking it wouldn't hurt, I took an intro to accounting course at UBC's Sauder School of Business – and something just clicked. With accounting, I could immediately see a clear path to a professional career in something I would enjoy.
While my journey to accounting wasn't direct, the skills I gained along the way have all contributed to my success. This includes my skills in relationship building, research, and most important to me, creative thought. The same interests that originally drew me to criminology and law are the same ones that drew me to accounting.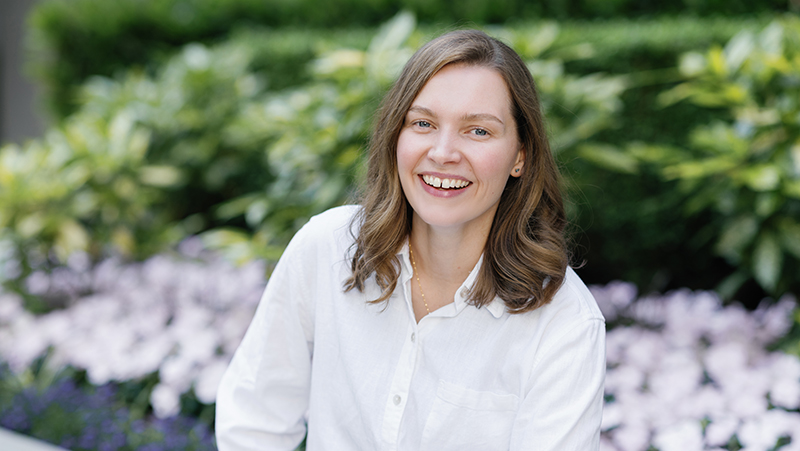 All photos in this article are courtesy of Bobo Zao Photography.
Can you tell us about your path to BDO and what your early experience with the company was like?
Ashleigh: I had a family friend who'd been with BDO for many years and recommended it as a great place to work. Therefore, I went to some BDO networking events where I really enjoyed meeting the team, and decided to apply. I was elated when I received my offer letter! It made me feel like I was on an exciting career path.
The onboarding experience was very positive. I started training alongside a group of other new recruits. The others in my group were all really smart, fun, and friendly, and the senior staff was also super approachable. We also enjoyed some great social events. BDO felt like a real community, and this was an exciting time for me.
I'm now in my fifth year with BDO and I'm continually impressed with my colleagues and the work environment. Not only does everyone bring with them excellent knowledge and dedication, but there's also so much support, respect, and kindness. We all want each other to succeed. This really makes a positive difference in how I feel about going to work.
You relocated to San Francisco for a while to work in the tech industry. How did this opportunity come about?
Ashleigh: I had always been drawn to the California landscape and was very eager to try living there for a while. While I was finishing my CPA, my partner (at my urging) took a job in San Francisco. He works in the tech industry, so it was an easy switch for him. The intention was that I would follow him once I completed the CPA program, which I did. Through a connection with a leader at BDO, I was introduced to some professional contacts in San Francisco. This led to me accepting a job in Securities and Exchange Commission reporting with a publicly traded company.
It was a really interesting and eye-opening experience. I learned a lot about technical accounting and relationship building. This experience highlighted to me the importance of teamwork and support for professional development, which is what ultimately drew me back to BDO.
Let's dive further into this. What did your return to BDO look like?
Ashleigh: My partner and I moved back to Vancouver near the tail end of the pandemic. I had been off work for almost two years on maternity leave. I wasn't necessarily looking to get back into the workforce yet. However, one of the BDO partners whom I had kept in touch with reached out to me. We had both become new parents during the pandemic, and we thought it would be great to catch up over lunch and introduce our kids to each other. When we did, , the partner that if I was interested in returning to BDO, the company would love to have me back.
However, I was nervous to start working full-time again after so much time away, especially with having to manage child care. Fortunately, BDO was really accommodating. They arranged a contract-based work arrangement for me to start, and they supported me as I learned how to balance my professional and family life. This was why I ultimately chose to stay on, now as a full-time manager.
How does your background in criminology help drive success for you at BDO?
Ashleigh: I believe the skills that I developed from studying criminology are integral to what I'm currently doing as a CPA. I have the ability to calmly, rationally, and thoughtfully tackle a problem. It's about understanding an issue, finding resources to solve the issue, and then planning a course of action. The abilities that I learned in my undergrad of critically reading and writing are skills that translate directly to my work in technical accounting.
Where do you see your CPA career headed?
Ashleigh: Ideally, I would love to continue to grow in technical accounting. It's an area of great interest to me and I would like to be a leader in it. I'm also very interested in training others, and I would like to help support the improvement and developing of training resources at BDO. This appeals to me because of the fantastic experience I had when I joined the company. I'm hoping that I can support the new cohorts as they join and move up in their programs.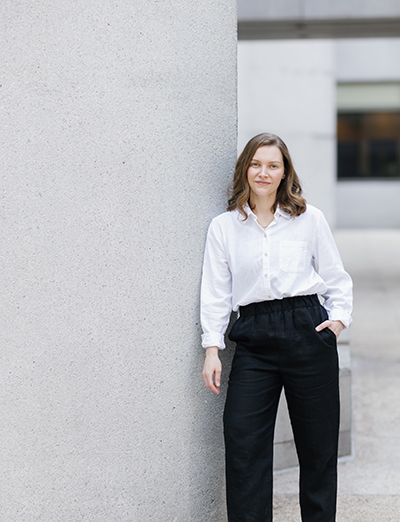 Fun facts
What are your favourite podcasts?
For comedy, I really like Smartless. And for current events and news, I really like The Daily.
Any favourite books?
A really cool book that I've read recently is the Botany of Desire: A Plant's-Eye View of the World. It's about how plants have influenced humanity. There's a chapter about the history of the apple and how humans interact with it. It blew my mind.
What's your favourite motivational music?
90s dance house, like "Pump Up the Jam!"
Given your background in criminology, do you enjoy crime or mystery dramas?
Surprisingly, I'm not a fan of either! I do, however, really enjoy watching comedy and history shows.
Where would you like to travel to?
I'm very keen to go to Denmark and the surrounding countries. Denmark has the LEGO House, and it's an amazing building filled with 25 million LEGO bricks. You can participate in different LEGO activities and learn about the history of LEGO
---
Vince Kanasoot is a communications specialist with CPABC.