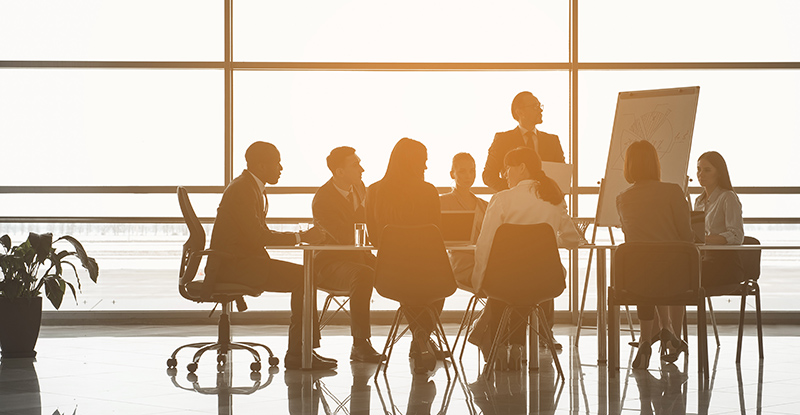 Photo credit: YakobchukOlena/iStock/Getty Images
From taking courses to volunteering to seeking mentors, there are several methods you can use to gain the skills needed to become a board member
Many of the suggested professional development sessions in this article are offered by CPA Canada. CPABC also offers a wide range of career development sessions, held virtually and in-person. Visit CPABC's professional development page for more information.
As CPAs who have served on boards can attest, being a board or audit committee member can boost your career in many ways.
Here are some ways to prepare for a board role—and how to stay up to date once you have gained some experience.
Take formal training

Director education programs and short courses on topical governance issues are available through organizations such as the Institute of Corporate Directors. CPA Canada also offers a not-for-profit certificate and has a virtual Audit Committee Certificate program, which was developed with KPMG. According to Wendy Kei, FCPA, who was involved in developing the program and also served as one of the lead co-authors on the CPA Canada/KPMG study CPAs on Board, approximately 40 students have graduated so far.

Attend conferences

CPA Canada holds an annual Conference for Audit Committees and Corporate Governance, which explores current perspectives on good governance, technology, strategy and risk, regulatory changes, diversity issues and more. The 2022 conference will take place in person at the Metro Toronto Convention Centre on December 6-7.

Join advisory and other boards

While there are conflict-of-interest rules that prevent or make it more difficult for CPAs in some roles to join the board of a publicly traded company, they can still sit on Crown Corporation boards, whether it be at the municipal, provincial or federal levels. As Kei points out, they can also sit on subsidiary boards of the company where they serve as an executive, or even on advisory boards or committees or subcommittees.

Gain exposure

Even before joining a board, try to get involved at your own organization. "Volunteer and move around to different departments. The more breadth you develop, the more you will have to offer the board," says Gigi Dawe, former director of corporate oversight and governance at CPA Canada. "You can also ask to make presentations on particular agenda items."

Leverage learning materials

CPA Canada provides guidance materials for boards of directors along with a number of other resources and podcasts. As Dawe explains, understanding your fiduciary duties is a place to start (see Not-for-profit director duties: 20 questions). And experienced directors on corporate or NFP boards can benefit from resources to deal with more complex issues. (See A role for audit committees in oversight of climate change, Anti-corruption and responsible business: A governance framework and Supply chain security: Is it on your radar?) Also, Women Get On Board offers an e-guide on the benefits of board membership, among other materials.

Seek out a mentor

Finding a mentor can be key in helping you chart a path toward board membership, says Deborah Rosati, FCPA, one of the lead co-authors of the CPA Canada/KPMG study on CPAs' involvement in boards and audit committees. "Even before I started sitting on boards in my late 30s, I had some great colleagues who acted as mentors for me. I would go to them and say, 'I see you are chairing the audit committee. I would really like to learn from you. Can you give me some advice?'"

Find sponsors

Knowing people who can put your name forward for a position— even if you aren't aware of the opening—can also increase your chances of being appointed to a board. "In my case, people have put my name forward after having seen me around the table and knowing about my contributions," says Rosati. "But I also do the same for others. It's important to pay it forward."

Network

Broadening your circle of contacts in formal and informal ways can also help boost your board membership prospects. For example, Rosati founded Women Get On Board, a member-based company that is meant to advance gender diversity in the boardroom. "Our mission is to connect, promote and empower women to corporate boards," Rosati says.

Make your voice heard

Let others know the kinds of opportunities you are seeking, whether it be through your network, LinkedIn or other means. "As CPAs, we need to let our intentions be known," Rosati says.

Leave room to grow

Even once you start serving on boards, you don't need to be defined by your latest role, says Rosati. "For example, you might always be asked to be on the audit committee, but you might be interested in governance or ESG. So, you could suggest serving on the audit committee for now and then transition into a leadership role on one of those other committees."

But no matter where your board membership journey eventually takes you, the key is to begin the process as early as you can. As Rosati puts it, "If your end game is to be on a corporate board, don't wait until you are approaching retirement to start."
Find out more about board membership
Learn more about the composition of boards and audit committees in Canada with the joint CPA Canada/KPMG study, CPAs on Board. And discover the benefits of being on a board and how women can find their voice as leaders.
Plus, prep for your role with CPA Canada's Audit committee certificate and governance materials, as well as the Conference for Audit Committees and Corporate Governance.
---
Margaret Craig-Bourdin is senior editor of digital content with CPA Canada. She is the recipient of many business press awards, and is also a certified member of the Association of Translators and Interpreters of Ontario.
Originally published by CPA Canada's news site.