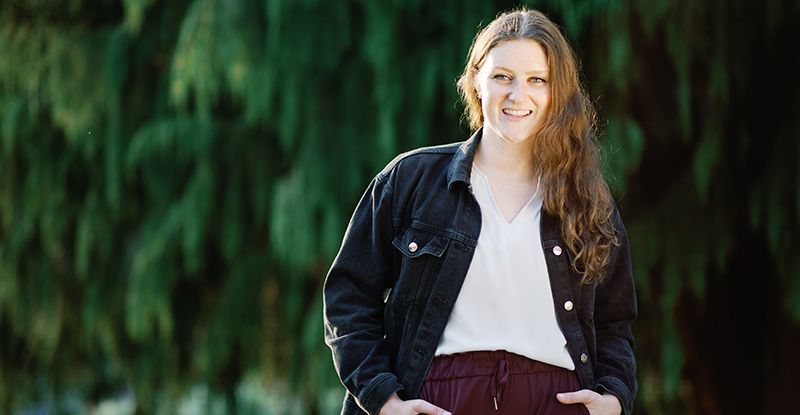 Photo credit: Bobo Zhao Photography
Since receiving her CPA designation in 2019, Enns has achieved the flexibility to live the life she wants on her terms
Katherine Enns lives in the "weeds", leading her accounting team in analyzing financial data. She then zooms out and shows the C-suite at the organization she works for, Fintel Connect, what the big picture looks like. Her background as a Chartered Professional Accountant (CPA) means she's versatile – she can tell a story with numbers, she knows the logistics of how each financial transaction impacts the company as a whole, and she's an expert problem solver.
For anyone familiar with her personal story, it makes sense how she got to where she is today, given her focused mindset and determination. Throughout university, Enns competed for UBC's rowing team, rising to become a member of the Canadian National Rowing Team. Reflecting on her athletic career, she recognizes the role it's played in shaping her, as athletes constantly experience disappointment, only to rebuild themselves to become "unstoppable and unfazed. It is an incredibly arduous and taxing process. The lows are really low, but the highs are even higher. And in doing that, it creates this innate tenacity. This is basically the nature of being an athlete: Getting back up.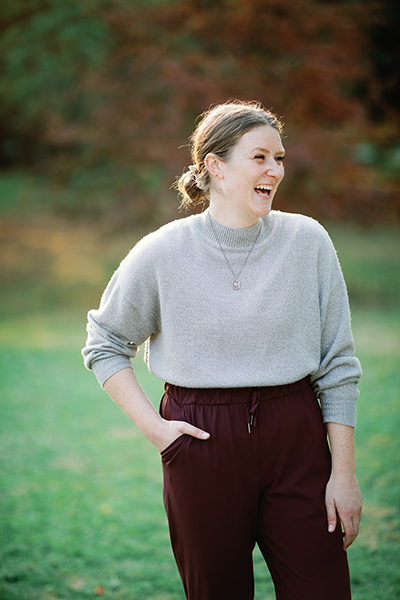 Tying this back to her accounting career, she says, "It means I can face whatever I decide to face. I can create the focus needed. I am always looking for the most efficient way to do something, and, most importantly, when things go sideways, I can fix it."
But Enns' athletic past is only part of the whole picture. She's also an artist, having attained a Bachelor of Arts in photography and printmaking before discovering her aptitude for accounting while pursuing a business minor.
But when she realized the volatility of careers in the arts, she decided to pivot and pursue her CPA designation, receiving her Diploma of Accounting from UBC's Sauder School of Business and articling with MNP LLP along the way.
Despite this pivot, Enns' artistic innateness has not gone unused in her CPA career. If anything, it helps drive her success. When describing the many forecast and budget documents she creates, she takes pride in not only expertly overseeing the data input and formulas but also distilling it into digestible summaries.
"Using the art side of my brain, I am able to ensure that whatever I am presenting is not only nice to look at but is also built to draw your eye to where I want it to go. You should be able to see and understand the data without some long and drawn-out explanation," she explains.
Enns believes that her analytical and artistic talents are complementary to the accounting profession. "When these two pieces are combined, I feel like it's a pretty great combo of numbers and visuals coming together to present data that is easy to understand. Numbers really are just a story of what happened or what we are predicting to happen," she says.
Since receiving her CPA designation in 2019, Enns has also achieved the flexibility to live the life she wants on her terms. She works a four-day workweek that's both rewarding and impactful, utilizing skills that are transferable across all business types and industries. For example, outside of work, she volunteers her time as a board member and treasurer of the North Shore Mountain Bike Association.
"Being able to add that work into my personal life has been really rewarding and has allowed me to get to know more of that community in a way that I otherwise wouldn't have if I didn't have the CPA skill set that I do," she explains.
Given Enns' inclination to find rewarding work, it's perhaps unsurprising that these days she finds herself as a controller at Fintel Connect, a tech startup. "In startups, you have the ability to create, cause significant impact, and make it your own. And I really enjoy that ownership."
As Enns' personal story illustrates, whether it's excelling at sports, merging her artistic and analytical skillsets, or supporting her local community, you can always expect her to take ownership of whatever she does. She rows her own boat.
---
Originally published by Business in Vancouver