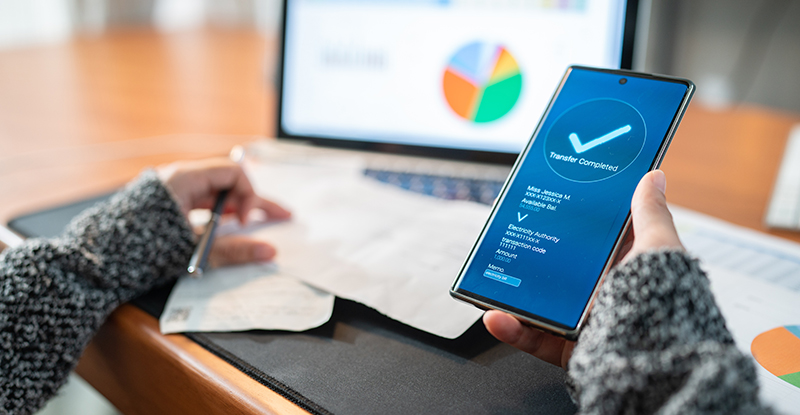 Photo credit: cofotoisme/iStock/Getty Images
Fintech expert Rajeev Shankar looks at current trends in the industry—and how they affect CPAs
For several years now, fintech has been driving considerable growth both globally and here in Canada. To gain an understanding of where the industry currently stands, we spoke with Rajeev Shankar, partner, finance transformation & financial services, with KPMG Canada. Shankar has a wealth of experience in implementing large-scale transformation initiatives and has consulted with clients across industries ranging from retail and financial services to oil and gas and telecommunications.
Here, Shankar outlines some of the major fintech trends in Canada and elsewhere, and how they affect CPAs.
As the fintech industry grows, we've seen a number of subsectors spring up—from wealthtech (digital solutions that facilitate the processes of wealth management) to insurtech (insurance technology). Do you expect this to continue?
Yes, definitely. But if you go back to the origins of the industry, it's interesting to see that financial services were the first to foster—and I would even say incubate—the innovation that arose within this space.
A number of digitally savvy players started playing with technology and looking at how it could serve as an enabler in the financial services ecosystem. That was effectively how fintech was born. Then, over the years, different segments such as insurance and payments and even agriculture began to leverage the same technology. That's when we began to see the emergence of categories such as insurtech, paytech and even agritech.
I think we will continue to see new types of firms develop as time goes on. That's the beauty of the innovation that comes with the whole fintech space.
At one point, payment technology (paytech) constituted 25 per cent of all fintech players in Canada. Is this still true?
Yes, paytech has grown considerably over the past several years, and names such as Klarna and Revolut have become quite well known. And again, this has been driven by market trends.
When you look at financial services as an industry and what happens right from the time when customers choose a financial institution to the types of products and services they choose (accounts, loans, mortgages, etc.), to the way they actually transact, you see that many parts of the process are cumbersome and outdated.
There is often a lag time with traditional financial services institutions compared with the faster and more seamless options available with fintechs. For example, it is cheaper and easier to open an account with Revolut than it is to replicate the same experience with a traditional financial institution.
The Toronto-Waterloo region is known as a fintech hub. Is the area continuing to grow?
Yes, absolutely. At the same time, we've seen fintech innovation across many of the provinces. For example, a number of successful fintechs have grown up in Calgary, Edmonton, Atlantic Canada, Vancouver, Montreal and Quebec City – these are all fintech ecosystems in Canada.And that's exciting because anytime you're talking about fostering innovation, it's an exciting proposition.
Are you seeing many CPAs moving into fintech?
Yes. Many people I have worked with—especially Gen Z—are drawn to organizations such as fintechs, because they feel this will give them the opportunity to apply their knowledge in a direct and practical manner.
They like the idea of being nimble and creative and innovative in helping drive the growth of these organizations. And I think that trend is only going to increase.Fintech is also for those that are passionate about technology and CPAs are becoming more and more engaged in new technologies. Fintech simplifies financial transactions for consumers and business. CPAs with their skillset are able to easily adapt.
What are some of the areas where CPAs can best apply their skills?
Today, CPAs have a wealth of options. With the high level of adoption of digital services in many organizations, they can use these technologies to help drive higher value-added work than might have been associated with traditional controller positions, which were often bound by the confines of manual processing.
In other words, CPAs can use their skillsets to really help drive operational effectiveness and growth across an organization. I think it's a fascinating time.
Some say that even though Canada has amply demonstrated its capability in fintech, many players are bought out or move to the U.S. once they reach a certain size. What is your take?
It depends on what problems these players are trying to solve. I've seen Canadian fintechs that have reached a certain size and decided to expand into larger markets such as the U.S. or even Europe or Asia.
At the same time, I've also seen fintechs that have grown quite successfully in Canada and have decided to remain within the country.
With sustainability on everyone's mind these days, Canada has become a leader in cleantech. How do you see that area evolving?
Canada has a great opportunity to take the lead and drive adoption of cleantech. And given the emphasis we are placing on ESG, a definite need for this kind of technology is being established. And that drives a healthy level of innovation and competition.
Similarly, when it comes to fintech in general, Canada has given birth to a lot of great innovation and shows great potential. But I think we're often underplayed in terms of the global fintech ecosystem—and that has to do with our conservative nature as a nation. Still, I'd like to see Canada being placed among some of the global players. It certainly deserves to be there.
Focus on fintech
Learn how finance leaders across the country are viewing digital transformation. Find out how open banking could affect the accounting industry, and why it's time to get ahead of the curve. Plus, learn how Competency Map 2.0 is preparing CPAs for a digital-first world.
---
Margaret Craig-Bourdin is senior editor of digital content with CPA Canada. She is the recipient of many business press awards, and is also a certified member of the Association of Translators and Interpreters of Ontario.
Originally published by CPA Canada's news site.