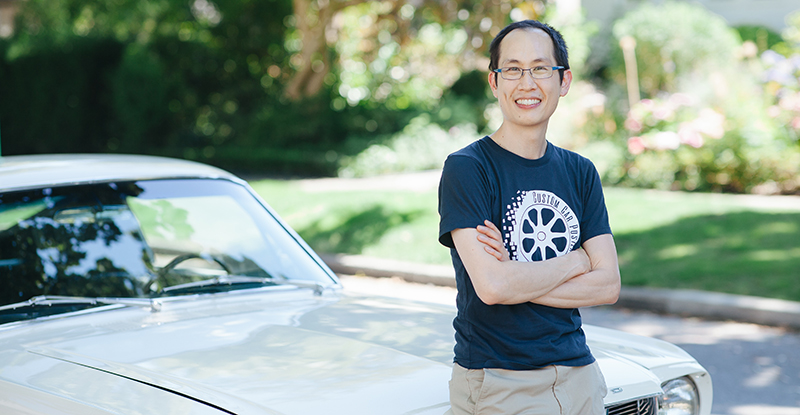 Photo credit: All photos by Bobo Zhao Photography
In this podcast episode, Jonathan Wong, CPA, CA, chats about his career journey and how he and his wife Lily have built their careers around their family life. Hosted by Vince Kanasoot, communications specialist, CPABC. Part of our Coffee Chats with CPABC podcast series.
---
How a CPA and his wife custom made a life for their family
In his LinkedIn profile, Jonathan Wong, CPA, CA, describes himself as "…a full time stay at home parent with my wife Lily. We've built our careers to work around our family life and not the other way around. We work from home and spend the majority of our time enjoying being parents to our wonderful son."
For Jonathan and Lily, running their family business, Custom Car Posters, is what allows them to financially make this all possible. Custom Car Posters provides customers with fine art prints of their cars, and car enthusiasts across North America have embraced these products. In fact, Jonathan was even featured on Dragon's Den.
Jonathan and Lily run their company out of their home in Vancouver, which includes a print shop in their garage. Since 2017, which is when they began working full-time on their company, they've taken on three additional full-time employees, and hire seasonal staff to assist with increased customer demand.
Prior to Custom Car Posters, Jonathan worked in leadership and senior financial roles for KPMG Canada and Big Brothers of Greater Vancouver. And while he still continues to teach part-time for the CPA Western School of Business, he has transitioned from full-time office life to being a full-time entrepreneur, dad, and husband.
CPABC recently caught up with Jonathan to chat about his journey and dive into how he and Lily created their desired family life with son Emerson (who is five-years-old at the time of this writing). Listen to the podcast episode for the full interview. Below are some highlights from the conversation.
How did you come up with the concept of Custom Car Posters and what inspired you to start this business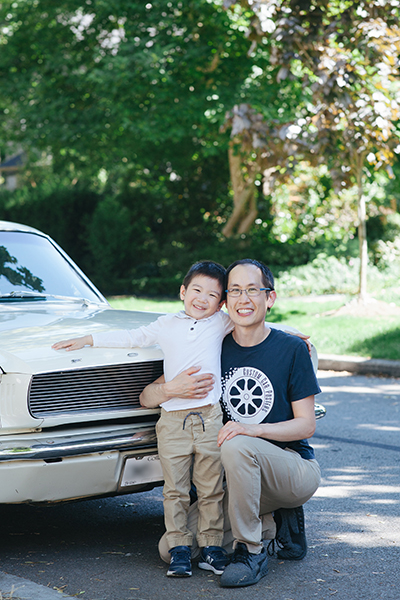 Jonathan: Cars have always been a huge part of my life. I'm a major car enthusiast and I own a few different classic cars. A few years ago, I thought it would be nice to have artwork of one my cars to hang up on my wall at home. I searched online for art that was already available, but couldn't find anything that matched my car. So, I decided to create something myself. I sketched my car, got it printed, and then hung it up on my wall.
A couple months later, my mom told me that she saw an artistic rendering of a car that reminded her of my drawing. She saw this art in a gallery, and it sold for around $5,000! This got the wheels turning in my head. I knew there was definitely a market for this type of art. Some of my friends had seen the art I created and they wanted me to make similar prints for them.
This inspired me to create a few designs and post them on Etsy. The day after I listed them, I received my first sale. I was super excited, because I didn't expect anyone to buy my art. I just wanted to see what would happen.
From there, sales started to climb, with more and more people asking me to draw different cars. During this time, I was working full time at Big Brothers of Greater Vancouver, so I could only work on Custom Car Posters when I had free time. But Custom Car Posters kept growing organically, even without any marketing efforts. Eventually it grew so huge that Lily and I decided to try making it our career.
What were some of the challenges you experienced when you first launched Custom Car Posters?
Jonathan: Our first holiday season happened fairly soon. Orders were coming in really quickly and our sales were the highest they had ever been up to that point. We were working 13 to 14-hour days, trying to get orders fulfilled.
Emerson was only one at the time, so that made the whole experience even more intense. While this was our biggest challenge, it was a great problem to have, and we were happy to have the sales. We lost a lot of sleep during that time, but the crazy holiday rush was only for a couple of weeks, and we were definitely a lot better prepared the following year.
Learning how to manage everything during those early days was challenging, since it was new to us. But we were so driven that we worked through things and found ways to make things come together. Lily is a pharmacist, and with me being a CPA, we knew if things came to it, we could always find work. But we were really enjoying the time we had with Emerson, and that strongly motivated us to make things work.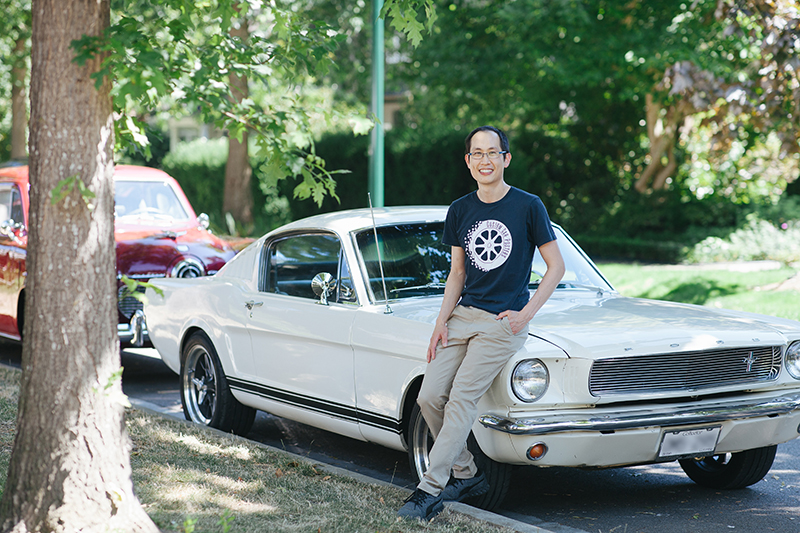 How did you end up on Dragon's Den?
Jonathan: I was always a fan of the show, having watched it pretty religiously, and a goal of mine was to be on it. One day, a Dragon's Den producer sent me an email, introducing themselves and encouraging me to apply. The application process involved creating a one-minute pitch video.
I purposely made mine a little cheesy, hoping it would help me stand out. In the video, I spun a globe around and said, "We have sales all around the globe!". Within a couple of days, they wrote back wanting to bring me in to do a Zoom interview to see how I would perform on the show. A couple of days later, I found out I was going to be on the show! I was super excited!
The shooting day kept getting pushed back due to COVID-19, so it actually benefited me because I had more time to get ready. I watched a lot of Dragon's Den, and researched all the Dragons so I could get all my ducks in a row. By the time I filmed the show, I was really prepared.
For the actual filming of the show, I had the option of either flying down to Toronto to pitch in person, or to do it remotely at the CBC studios in Vancouver. I chose to do it remotely, because COVID-19 was still a bit dicey at the time. I was disappointed that I didn't get to actually walk into the den and meet the Dragons in person, but I knew I would still get the same opportunity by going to the local studio. When I went, they basically set up a really fancy Zoom call in the studio, with me standing in front of a green screen.
You were very successful on Dragon's Den, receiving offers from all the dragons. You decided to go with Arlene Dickinson's offer, which was a $250,000 investment with 10% royalty cuts. And once she got three times her money back, then she'd be out. That sounds like a great deal.
Jonathan: Yes, it was definitely the best offer from the Dragons by far. However, while I said yes on the show, we eventually ending up deciding not to go through with the deal, because we realized that taking on an external investment would also mean changing the structure and dynamics of our business.
We built this business for our family and to achieve the lifestyle we wanted. Maximizing growth isn't one of our primary objectives. We obviously want to still grow the business, but not at the expense of our family life and flexible lifestyle. It would have been great to grow this business at a crazy rate with the help of a dragon, but I think the stress and pressure that would come with that wouldn't be worth it.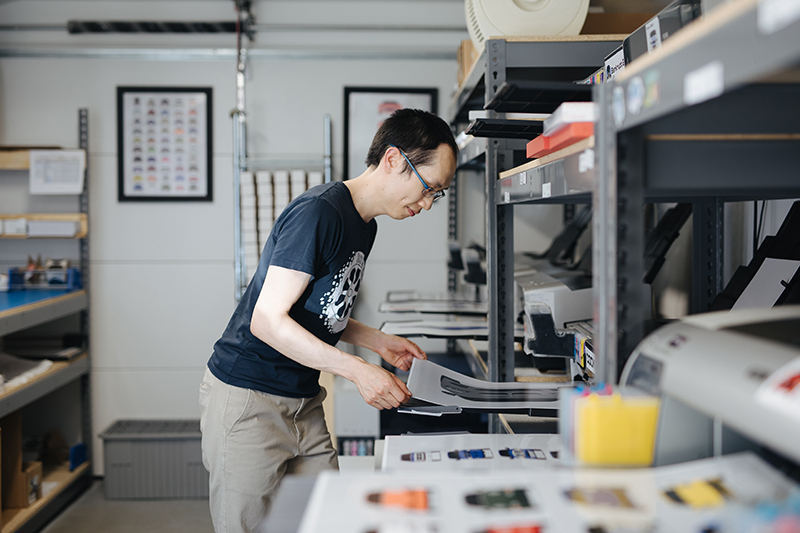 What else would you like to achieve in your career?
Jonathan: Our first goal is to take Custom Car Posters to its maximum potential. The car community is huge, and we are probably the biggest seller of car art in the world right now. But there are many more customers that aren't aware of our products yet.
Beyond that, Lily and I have other business ideas, and a lot of them relate to our hobbies and interests – similar to how Custom Car Posters came about. We'd like to start at least one to three businesses in the future, but not at least until sales have plateaued with Custom Car Posters and we feel we've taken it as far as it can go.
When we start our next businesses in the future, we're hoping it will be more for fun, not out of financial necessity.
One of our main goals in the next few years is to be financially free by age 40. But that doesn't mean we'll stop working – we enjoy working when we're doing things that interest us. So we're hoping that when we pursue our next businesses, financial success won't really matter too much. Our mindset will be, "I want to build this product, because it interests me. And if it does well, great. And if it doesn't, oh well, it was fun trying!"
Fun facts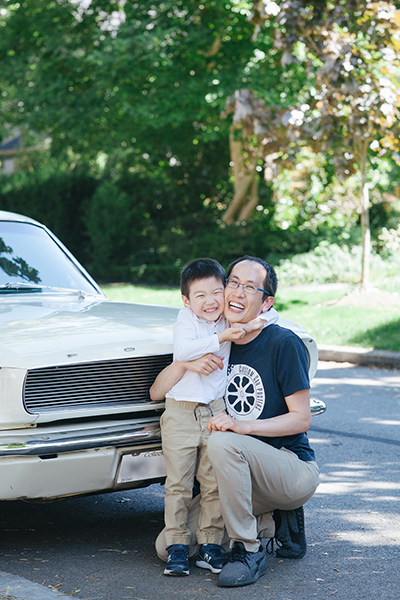 What's your favorite song or music to get you motivated?
Guns N' Roses for sure. There's actually this song called "Better" off their Chinese Democracy album, which is not one of their popular albums. This song gets me amped up. It's my go-to song anytime I need to do anything important.
What are some of your favourite power foods?
I make a fruit smoothie every morning. When I need to boost my energy during the day, KIND bars are my go-to, because they're quick and easy, and so good! The dark chocolate cherry one is my favourite.
What are your guilty pleasures?
Ice cream, chips, and poutine are my main guilty pleasures!
What are your top three favorite movies?
All three Lord of the Rings movies!
What are your favourite podcasts?
My favourite podcast is the The Knowledge Project. The host, Shane Parrish, speaks to people who are very intelligent in their fields. It's pretty cool, because you get to learn a lot about different things.
Another one of my favs is The Tim Ferriss Show. He seeks out the best performers in different fields. I also enjoy How I Built This, which is about different businesses and the stories behind how they were built.
What are your favourite books?
My favorite book is Poor Charlie's Almanack, and it's about Charlie Munger, who is Warren Buffett's business partner. The book provides insight into Munger, and it's fascinating to learn how he thinks, including his concept of mental models, which is how he says he bases all his decisions. Learning this concept changed the way that I try to operate.
In my career, I've tried to emulate how leaders like Munger, Buffet, and Tony Robbins think. Speaking of Robbins, I've read all his books, and they were very pivotal in Lily's and my transition from regular jobs to going off on our own. His thought leadership gave us the tools, motivation, and self-assurance to achieve our goals.
There have also been a few investing books that have really helped me, such as The Dhandho Investor: The Low – Risk Value Method to High Returns, written by Mohnish Pabrai. Obviously the last few years have been about Lily and I placing our bets on ourselves, and we received a lot of inspiration from this book. All the books I just mentioned have had a huge influence on us and significantly changed the course of our lives.
---
Vince Kanasoot is a communications specialist for CPABC