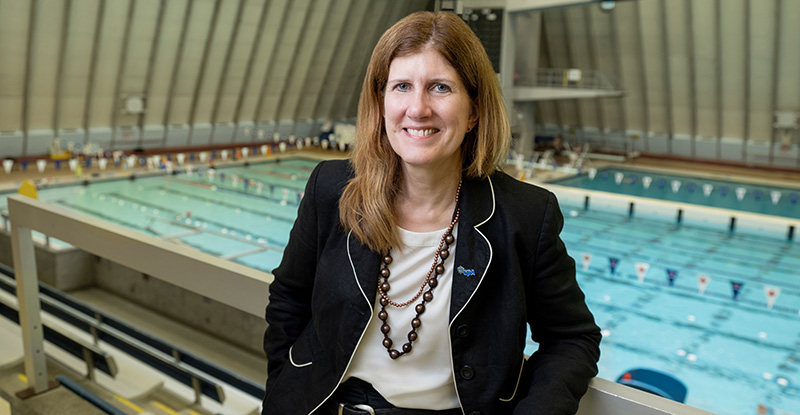 Photo credit: Kent Kallberg Studios
Sheila Nelson, CPA, CA, MBA, dives into her new role as chair of CPABC's Board of Directors
As Sheila Nelson describes it, officiating at swim meets is a lot like serving on the CPABC board: challenging, complex, and highly rewarding.
"A lot more happens at events than meets the eye," she says. "It can take 50 or more volunteers to run a single meet. You need electronic specialists to record finishes and organize the results, trained officials to ensure that each swimmer is accurately timed and strokes are carried out correctly, and pre- and post-event organizers to ensure that meets go smoothly and results are published correctly.
"I love being an integral part of this activity," she adds. "And, of course, I get a front-row seat to see some fabulous swimming."
Sheila has been volunteering in BC's swimming circles since 2000, when her daughter Caitlin began swimming competitively.
"The parents of swimmers spend hours and hours on the pool deck at competitions getting to know each other while waiting for their kids to swim," she says. "They're a great and special group of people."
While parents are expected to complete at least the first level of Swimming Canada's official certification pathway for volunteer officiants, Sheila decided to complete all five, earning the status of Level 5 Master Official in 2010. This enabled her to officiate at more national meets and expand her swimming family. And she's not done yet—in 2020, she became one of only three referees across Canada to be appointed to the Union Americana de Natacion (UANA).
"Being on the UANA list means I could be selected to officiate at an international meet anywhere in the Americas," she explains. "My hope is to get on a FINA1 list, which would allow me to use the 'FINA Referee' label and potentially give me the chance to officiate at an international meet anywhere in the world."
Similarly driven and dedicated when it comes to the CPA profession, Sheila has volunteered consistently at the board level since first joining her legacy council in 2009.
"I was asked to join council to fill in for the northern rep after he moved to Vancouver," she says. "Then I was elected to continue serving the following term."
In addition to her ongoing involvement at the board level, her contributions to the profession include almost 10 years of service on the Audit Committee (including two years as chair and one as treasurer) and single terms on the CEO Search & Selection Committee, the Membership Committee, and the Board Renewal Committee.
In 2019, four years after being selected by the BC government to serve on the newly formed CPABC board, Sheila was appointed treasurer. She started climbing the ladder to chair the following year.
"I hope we continue to challenge ourselves about what we see as the future of the CPA profession," she says as she contemplates her tenure as 2022/2023 chair. "While focusing on our strategic direction, I want us to take a more global approach in dealing with issues."
One area of particular focus for her over the coming year is the profession's ability to continue to attract students. From personal experience, she recognizes that the path to the CPA designation isn't always a straight line.
"Growing up, I knew I wanted to go to university, but I wasn't sure what that would look like," she says. "There seemed to be two routes: arts and sciences. I did sciences in high school, so that made the most sense for university."
Although Sheila did go on to complete a bachelor of science degree in microbiology at the University of British Columbia with thoughts of pursuing medicine, she knew before graduation day that medicine probably wasn't her calling.
"I realized I was floundering in terms of what I really wanted to do," she says. "And while exploring different options for a possible fifth year, I came across the licentiate of accounting route, which was a two-year program (now defunct) that would essentially give me a business degree. So I thought: 'Why not!?'"
Sheila didn't know it then, but this decision would set the stage for a rewarding and diverse career—one that would see her work in public practice and industry, in Vancouver and regionally, and for large firms, smaller companies, and herself.
"I hope we continue to challenge ourselves about what we see as the future of the CPA profession."
Her first foray into public practice was with Thorne Riddell, one of KPMG's predecessor firms, where she completed her articles and earned her legacy accounting designation in 1985. She spent a total of six years with the firm, during which she had the opportunity to work with small, medium, and large companies and try her hand at everything from compilations to audits, as well as doing personal and corporate tax returns.
Still, despite gaining a lot of experience and even saving one client $200,000 annually by implementing an improved accounting system, Sheila wasn't sure firm life was the right fit.
"I was naive when it came to public practice and the business world in general," she says of those early days. "When you start, your whole goal is to get your designation and then, when you do, what does the rest of your life look like? I didn't have the business connections or mentorship some of my colleagues did, and I realized I needed to move on."
And move on she did, joining Canadian Helicopters Limited (CHL) in Vancouver as an assistant controller.
"I answered an ad in the paper—no Internet in those days," she says. "I had been told this was the worst possible way to get a job—that there would be so many people applying and my chances were slim to none. But I ended up getting it."
Soon after Sheila started, CHL decided to move its head office to St. John's, Newfoundland. As she faced the decision to leave BC, Sheila was given a few opportunities to choose from.
"One of them was in Edmonton, serving as controller for the company's western division," she says. "So I rented out my condo in North Vancouver and made the big move."
Sheila thrived professionally over the next three years, overseeing the western division's financial reporting and cost control, the administration of 15 staff members, and revenues of $60 million. She also developed and implemented accounting, internal control, and budgeting systems.
In 1991, she left CHL to take on a more senior role for Frontec Logistics Corp., a facility management and support company that was contracted at the time to operate the North Warning System, a radar surveillance system designed to protect North American aerospace.2 As Frontec's corporate controller, Sheila was responsible for consolidating and reporting the results for eight business units with revenues in excess of $100 million. She also successfully implemented financial and accounting software, managed budgets and internal control systems, and liaised with the company's board
"I learned so much," she says of her time in industry. "It wasn't just about monthly reporting—I also developed skills in investing, financial forecasting, reporting to the board of directors, and so much more. It was about looking to the future instead of focusing so much on the past."
Sheila also thrived on a personal level while in Edmonton, as it was there that she met her husband Fred and started a family. It was an exciting and busy time, particularly as she kept seeking to expand her skills. While daughter Caitlin was still young, Sheila decided to pursue an MBA.
"I always think about that period of my life whenever a mature student with a family asks me about entering the CPA program," she says. "You need lots and lots of help at home and a very understanding spouse to juggle work, school, and family life. I made sure that I spent time with my daughter after work and on the weekends, and studying generally happened after she went to bed."
Support, of course, goes both ways, and when Fred got the opportunity to serve as general manager for a helicopter company in Prince George, Sheila found herself contemplating not only a relocation but also her next career move.
"I wanted to remain in industry, but there were no jobs," she says. "And then I was presented with the possibility of joining Deloitte in tax, which sounded interesting, so that's how I came back to public practice."
To expedite the transition from industry to tax, Sheila decided to pursue the profession's two-year in-depth tax course while also completing her MBA.
"My tax skills were, at best, rusty," she explains, "so it was important to get up to date as soon as possible."
While navigating these professional changes, Sheila also faced a lifestyle adjustment.
"It was a bit of a shock moving to a smaller locale," she says. "I was so used to being able to go and get what I needed in Edmonton, any time I wanted. But Prince George was a great place to raise our daughter. The cost of living was less than in a larger city, so we ended up doing a lot of travelling and there were (and are) lots of different things for kids to do there."
Within two years of joining Deloitte, Sheila was promoted to senior manager. She spent another seven years with the firm before deciding it was time to take a few months off to travel around BC and consider her next steps. That's when she learned of the opportunity to become a partner with the Prince George-based firm Chan Foucher LeFebvre.
"I was interested in working for a smaller, local public practice firm," she says, "and this was a great opportunity."
"When you start, your whole goal is to get your designation and then, when you do, what does the rest of your life look like? ... I realized I needed to move on."
In addition to leading the firm's new tax group, Sheila played an active role in all aspects of running the business, including human resources, budgeting, and marketing.
"Ultimately, it was a lot harder than I'd ever imagined," she says. "But it certainly allowed me to be more of an entrepreneur and gave me great insights into managing a practice."
When Chan Foucher LeFebvre joined KPMG in 2012, Sheila once again found herself working with a larger firm—this time as a partner. The merger presented both challenges and opportunities.
"A lot of our clients appreciated dealing with a smaller, local firm, so they were very hesitant to work with a much larger one," she says. "It was important to maintain the personal touch and ensure a seamless transition for them. At the same time, the merger gave me access to some great people who were able to assist me in my various tax projects."
Sheila was able to draw on this experience—and on a couple of mergers early in her career—when it came to the unification of the three legacy accounting bodies.
"Transition is never easy, and it always surprised me to see who resisted change and who embraced it," she says. "I think this served me well during the unification process, because I had a pretty good idea of what to expect. What was most important to me was ensuring that we were able to merge our cultures so we could move forward as a cohesive unit. It was amazing to see everyone ultimately come together to unify the profession."
In 2017, roughly two years after proclamation officially established CPABC, Sheila decided it was time to scale back her workload. She retired from KPMG and began picking up work for a local firm in Prince George.
"I'd been told that you should give yourself six months to a year after you retire to figure out what retirement will look like for you," she says. "Working for a bit really helped me through this."
A relocation to Armstrong followed, and it was there that Sheila opened her own firm, S.A. Nelson Inc., to provide tax planning and accounting services and take on short-term controllership positions.
"There was definitely an adjustment period, because I'd forgotten about all the paperwork required for the public practice side of things," she says. "But I really enjoy the flexibility of owning and running my own business, and my work/life balance is much better than it ever was."
Now semi-retired, Sheila stays active with CrossFit, takes her dogs out for walks, and fits in a quick game of golf whenever she can. Gardening is another favourite pastime.
"I love to experiment with what will and won't grow in our climate," she says. "I've been busy this year, however, so the garden has taken a bit of a back seat. But I've discovered that I can definitely grow weeds!"
Sheila is also an avid reader, keen on legal and medical thrillers and murder mysteries. Currently, she's making her way through Michael Korda's 700+-page biography of T.E. Lawrence, Hero: the Life and Legend of Lawrence of Arabia.
"It's very slow going at this point," she laughs.
Achieving any kind of work/life balance would be impossible, she says, were it not for the support of her loved ones.
"Many thanks go to my family—especially my husband and my daughter," she says. "They've put up with my busy schedule and have always been there for me."
Of course that schedule now includes a myriad of activities and responsibilities as chair of the CPABC board, but Sheila's ready to dive in.
"The profession is constantly changing and adapting to what's going on in the world, and the pace of change has increased dramatically," she says. "Sometimes I wonder how I'll manage to keep up, and I'm sure I'm not alone in that concern. However, I feel lucky to have met lots of wonderful people in our incredible profession—someone I know always seems to have the answer or a thoughtful way forward.
"That's what's so great about serving on the board and working with CPABC staff," she adds. "We have such an excellent team, and I'm looking forward to what we can accomplish in the year ahead."
---
Michelle McRae is the managing editor of CPABC in Focus. This article was originally published in the September/October 2022 issue of the magazine.
Footnotes