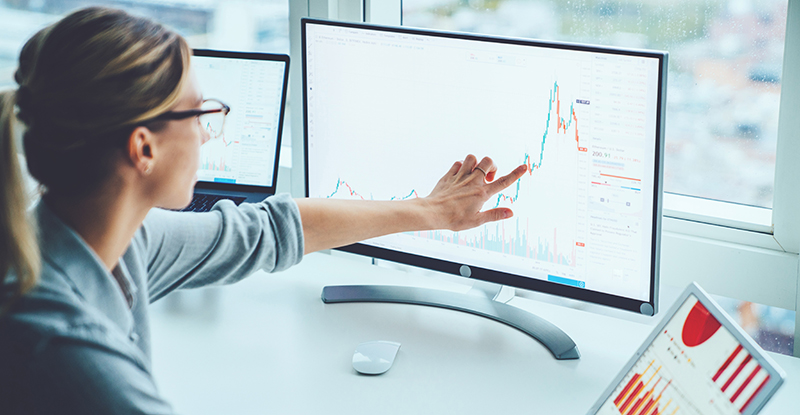 Photo credit: GaudiLab/iStock/Getty Images
When trying to communicate the message behind the numbers, many financial professionals miss the mark. Copying and pasting entire tables of data from Excel, for example, does not create a clear call to action for decision-makers. And if your decision-makers are slow to take action, your organization will struggle to reach its goals.
Fortunately, there are some readily available tools—data visuals, or "dataviz" for short—that can help you communicate financial analyses effectively. Here are five tips to create meaningful data visuals:
Write a headline communicating the message from the analysis.

The first tip is to create a headline for each visual that summarizes the message you want the viewer to understand and retain. When the viewer reads the headline, they should immediately know what's important about the analysis. Think of each headline as a way to set the tone for your discussion.

Select only the numbers for the message.

A huge table of numbers copied from a spreadsheet is not an effective data visual. Too much data is overwhelming for the viewer and makes it hard for them to know what to look at. Even worse, the viewer may find and focus on some numbers unrelated to your intended message and then draw a conclusion that isn't at all what you wanted them to understand.

If you feel that you must provide the viewer with all of the numbers, that's fine. Just be sure to take them out of the body of your presentation or report and put them in an appendix. Your visuals should contain only the numbers needed to create them.

Select the visual based on the message.

When selecting a visual, choose the one that best communicates your message. Once you've written a headline, as recommended above, it's time to choose a visual. If you're talking about a trend, use a line graph. If you're comparing values, use a column graph. If you're ranking values, use a bar chart. Your selection should be based on what the visual will communicate, not on how fancy you can make it look.

Learn new visuals you can incorporate.

Go beyond the basic chart types to use visuals that can communicate more complex messages. For inspiration, you can find new visuals for financial reporting in financial publications or on business news websites. When you're looking at new visuals, make sure they're business-related—many dataviz websites feature visuals that communicate survey data or demographic data, and these examples rarely translate well to financial data.

Realize that you already have the tools you need!

Many financial professionals think they need to learn new software to create effective data visuals. This is a myth! As long as your office software suite has standard spreadsheet and slide creation programs, you can easily create most of the data visuals that communicate financial analysis. People are often amazed by the kind of graphics that can be created using only Excel and PowerPoint, for example.
---
Author
Dave Paradi is a presentation expert and the author of 10 books on effective PowerPoint presentations. His videos on virtual presenting have been viewed more than 3.5 million times, and he has delivered more than 500 customized training sessions around the world over the past 22 years. Dave is one of only a handful of people in North America recognized with Microsoft's Most Valuable Professional Award for his contributions to the PowerPoint, Excel, and Teams communities. For more of Dave's insights, check out his blog.
This article was originally published in the May/June 2022 issue of CPABC in Focus.