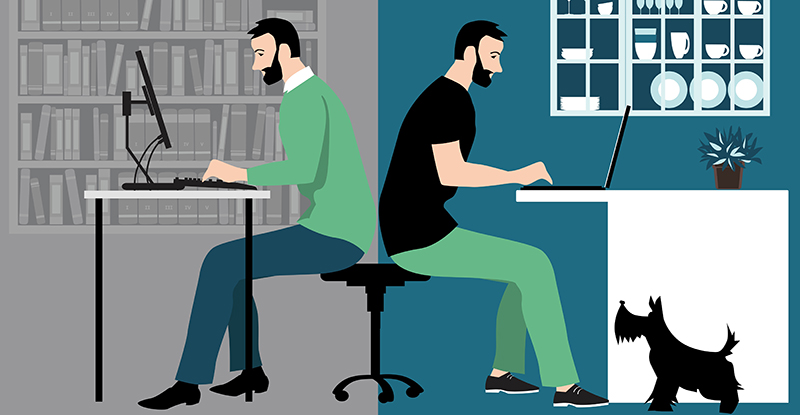 Photo credit: Aleutie/iStock/Getty Images
The following article was originally published as an infographic in the May/June 2022 issue of CPABC in Focus.
Working through the pandemic has forced employees to adapt, and they're emerging from this transformative experience with new expectations for the office. To meet these expectations, employers will need to reimagine the workplace to allow for more flexibility, autonomy, and community-building.
In its 2021 global report Changing Expectations and the Future of Work, Steelcase1 shares insights gathered from eight studies designed to measure the impact of the COVID-19 pandemic on the future of work. It features feedback from participants in 10 countries: Australia, Canada, China, France, Germany, India, Mexico, Spain, the United Kingdom, and the United States. Here are some highlights from Canadian participants:
Benefits of working from home:
56% of Canadians said their work-life balance improved while working from home
36% said they had a greater sense of autonomy
What hindered productivity most at home:
Ergonomic discomfort
Tech and tools issues
Tied: Caring for others, setting up and changing their work environment, noise distractions, and visual distractions
How often they expect to work from home in the future:
1 day a week or less – 59%
2-3 days a week – 25%
4-5 days a week – 15%
What Canadians want most in the workplace:
Employees:
Collaboration
Team belonging
Focus
Access to tools
Workplace belonging
Leaders:
Collaboration
Access to tools
Socialization
Learning
Focus*
*Range of spaces and hosting clients tied with socialization, learning, and focus
The office isn't going away, but it won't be the office of the past
To foster engagement and productivity, Steelcase says employers should make four "macro shifts" in their approach to the office environment. They recommend:
Designing for safety
To be inclusive, employers need to consider the safety concerns of all workers. In addition to addressing concerns about office security, this includes addressing concerns about air quality, cleanliness, and disease transmission.
Designing for productivity
Employers need to create an environment that allows for both collaborative and independent work, and ensure that employees can alternate between the two modes with ease.
Designing to inspire community
Employers should think of the office as a space to foster a sense of purpose and belonging. This is particularly important in light of the isolation experienced by workers during the pandemic.
Designing for flexibility
Adaptability has taken the place of permanence. To navigate change, employers must adopt flexible work policies and create multi-use workspaces that can be reconfigured according to changing business needs. They also need to give employees and teams more control over their environment.
---
Footnote