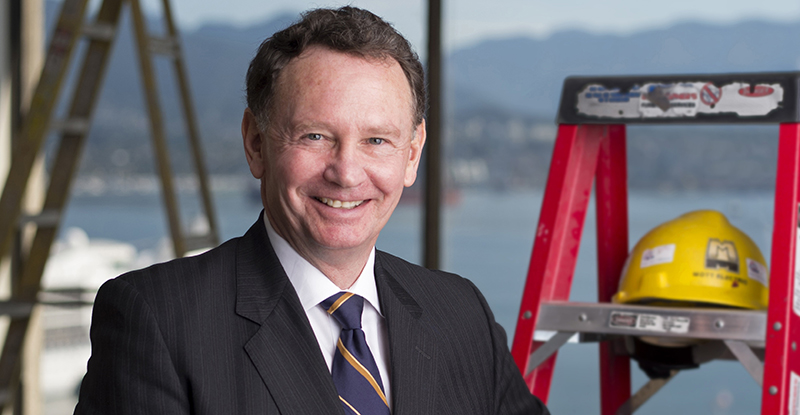 Photo credit: Kent Kallberg Studios
Watch CPABC's Member Recognition video above. This video includes Lori Mathison's conversation with Olin Anton, Barry Macdonald, and Len Boggio, discussing Olin's incredible CPA journey. The segment begins at 30:10.
Do you know an outstanding CPA who deserves to be championed? Nominate them for a CPABC Member Recognition Award by September 19, 2022. Review the details on the different awards and the nomination process.
This year, CPABC honoured Olin Anton, FCPA, FCA with the Lifetime Achievement Award in recognition of his dedication, commitment, and outstanding contribution to the CPA profession and community. A retired partner with Deloitte, Olin served with predecessor firm Arthur Andersen as partner and audit practice leader. He was elected to Fellowship in 2014 and is currently a board director at TELUS International Inc.
In his community, Anton has shared his strategic, financial, and fundraising skills with many organizations including the United Way, Vancouver Academy of Music, Vancouver Enterprise Forum, Vancouver Library Foundation, JA British Columbia, and more. During the unification of the CPA profession, Olin served as the inaugural CPABC Board Chair, guiding the successful integration of BC's legacy bodies. He also served as the organization's interim president and CEO in 2017.
Recently, Lori Mathison, FCPA, FCGA, LLB, president and CEO of CPABC spoke with Olin, along with his award nominators Barry Macdonald, FCPA, FCA; and Len Boggio, FCPA, FCA (and CPABC's 2019 recipient for Lifetime Achievement) about Olin's career journey.
Below are some highlights from their conversation.
Lori: Olin, you've volunteered with the CPA profession for many years and your contributions have been deeply impactful, helping us build a stronger profession for everyone. What motivates you to give back so extensively to the profession?
Olin: I grew up in a small town, Moose Jaw, Saskatchewan. My father ran a business selling mobile homes. While my mother helped out with the business, she had a lot of extra time, and so she was highly involved in a number of community initiatives. I learned at the foot of her.
When I started articling in Vancouver with Arthur Andersen, we sponsored a team in one of the Junior Achievement programs, and I was excited to get involved. Watching those high school kids form a business and manufacture and sell a product was amazing. From that point, I realized how much one could get out of volunteering.
When you're a CPA, many people automatically think you can only help out by doing the bookkeeping. But CPAs are much more capable than that. You can sit on the membership committee, support fundraising efforts, and get involved with governance activities. You'll find your knowledge and skillset are equally transferable to all aspects of running a business or an organization.
Lori: Barry and Len, you've nominated Olin for the Lifetime Achievement Award. Can you tell us why Olin stands out amongst other amazing CPAs you know?
Barry: I've known Olin by reputation for about 40 years now, but we started working together when I joined one of the legacy boards in 2013. It was an easy decision to nominate Olin for the Lifetime Achievement Award, because Olin is a first-class professional.
During the CPABC unification period, when the board was looking for a chair, Olin was the best candidate. He brought with him a calm, cool, collaborative demeanor. And most importantly, he always cares about people, always tries to do the right thing, and supports success for individuals and organizations.
Len: Olin and I were on the board of a legacy profession at the same time; I was approaching the end of my term and he was just arriving. We had a lot of discussions about the merger of our professional bodies in this province and how it was going to align with the national unification process that was underway. Olin always brought a calm, considerate perspective to our meetings.
While there were some intense times, Olin helped to see us through all that. He contributed a lot to the unification process and he's continued to contribute to the profession. I can't think of anyone who is more deserving of the Lifetime Achievement Award than Olin for the time, effort, and thought he has put into ensuring that our members and the public are served well by the profession.
Lori: Olin, is there anyone who has really helped you in your career who you would like to thank today?
Olin: There were a lot of people who helped me in the early stage of my career. This included the HR person at Arthur Andersen who arranged me a transfer to Lisbon, Portugal, with my wife. Seven days after we were married, we found ourselves on a plane with all our possessions. We worked together in Lisbon for three years in a startup office. When I look back, that HR fellow really helped facilitate such an enduring experience. I made friends, traveled all around Europe with my wife, and learned a lot.
Another person who I'd like to thank is the managing partner for the last two years my wife and I were in Lisbon. I worked with him quite a lot and he taught me many things. First of all, he asked for feedback. That was something I was very unfamiliar with at the time and his desire to continually improve really hit home with me. He had the right level of confidence in all the interactions that he had in client presentations as well as inside the firm. Everyone always felt very comfortable with the decisions he was making.
---
Vince Kanasoot is a communications specialist with CPABC.