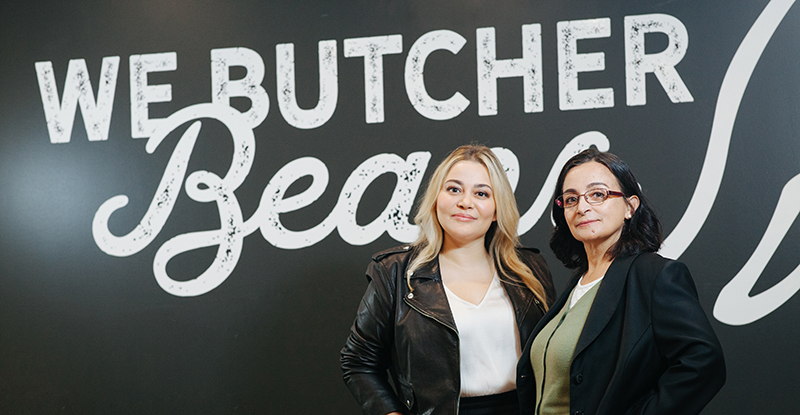 Photo credit: Bobo Zhao Photography
It takes a lot to successfully compete in the plant-based foods market – the right products, the right vision and the right people.
A recent report from Bloomberg Intelligence speculates that this rapidly growing sector, valued at $29.4 billion in 2020, could balloon to more than $162 billion by 2030, thanks to increasing consumer demand for meat alternatives as well as the entry of major food brands such as Nestlé and McCain into the field.
The story of The Very Good Butchers began modestly in 2016, when Mitchell Scott (co-founder and CEO) tried the veggie burgers that chef James Davison (co-founder and Chief Research & Development Officer) was making and selling at farmers' markets on Denman Island.
By 2019, a mere three years later, Very Good had appeared on Dragon's Den, introduced 15 retail products and opened a production facility. Clearly, they were scaling up fast. But in order to realize their next stages of growth while keeping finances on track, Davison and Scott needed expert help.
Enter CPAs Kamini Hitkari and Ana Silva – CFO and President, respectively, of Very Good.
Since joining the company between September 2020 and January 2021, Hitkari and Silva have played key roles in executing major new milestones for the company, including opening two new production facilities in Vancouver and Patterson, California; entering the U.S. retail market (for a total of over 1,200 outlets across North America), acquiring a plant-based cheese brand to bring under the Very Good product umbrella; expanding e-commerce by launching an Amazon U.S. storefront and a U.K. website; raising over $70 million in the capital markets; and announcing a pilot programme to test its products in China.
Having worked for a number of innovative start-ups, including two successful cannabis brands, Hitkari felt Very Good was a natural fit for her sense of adventure. "When you work with companies that are just starting to make their mark in an industry, you're able to help develop the strategy and drive how the business is shaped," she says. "I believe in the shift we're seeing in the world toward plant-based eating and the benefits not only to the environment, but to our health and well-being. What Mitchell and James wanted were leaders, Ana and I, who could drive different aspects of the business – not just traditional finance – and that felt very collaborative, which appealed to me."
Silva arrived at Very Good with significant firsthand experience of the plant-based food market, having spent five years as CFO at Daiya. "Very Good checked all the marks for me," she says. "They have a vision and purpose that inspire me and are very much aligned with my own. Mitchell and James entrust Kamini and I with the mandate of building the brand and scaling the organization to provide affordable and tasty plant-based options to a wide consumer base."
Despite all that Very Good has accomplished in its short history, Hitkari and Silva have even bolder plans for the years to come. "My long-term aspiration for Very Good is to become a global market leader in the plant-based food industry and have a positive impact on the planet," says Hitkari. "In the short term, that means developing and implementing the systems and processes that make the organization more effective, to provide analytics that support day-to-day business decisions, and continuing to support the ramp-up of our facilities and distribution network."
Adds Silva: "We aspire to be a broadly loved and trusted brand, offering consumers a fun and innovative alternative to every animal-based product they consume. Over the past few months, we've intentionally invested in infrastructures that allow us to significantly scale the organization without the constraints you'd typically expect in an emerging brand."
Hitkari and Silva agree that their CPA education and experience are crucial to the exciting careers they now enjoy in one of the food world's most progressive and talked-about categories. "It's the cornerstone for where I am today," says Hitkari.
They also agree that their careers are testament to the fact that CPAs lead dynamic professional lives in some of the most revolutionary industries of the 21st century. "Our industry and roles are joked about in so many movies and TV series," Hitkari acknowledges. "But that says something in itself – accountants are everywhere and, therefore, needed!"
The biggest misconception is we're 'only about numbers,'" says Silva. "But the CPA's role has expanded from accounting-focused and reporting the business, to being business partners. I'm very grateful; the skills I've developed through the years have allowed me to actively participate in the strategy and direction of an amazing brand like Very Good.
---
Originally published by Business in Vancouver