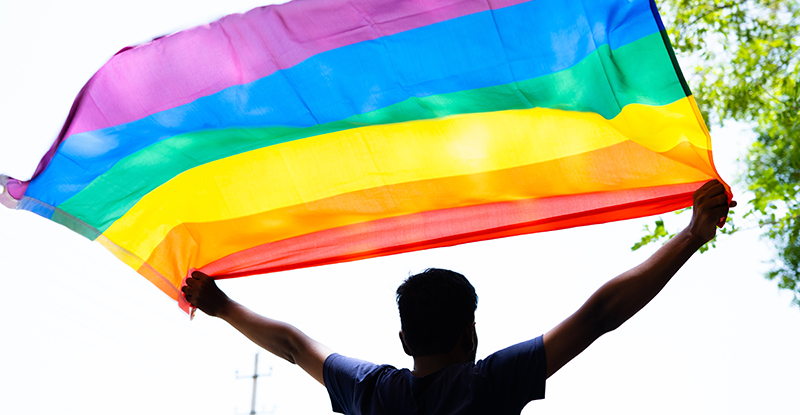 Photo credit: lakshmiprasad S/iStock/Getty Images
Three CPAs from the LGBTQ2SIA+ community share their professional journey and how the profession has progressed in terms of diversity and inclusion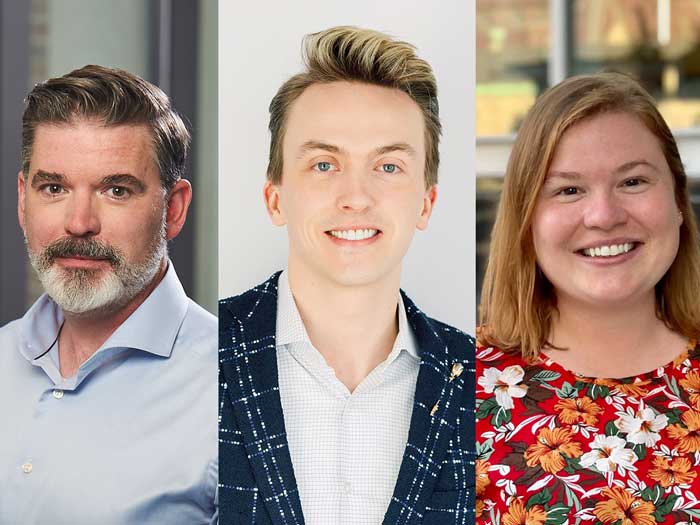 From left, Richard Piticco, Zach Little and Ariane Laroche-Dupont (Images provided)
June is Pride Month during which we collectively celebrate the LGBTQ2SIA+* community and the progress made towards a more inclusive world for all.
In commemoration of Pride, CPA Canada spoke to three LGBTQ2SIA+ CPAs about what drew them to the accounting profession, experiences they've had and which diversity, equity and inclusion (DEI) advancements in the industry mean the most to them.
Meet the interviewees:
Richard Piticco, CPA, is executive director of operations and administration at York University's school of continuing studies in Toronto. He has more than 20-years' experience in strategic financial leadership, operations and leading large-scale organizational changes.
Ariane Laroche-Dupont, CPA, is manager of core assurance and ESG assurance at PwC Canada, where she has worked since 2018. She is co-chair of the Shine Inclusion Network branch in Montreal and is involved in DEI and environmental projects as well as mentoring new hires.
Zach Little, CPA, is senior manager, mergers and acquisitions tax, at KPMG Canada in Calgary. He was recognized as an inclusion and mental health champion during KPMG's 2021 Social impact awards. Zach leads the Pride@KPMG network in Calgary and represents the Canadian firm in KPMG's global pride network.
CPA Canada: Why did you decide to pursue your CPA?
Richard Piticco (RP): I whet my appetite years ago in Wilfrid Laurier University's business program during my second co-op placement with KPMG's audit. I realized the combination of the designation and audit experience could springboard me into a diversity of roles and organizations.
Ariane Laroche-Dupont (ALD): During my business administration undergrad at HEC Montreal, I loved my accounting classes. I was a social person with an analytical mind, and I wanted to develop my leadership and business management skills. I think the CPA is a great designation because of the diverse roles you can pursue.
Zach Little (ZL): A CPA designation is a solid first step to a career in business that provides a practical and differentiated skillset. I've been at KPMG for almost 10 years because this is truly a dynamic profession with many opportunities. I am just as engaged today as I was a decade ago.
CPA Canada: How has the industry changed in terms of diversity and inclusion since you began your career?
RP: There has been a shift to diversify the CPA designation with visible minorities and women making up a significant percentage of graduating classes. It was once rare to see a national organization participating in Pride. Today, it's a different world. The commitment to establish specialized DEI offices is exciting to see.
ALD: Since joining PwC, there has been a focus on celebrating Pride and diversity in general, educating people, especially about unconscious bias. I don't think people necessarily want to be discriminatory, it's how society has been. It's with education that things change.
ZL: Earlier in my career, an organization was "ahead of the curve" if diversity and inclusion was appropriately prioritized. Today, organizations are being held to higher standards. Employee activism and the competition to attract and retain top talent have accelerated the pace of change, which is inspiring to see.
CPA Canada: What key developments, or notable progress, have you witnessed or been a part of?
RP: I worked at Deloitte, as their client, when a transgender employee was transitioning and how the situation was handled, so respectfully and supportively, gave me great joy. I was proud of the firm and the profession to see that happening in real time. It was a barometer to see that progress is being made.
ALD: Since co-chairing Shine, we've created new virtual events to keep up communication and educate people, especially during COVID. Out of the events, we realized we have a lot of allies. That is notable progress for Shine and PwC.
ZL: At KPMG, we've had more education on the diversity of gender. We rolled out gender-inclusive washroom signage across the firm. This marks a transformative shift toward more inclusivity and awareness of our gender-diverse colleagues.
CPA Canada: How important are support mechanisms such as networks, mentorship opportunities and community groups?
RP: It's a personal journey and having those supports is so important. Having resources whether it's mentorship or community groups or sponsorships can really impact an individual. They are foundational pillars to be able to set one up for success.
ALD: As CPAs, we need to be confident to build relationships with our clients. When you have a network that represents your community at your firm and leaders support it, you understand your value and can be yourself.
ZL: It is extremely important for LGBTQ2SIA+ people to see themselves represented in the fabric of an organization's culture. People networks, such as Pride@KPMG, provide a forum for LGBTQ2SIA+ people to support each other through lived experiences and to ensure our voice is heard by our leaders and peers.
CPA Canada: Has identifying as a member of the LGBTQ2SIA+ community impacted you as a CPA at all? If so, how?
RP: I was closeted when I first joined a firm and very career oriented. I recall being self-conscious and holding back for fear of being stereotyped. Not bringing your authentic self to work can impact your ability to develop authentic relationships professionally and personally. When you're your true self, that impacts your confidence, self-esteem and ability to perform in an optimized way.
ALD: If you want to be a good CPA, you need to be innovative. When you are part of the LGBTQ2SIA+ community, your innovation comes from challenging the status quo and being open to different perspectives. We are more aware of differences and, because of this, we listen more.
ZL: Living authentically enables me to connect with colleagues, clients and the community more meaningfully. It enriches my experience at work because, when you are operating from a space of integrity based on who you are, you are your most powerful self.
CPA Canada: Do you celebrate pride, and if so, how will you celebrate this year?
RP: It is a full circle moment for me because, though I took her years ago, this year my 15-year-old daughter is working at an outdoor restaurant booth on Church Street–I'll go to support her, and the parade. It's always fascinating to experience the Pride celebrations through her eyes.
ALD: With Shine, I will attend the Pride parade, but I will use the opportunity to educate my friends and colleagues showing them that it is still important to talk about, even in Canada.
ZL: I will march in the local Pride parade with my KPMG team and participate in community events with friends and family. I will also attend our Global Pride Conference at KPMG hearing from our LGBTQ2SIA+ people, allies around the world and community leaders.
Improve workplace culture
Learn more about Pride and allyship, explore how to make DEI initiatives more impactful in the workplace and nurture an environment that's welcoming for trans people. Also, here's what to know about using personal pronouns at work.

*One variation of the acronym LGBTQ2SIA+, which stands for lesbian, gay, bisexual, transgender, queer and questioning, two-spirit, intersex, asexual, plus people. There are currently many other variations, including LGBTQ+.
---
Author
Sophie Nicholls Jones is a Toronto-based digital producer for CPA Canada. With more than a decade of journalism experience, Sophie is a seasoned reporter, writer and editor, with a focus on the business and financial sectors.
Originally published by CPA Canada's news site.