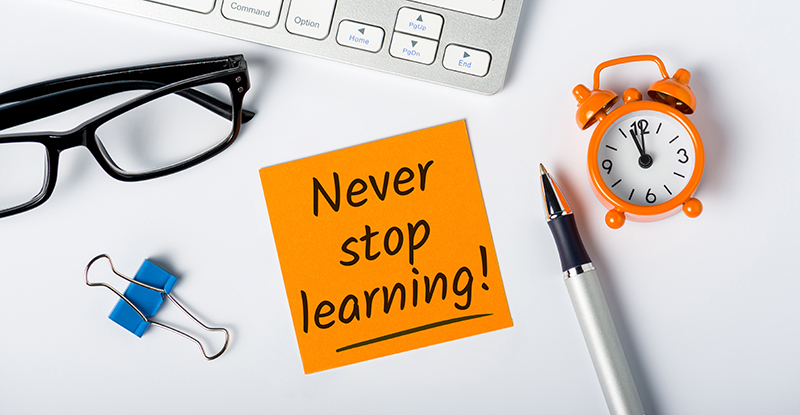 Photo credit: Bychykhin_Olexandr/iStock/Getty Images
What workplace skills will be in demand in 2022? In our podcast episode, CPABC's director of professional development, Nicola McLaren, CPA, CA; and manager of employer relations, Stéphanie Roy, share their thoughts on what key skills they recommend people develop this year. Hosted by CPABC's communications manager, Vivian Tse. Part of our Coffee Chats with CPABC podcast series.
---
One thing that's been clear since the start of the pandemic is the importance of being agile and adaptable to change. Based on the past two years, we all know it's impossible to predict how things will evolve. The recent challenges caused by the Omicron variant is a prime example. But we can still do our best to develop the skills we need to prepare ourselves for whatever may come our way professionally and personally.

CPABC's director of professional development, Nicola McLaren, CPA, CA, and manager of employer relations, Stéphanie Roy, recently shared their thoughts on what key skills they recommend people develop in 2022, in order to thrive in the workplace.

You can listen to the full interview in our Coffee Chats with CPABC podcast. Please note that this podcast episode was recorded in December 2021, before the sudden rise in Omicron cases and the enactment of restrictions that followed. Below are some highlights from the conversation.

As many organizations prepare to launch hybrid working cultures, employees may feel anxious about communicating and interacting in person again, especially in this new environment. What are some of your recommendations?
Nicola: Brushing up on your communications skills, as well as improving your listening skills and becoming more empathetic, will be crucial as we head back to the office and start working more closely with our co-workers and interacting more with clients.

As many organizations are embracing a hybrid working environment, it will remain important for all of us to continue to develop leadership, coaching, and management skills that accommodate both the virtual and in-person worlds of work. Throughout all of this, we need to be sensitive to the mental health of ourselves and our teams; we need to be real, to be vulnerable, to be empathetic.

When we return to the office, in-person networking events will start to happen again as well. What are some ways to strengthen your networking skills to prepare for this?
Stéphanie: As Nicola just mentioned, having empathy and fostering an honest and vulnerable connection with people is important. And that applies to your relationships with contacts both inside and outside the office. As many of us have been working remotely for the past two years, the need for networking and building true connections has never been more important.

I know when working remotely, it's easy to get zeroed into our work with the absence of co-workers walking by our desks and vice versa. So, it's important to remember to check in with your co-workers, and it's also important to do the same with your stakeholders. Take the time, whether it's through LinkedIn or sending them a nice personal email.

Nicola, you advocate for the lifelong learning model. Can you explain what this means to you and why it's so relevant to professionals, especially CPAs?
Nicola: As CPAs, we have skills in a variety of areas that need to stay sharp, and of course that includes technical skills. For example, tax rules are ever changing and there are new Handbook standards to learn and apply. But to help ensure members are staying well-rounded, I also encourage expanding your enabling competencies: the soft skills, the people skills, the personal development skills, etc.

Lifelong learning requires us to adopt a learn, unlearn, relearn approach. It's no longer a case of just adding incremental knowledge to what we already know or have in our skillset. Sometimes what we learned is no longer relevant. For example, I do not need to know DOS programming anymore! That can just disappear. And some things that used to be "true" have been proven to be false, and we need to "unlearn". So, there's a constant need to incorporate new knowledge and adopt best practices and reassess the things we "know" to see if they require updating.

We can probably expect a shift to either permanent remote or hybrid work environments in the CPA profession. Is that going to make onboarding new staff and building solid rapport and trust more difficult? And what are some best practices for managers and employees for successful onboarding?
Stéphanie: It can be intimidating if you're onboarding somebody new without meeting them in person. But there's a responsibility on both sides, whether you're a manager or an employee. I think building a positive work relationship and environment for yourself is important no matter whether you're the manager or the employee.

If you're the manager, a lot of the same things that you would do in person can apply virtually. For example, make sure to connect with the new hire ahead of time. If there are any staff activities that they should be aware of, send them a personal email to give them a heads up. Try to get to know the new hire on a personal level. And when they start, check in with them on a regular basis.

And if you're a new employee, you also need to do your part to make your experience positive. So, make a point to be curious and ask your new coworkers questions and get to know each other, even about some non-work-related topics. For example, if you're a dog person, talking to other dog people is a great way to connect. Whether virtually or in-person, getting to know your team will take you a long way in your career, professionally and personally.

How important is it to prioritize digital transformation in the workplace?
Nicola: The reality today is that every organization is a digital organization. I love the quote from Domino's Pizza, who describe themselves as, "A tech company that happens to make pizza." And if you've ordered Domino's Pizza recently, you'll know you can actually watch the progress of your pizza being made by checking the timeline on the app.

So, we all need to embrace digital transformation, and it's not just about using digital tools to help you with something you're already doing; it's about using these new tools to help you do things more efficiently.

We understand that our members are on different points of the technology knowledge scale. But wherever you are, the way to stay relevant and not see technology as a threat is maximizing your human skills. As I've heard pointed out, you can never automate the trusted advisor role.

There is always a place for human skillsets, but at the same time, things are changing quickly. There's a real danger of getting left behind if you're not stretching yourself and trying to adopt new ways of doing things or new technology.

Stéphanie: Everybody brings something different to the table. So, I think it's really important that everybody has an open mind to learn and stretch themselves and develop new skills, but also be aware that different people on your team might have different abilities.

As such, it's best to give team members opportunities where they can use the skillsets that let them shine. So, while everybody can learn, some people will be savvier than others in different areas; just make sure that you're relying on team members for what their strengths are.

Along with tech adoption, cybersecurity is also a key topic in the workplace right now. CFOs and other CPAs are now being looked to for cybersecurity advice within their organizations. How can CPAs prepare themselves to play a role in protecting their organization?

Nicola: Statistics show that there has been a significant increase in cybercrime since the start of COVID-19, and as a result, the vigilance we all need to have on a personal and business level is huge. Cybersecurity fits really nicely into the CPA skillset. We are trained in risk assessment, risk identification, and risk mitigation, and also finding the appropriate resources we need to find out what we don't know. There are cybersecurity experts out there – consult with them, and use them as needed.

That being said, we all have a role to play in cybersecurity, and awareness is key. CPABC provides some phenomenal cybersecurity resources that are free, including articles and podcasts. Cyberattacks are becoming increasingly more creative and sophisticated, so I encourage everyone to stay up to speed on the different types of cybercrime and how to stay vigilant.

What's the most important skill for CPAs to work on in 2022?
Nicola: For me, it's not one specific skill but rather the concept of lifelong learning: the importance of the learn, unlearn, and relearn model. I catch myself all the time on the need to challenge something that I think is true. And yet it's not true anymore, or it's not the best way anymore.

We have to unlearn things and then create some fertile ground to plant new ideas and learn new skills. On both a professional and personal level, lifelong learning is the way we're going to continue to navigate whatever is thrown at us in 2022 and beyond – to not just survive, but to thrive.

Stéphanie: The same thing goes for me, as employers are going to need people who are nimble and able to adapt and learn new skills. So be open minded. When you see an opportunity to learn a new skill or to take on a project that might require you to stretch, remember that it's a great way to build your muscles for learning new things. I think the world is changing at a rapid pace and the ability to be curious, to learn new skills, and to stay on top of trends is going to be ever important.

CPABC's professional development program offers courses ranging from an hour long to several days in length, and encompasses virtual live, in person, and on-demand delivery methods. Course content is available for a wide range of levels and skillsets, both in technical and enabling competencies. Visit the CPABC professional development site for more information.

Whether you are looking for work, volunteer opportunities, or seeking talent to fill positions, CPABC's careers site may be key to your search. Our site is the exclusive online career and volunteer experience resource for designated CPA members, candidates, and students
---
Vivian Tse is a communications manager for CPABC.