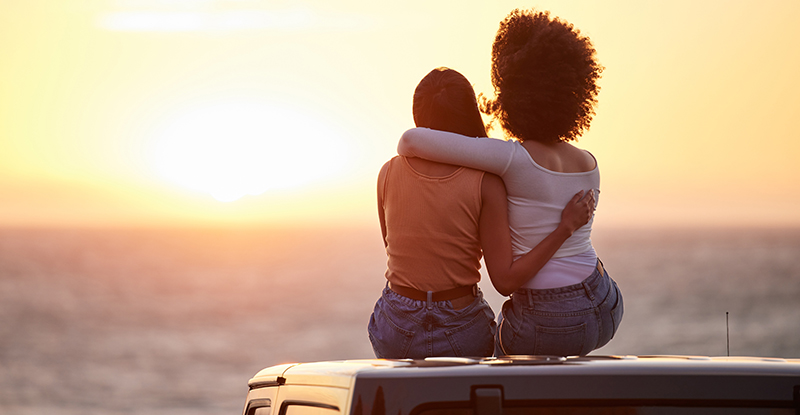 Photo credit: PeopleImages/iStock/Getty Images
When it comes to discovering the secret to a long and happy life, you could ask any number of people and get completely different answers. Yet the answer is right in front of us.
The Harvard Study of Adult Development began in 1938 and is one of the longest-running studies on happiness. The study's survey group consisted of people from various economic and social backgrounds, including Harvard undergrads and Boston's inner-city residents. (President John F. Kennedy was part of the original group).
The study found those individuals who were more socially connected to family, to friends, and to their community were happier, healthier, and lived longer than those who did not embrace community in the same way.
In addition, the study found those with strong social support experience less cognitive deterioration as they age, and in fact, people's level of satisfaction with their relationships at age 50 was found to be a better predictor of physical health than their cholesterol levels.
This study is now over 80 years old and if its message isn't abundantly clear, we only need to look back over the last two years to see firsthand how taking care of our relationships is an essential form of self-care and wellbeing.
"Our relationships and how happy we are in our relationships has a powerful influence on our health." Robert Waldinger, director of the Harvard Study of Adult Development
We need relationships and social connection to:
Help us celebrate good times and support us during the bad times
Create a sense of belonging
Reduce our stress
Improve our confidence
Inspire us to adopt healthy lifestyle choices
Provide us with intellectual stimulation
Offset loneliness and boost our feelings of happiness
And more
We know loneliness is extremely detrimental and considered a serious health hazard. People who feel lonely and isolated may experience a decline in brain function and ultimately have a shorter life span.
A 2021 Harvard study revealed an "epidemic of loneliness" with more than 1 in 3 Americans experiencing feelings of loneliness, and not surprisingly, this increased during the pandemic.
But even though we know friendships and social connections are an essential part of our wellbeing, our relationships may still be taken for granted in our busy lives, and the pandemic has made it even more difficult to connect in meaningful ways.
If your relationships could use some extra attention, here are four strategies you can use to reconnect with friends and loved ones, and to make new friends as well.
Are you happy with the strength of your relationships? What can you do to invest more time and energy into nourishing your relationships? Our relationships are an essential pillar of our wellbeing. I hope this inspires you to make the most of your connections.
---
Author
Ann Gomez is an engaging speaker and the founding president of Clear Concept Inc. She is passionate about empowering the world's busiest people to perform at their best. She is also the best-selling author of "The Email Warrior", an active blogger and media spokesperson.
Originally published on the Clear Concept blog.