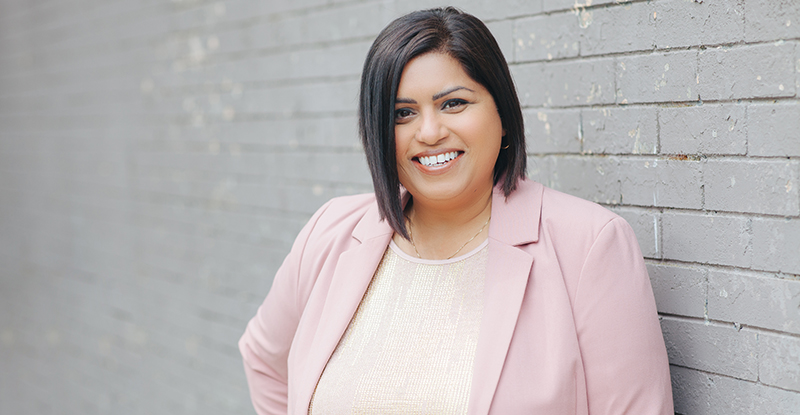 Photo credit: Bobo Zhao Photography
Livleen Veslemes came out of an indefinite sabbatical to bring her award-winning expertise to Lumi Foods
Livleen Veslemes wasn't necessarily looking for her next career opportunity. In fact, the award-winning Vancouver businesswoman had purposely stepped away from her previous, extraordinarily successful position – as CEO of biomedical company bioLytical – in 2020 to prioritize her health and family life.
But when a recruiter made her aware of Lumi Foods (formerly Blue Heron Creamery), an up-and-coming Vancouver brand specializing in plant-based cheeses, Veslemes saw her future.
"I thought, "Wow, I think this has got me!'" she says.
The consumer packaged goods industry wasn't foreign territory for Veslemes. Prior to bioLytical, she had spent more than three years at Luvo Foods, a producer of natural and better for you prepared frozen meals. During her tenures, she ushered both companies through periods of incredible expansion.
Lumi, it so happened, was at the starting gate of its own explosive growth when Veslemes learned about it. And the start-up brand was in urgent need of someone with her specific skill set.
"Lumi was still known as Blue Heron, and its artisan cheese sales had been from one tiny retail shop on Main Street that was only open on weekends because demand always outstripped supply," Veslemes explains. "Nearly 30 non-dairy products had also already been market-tested at farmers' markets.
"But then, in Spring 2021, Save-On-Foods, Western Canada's largest [grocery] retailer, reached out to Blue Heron and said, 'We would love to launch your product at retail.' And in a whiplash moment, it found itself going from micro-processing and selling at farmers' markets to scaling up production of four [products] and selling them into Save-On. That's when I joined the company."
In Lumi, Veslemes saw a company that aligned perfectly not only with her expertise, but her values as well. While she describes her "superpower" as "leading companies through hyper-growth stage, which is where Lumi is at," she was also attracted to the company's commitment to offering products that thrill consumers while being kind to the environment and animal welfare.
"To be able to do good for the planet, good for animals, to be able to bring a product to people that isn't full of gums and fillers – just a real, true alternative to dairy… I had to be a part of it," she says. "I truly believe we can pursue purpose and have profit be a part of that."
Veslemes credits her grounding as a CPA for allowing her to pursue these rewarding opportunities throughout her career.
"I think that when you lead with purpose in mind, you can build a very profitable and sustainable business, and that's where my CPA designation has helped me," she says. "I think that if I wasn't a CPA, perhaps I wouldn't be as focused on the financial side of the business. It's given me a very holistic picture to assess a business, and push and pull the levers to drive profitability – which means you have cash, which means the business can be sustained for the long term, which means you can continue to live your purpose and bring that purpose to others."
While Veslemes has only been with Lumi since August of last year, she says many exciting developments are already well underway. These include plans to incorporate Canadian-grown, sustainable ingredients – including lupini beans, buckwheat and oats – into future products, and "scaling from a tiny, three-person company that services a small tribe of customers at farmers' markets to a nationally available company that's bringing cultured and aged plant-based cheeses to the households of Canadians and, eventually, into the U.S."
"I think it's never too early to have bold goals," Veslemes enthuses. "We've got a great future ahead of us, and I'm excited to be on this journey."
The career possibilities for CPAs have never been more diverse or exciting. To learn more, visit the Chartered Professional Accountants of British Columbia's website.
---
Originally published by Business in Vancouver