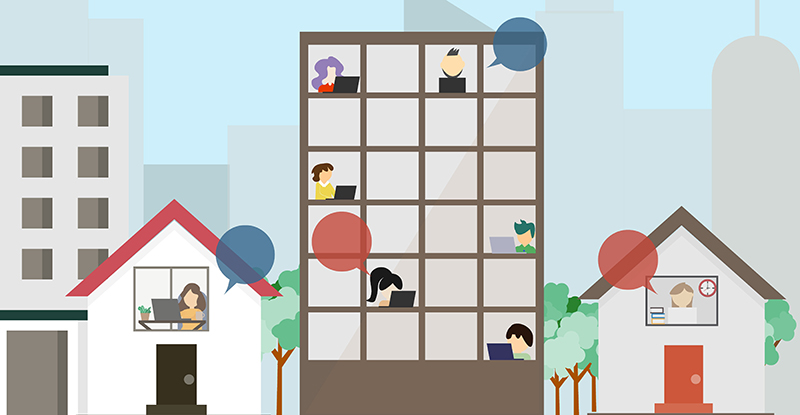 Photo credit: Piscine/iStock/Getty Images
In May 2020, we checked in with CPABC members to assess the immediate impact of the COVID-19 pandemic and learn how businesses were pivoting their operations to adjust to the new health regulations. We surveyed members once again in May 2021 to explore the longer-term implications of COVID-19 and see how CPAs are envisioning the future of work—both from an employer and employee perspective.
Many businesses held off on making any concrete changes to flexible and/or remote work policies in 2020, electing to wait until they could measure the full impact of the pandemic. Now, as more than 65% of British Columbians are fully vaccinated1 and we approach the final phase of "BC's Restart," the provincial government's four-step plan to "bring BC back together," indications of an economic recovery in BC are driving optimism and many members and their organizations are poised to implement new work strategies that take changing expectations into account.
As the influential thought leader Robert Glazer, founder of Acceleration Partners, recently noted in his Friday Forward e-newsletter, "in a free market, supply and demand always win out in the end. Currently, the demand curve for remote work opportunities is seeing the biggest shift, and some employees are even willing to quit their jobs to pursue remote opportunities."
This sentiment was echoed by respondents to our 2021 Future of Work survey, with 59% of CPAs who self-identified as "non-decision-makers" within their organizations saying they would consider leaving their current employment if the option of working remotely was taken off the table. Also notable: Only 15% of non-decision-maker respondents said they would prefer to work primarily from the office post-pandemic. Their most popular choice, at 49%, was a hybrid model that would allow for a mix of days working from home and at the office. This was followed by the option to work primarily from home, at 35%.
These figures are consistent with the results of a Leger survey conducted in May 2021, which showed that 40% of Canadians would prefer a hybrid work model going forward, 38% would prefer a fully remote or mostly remote work arrangement, and only 20% would prefer to be back at the office every day. Additionally, 35% of the Leger survey respondents who worked from home (either regularly or as a direct result of the pandemic) said they would look for another job if their employer mandated that they return to the office. An earlier survey conducted by Robert Half in March 2021 yielded similar results, with 51% of respondents saying they would prefer a hybrid work arrangement and 33% saying they would look for a new job if they were required to return to the office full time.
Interestingly, respondents to CPABC's Future of Work survey who were at more senior levels of management and self-identified as "decision-makers" for their organizations went against the grain: 38% said they plan to work primarily from the office post-pandemic, 47% said they plan to adopt a hybrid model, and only 10% indicated a preference to working from home most or all of the time.
These results make it clear that employers have new expectations to consider as they plan for the future of work. Most employees have become accustomed to working remotely, and many expect greater flexibility from their organizations going forward. The decision-makers who responded to our Future of Work survey recognize this—38% even indicated that they're open to the idea of allowing employees to work fully remotely post-pandemic.
Amid the various unknowns about the future of work, one thing is certain: The "office-centric" work arrangement will no longer be the norm. Recognizing this, companies will need to continue to provide flexible work options to attract and retain talent now and into the future, while at the same time creating strong organizational cultures, fostering effective collaboration, and maintaining excellent customer service.
---
Daniel Berardo is the director of people & culture at CPABC. Nicole Clendinning, CPA, CGA, is CPABC's director of finance and corporate administration.
This article was originally published in the September/October 2021 issue of CPABC in Focus. An infographic with more details about the survey was also published in the magazine.
[1]
As of August 21, 2021.