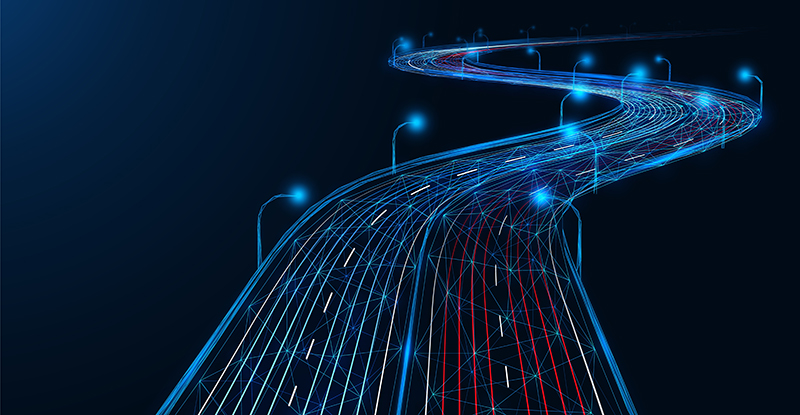 Photo credit: Ilya Lukichev/iStock/Getty Images
It's time to make innovation Canada's superpower.
The world has changed. Trends that took hold during the pandemic will continue, and will continue to impact every industry, sector and company. Technology is powering change at a pace we've never seen before—and is no longer the sole responsibility of the CIO. It has moved to the CEO's office to enable new customer experiences. It has become the foundation for how we conduct business, and our lives, and is transforming traditional industries so that retail must increasingly think of itself as retailtech, or insurance as insurtech, and so on.

Competitiveness now depends on digital advantage. The choices we make today will shape the Canada of 2040. To lead in that economy, Canada needs to super-charge innovation.

It's an opportunity we can't let slip. The innovation economy is growing three to six times faster than the rest of the economy, with "digitally transformed" enterprises on track to drive more than 50 percent of global gross domestic product (GDP) by 2023.

This provides a tremendous opportunity on an exponential scale. The innovation economy also has a critical role to play in addressing the significant global challenges we face. Issues like climate change, combatting pandemics and food security require next-level ingenuity and innovation—and Canada should be playing a leading role.

We have so many advantages—and unlimited opportunity. All we need do is put our imaginations to work.

We have world-renowned pioneers in artificial intelligence, cleantech and quantum computing, but our innovation economy represents only a modest 12 percent of our GDP—foretelling a steep climb to match the global rate. We rank a distant 26 on the list of OECD countries for investment in research and development. Each of these fields can add billions—if not trillions—to the economy, according to research from Ark Invest, but more needs to be done to turn concepts into commercial realities.

Countries around the globe have recognized the need to invest in innovation to drive efficient growth, which signifies a global reset in how we think about economic competitiveness and innovation. The 2021 federal budget laid out targeted investments that have some potential to ignite our innovation economy. To fuel us up even further and keep us competitive on the world stage, I believe we need to go further, and here's how:
The sky is not the limit
First, we need a "moonshot" goal. Just as the U.S. rallied the public and private sector through NASA to put a person on the moon by 1969, I'm convinced Canada needs a similarly ambitious goal to mobilize industry and create market leaders. This could be a bold play in carbon neutrality or in a host of other areas of public interest such as health and wellness. This should be led by an arm's length public/private agency, like the Defence Advanced Research Projects Agency (DARPA) in the U.S.

Second, more should be done to commercialize our research and protect our intellectual property. Canada is a recognized leader in AI and deep learning research, but we're being beaten to the punch by countries that can patent their visions and get to market faster.

Canada should level-up its supercluster strategy, just as the Fraunhofer Society in Germany has added $3.4 billion to that country's economy and super-charged corporate innovation. These centres would act as a platform providing specialized expertise, services and infrastructure and bring together business and academia with the right incentives to drive commercialization.

Third, Canada must incentivize innovation investments in strategic sectors where we have competitive market advantage. We should be early adopters and make game-changing moves in semiconductors, quantum computing, 5G broadband infrastructure and deep learning—which is expected to add $28 trillion to the global economy in the next 15 to 20 years alone.

But here again we could take cues from the U.S., where up to $4 trillion in digital and physical infrastructure and incentives are being considered to support the American innovation economy.

Fourth, Canada needs a future-ready workforce. The innovation economy is built and fuelled by talent. Currently, 30 per cent of global work is completed by automation—a proportion expected to rise to 52 per cent by 2025.

This shift necessitates the design of a clear human capital strategy that takes stock of the capabilities we need, the new jobs we're likely to see, and the policies government and corporations will need to upskill tomorrow's workforce.

Lastly, innovation economies thrive on purpose-driven corporations that serve all their stakeholders and balance profits with sustainable, long-term thinking. Corporations that are driven entirely by profit often succumb to the short-term pressures of quarterly results, sacrificing investments in innovation and employee development. We should incentivize corporations that prioritize longer-term thinking and commit to investments in innovation, workforce development and purpose-driven outcomes.

This is an area where Canada can thrive and lead the world. Just imagine.
Lift off
This country has the potential to become one of the world's most innovative economies, but we won't get there using the same old playbook—even if it did serve us well for the last one hundred years. Pursuing growth and achieving our superpower potential through innovation means bringing new ideas to everything we do, and helping our homegrown innovators reach their potential now and throughout the next century.

Obviously, we can't do everything, but, even so, we are limited only by our imaginations.
---
Author
Armughan Ahmad is a president and managing partner, digital at KPMG. He is bridging traditional consulting services with exponential technologies to develop organic product IP with eco-system partnerships to deliver business function level transformation fit for a new digital economy customer experience.

Originally published by KPMG.