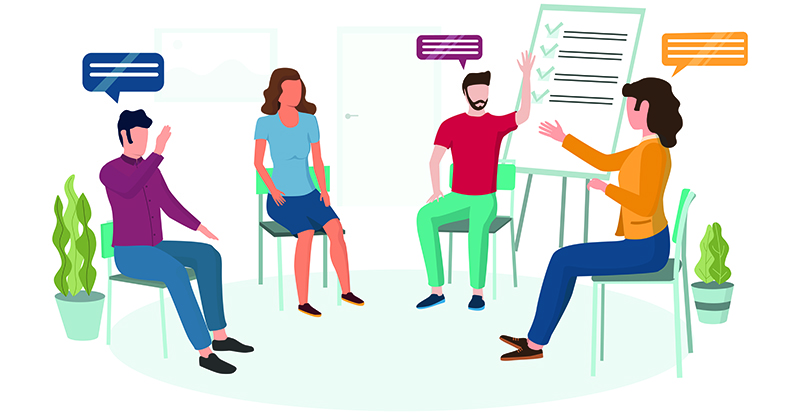 Photo credit: SiberianArt/iStock/Getty Images
In our podcast epsiode, Kerri Brkich, CPABC's Vice President, External Affairs & Communications, speaks to PwC Canada's Tax Parter and Diversity and Inclusion Leader in BC, Brooke Ko, CPA, CA, about PwC's efforts in encouraging staff to have conversations about mental health. Part of our Coffee Chats with CPABC podcast series.
---
Approximately one in every five Canadians experience mental health issues. In a workplace of 100, that's 20 staff who may be experiencing mental health problems. And since many of us spend most of our days working, it's important to make conversations about mental health part of the norm to minimize the stigma related to mental illness.
According to the Canadian Association of Mental Health, it's important for employers to recognize that stigma surrounding mental illness currently exists in the workplace and employees are not only suffering from mental health issues, but also from the stress of having to face colleagues who don't understand.
It is therefore important to create workplaces where people can feel comfortable starting and having conversations about mental health. To better understand how firms can initiate and encourage mental health conversations in the workplace, we spoke with PwC Canada's tax partner and diversity & community leader in BC, Brooke Ko.
Why is it important to encourage conversations about mental health in the workplace?
Brooke: Speaking about mental health still carries a negative stigma, and I think issues are only being addressed and discussed when they become too severe. The goal for mental health at PwC is to encourage people to see it as part of their overall health and understand that preventative measures and maintenance are just as important as eating well and exercising. Mental health is part of your overall well-being.
As a leader, it is so important for me to walk the walk and ensure that each person at PwC feels safe and supported when speaking about their mental health. This comes down to encouraging everyone to be honest and vulnerable with each other about their struggles, instead of wearing a mask that gives the visage that everything's okay when we're actually sweeping things under the rug.
At PwC, we've established a program called Be Well, Work Well, which focuses on helping each other, and touches on four dimensions of energy: physical, emotional, mental, and spiritual. The overall philosophy of the program is, if you're healthy, you will bring your best-self to work.
However, a program is just a program unless it's really used and embedded in the culture, so we encourage staff and partners to speak about their own practices and habits. If our leaders are talking about it, others will feel they can talk about it too, share tips with their team, and ultimately support each other.
How important is it for people leaders to be trained to manage mental health in the workplace?
Brooke: It is very important to equip people leaders with the right tools to address mental health. In the past year, we've implemented a mental health first aid program to help managers and group leaders address the topic. What I've learned from this program is that it's okay to not know the answer; it's more important to really listen to people and direct them to the right resources.
I find that sharing my own experiences helps me cope as well. When I use a "we're all in it together" mentality, one of the positive outcomes is that I end up feeling closer to my team.
As an organization, it is also important to engage our people and create a community that supports mental wellness. PwC launched the Differently-abled Wellness Network (DAWN) to bring together like minded people who are passionate about mental health and wellness, as well as raising awareness around physical and learning disabilities.
In 2020, we've hosted 12 virtual events across Canada, with over 1,300 PwC partners and staff participating in these events, such as challenges for prizes, yoga, virtual coffee chats, wellness bingo, and educational webinars on nutrition or financial investing.
At the end of the day though, it's the stories our people shared that are the most impactful. We had a virtual event here in BC where three local staff found the courage to open up about their own mental health journey during Mental Health Week last year.
I still remember all of these stories, but what stood out the most to me was how open one speaker was about seeking professional mental help as a preventative measure, and how he felt so much better after talking to his counselor.
After he shared that story, I reached out to him to get a referral. This is really where I'd like to see our mental health initiatives and conversations go – normalizing the idea of seeing a counselor as a preventative measure and not waiting until you are close to the edge.
Supporting mental wellness probably looked a bit different with the COVID-19 pandemic. What has PwC been doing differently to support mental wellness throughout the pandemic?
Brooke: We all had to be a bit more creative during this pandemic – both in how we work and how we address mental health issues in the workplace. It is easy to feel disconnected and isolated when we are all working remotely. We are missing out on those in-person encounters over impromptu lunches and coffee room chats.
Recognizing that people have lost these spontaneous conversations, we are encouraging staff to have smaller social interactions. We have a formal program called "the power of five connections", which pairs you up for social interactions with five people you might not necessarily be in contact with and encourage only a social check-in.
In addition, many of our teams have found resourceful ways to connect virtually including going for a "virtual walk" together or online happy hours. As we move into a post-pandemic world where an increase in remote work will become part of the new normal, discovering new ways to socially connect will be essential to maintain the culture we've strived to create.
We also witnessed many global social and racial issues recently that can have a big impact on our mental health. How has PwC addressed and supported your people through these issues?
Brooke: In response to some of the social issues we've witnessed over the past year, we've also focused on spotlighting the importance of mental health at work and in our everyday lives through a diversity lens. Over the past year, we've increased our focus on diversity and inclusion and sped up employee-led inclusion networks.
Today, we have 75 chapters of employee-led inclusion networks across Canada in our various offices. These networks create internal communities where employees can feel safe and supported. And as a group, they voice their views to PwC's leadership as well as speak to their clients in the wider community.
Personally, I can attest to the importance of having these inclusion networks, especially at a time when we're all isolated. I'm the co-executive partner sponsor of our newest national network, the Association of East and South East Asians (AESA), a community created for East and South East Asian staff to share their stories and support for diversity and inclusion at PwC.
With the recent shootings in Atlanta, this network has become a lifeline of support for me and fellow Asians at PwC who are grappling with the additional emotional toll of racism. Having a close-knit group where we can share thoughts, articles, or resources has been important in helping me organize my own thoughts and feelings about the shooting.
Listen to Kerri Brkich's podcast interview with Brooke Ko.
---
Kerri Brkich is the vice president, external affairs and communications for CPABC.