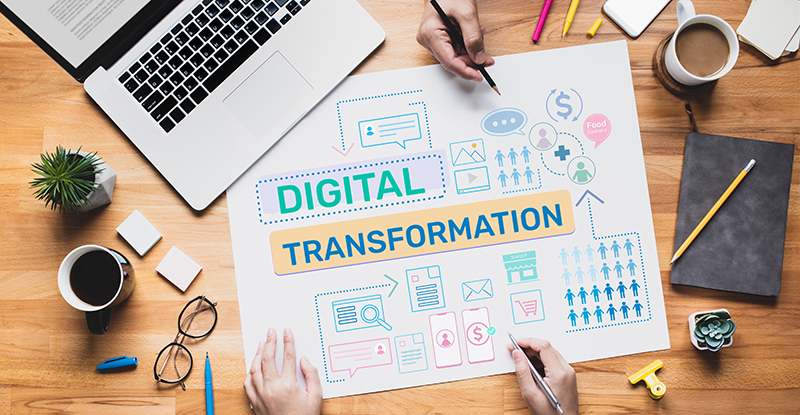 Photo credit: HAKINMHAN/iStock/Getty Images
Register for CPABC's online on-demand PD seminar "Digital Transformation – To Do or Not to Do?" led by instructor Rob Gilfoyle. You will learn about the strategic, leadership, and operational aspects of DX, and come away with career-enhancing knowledge and leadership skills in this burgeoning area. The course is eligible for seven CPD hours (six for the video-on-demand portion and one for coaching). Visit the PD website for details.
The fact that Canadians are starting to get vaccines for COVID-19 is great news, but it will be some time before enough people are vaccinated and we can regain a sense of normalcy. Most experts say that it will be fall 2021, at the earliest, before that happens. So, while there is light at the end of the tunnel, we aren't there yet.
It's pretty safe to say that the global pandemic has changed how the world does business, and much of this change will carry forward post-pandemic. One silver lining that has emerged over the past year is that the majority of organizations have realized the value of digital efforts—from client service to marketing to stakeholder engagement—and are putting resources into planning and implementing them.
Digital transformation (DX) is a fundamental shift in how companies function and deliver products, services, and experiences to clients, customers, and employees. Many of today's professionals—including in the accounting sector—recognize the benefit of being able to engage using technology and understand the need for DX at their organizations.
For some, however, DX can seem overwhelming. It can be challenging to shift from the old ways of doing things and embrace new methods, particularly if your time and resources are already in short supply, and this can lead to procrastination or worse: denial. But in a world where technology adoption continues to accelerate, your business needs to innovate to stay competitive, whether you're a sole practitioner in public practice or the CEO of a global corporation. In terms of lost opportunities alone, the long-term cost of not adapting can be immense. So, if you aren't already discussing DX in your organization, it's time to move it up on your to-do list.
Often, the biggest obstacle is simply knowing where to start. Developing a DX plan that supports your business goals is a good first step. Below are five questions to ask when building your plan:
What is our goal?

Outlining what you want to achieve and why you want to achieve it is a great start. Once you're clear about your goal, you can create a realistic and doable plan that will give you a sense of purpose and keep you on track.

Where are we now?

It might seem like knowing where to start should be obvious, but that's not always—or even often—the case. There are multiple areas that need to come together to create an effective DX plan, from budgeting to resourcing to identifying the relevant expertise. For example, do you already have sufficient knowledge and staff in-house or do you need to hire a consultant? The list of considerations goes on and on. The key is to start by taking stock of your current situation. Evaluate where you are today in terms of DX, consider where your competitors are, assess what your staff, clients, and partners expect of you, and think about where you want to be.

Do we have sufficient resources?

Resourcing is a challenge even for large, multinational firms, and identifying whether you have enough resources internally is always a big task. It helps to start by understanding the moving parts of your DX plan and then setting up a realistic timeline. The good news is that you can implement your plan in phases. Creative resourcing is also an asset and, depending on the activity or task, you may find that there are talented people with digital experience in your firm or your professional circle who could play a role in the process.

How much will it cost?

When working on your DX plan, be realistic about your budget. Be prepared to plan your DX efforts in phases, if necessary, as it's important to continue moving forward.

How will we measure success?

There are many things to consider when leading a company through a DX process. Of course, these considerations will vary depending on your organization's size, your level of digital/technological expertise, and your timeline for implementation. Ultimately, your plan should recognize opportunities, acknowledge barriers or challenges, and identify risks. And it is vital that you set key performance indicators and identify milestones (milestones and deadlines are important!). Make sure that measuring return on investment is built into your plan, as it is crucial to success.
Demystifying DX
Digital transformation is now integral to any solid business strategy, and it needn't be overwhelming. These five questions are just some of the tools available to help you fully understand step-by-step what needs to be done to make sure your business doesn't get left behind.
---
Author
Rob Gilfoyle is an educator, innovator, and motivator with over 25 years of experience in organizational change leadership. He has provided change leadership training to Fortune 500 organizations and thousands of managers and executives in North America, Europe, and Africa. Rob is an instructor for CPABC's PD program and also teaches courses for The Directors College.