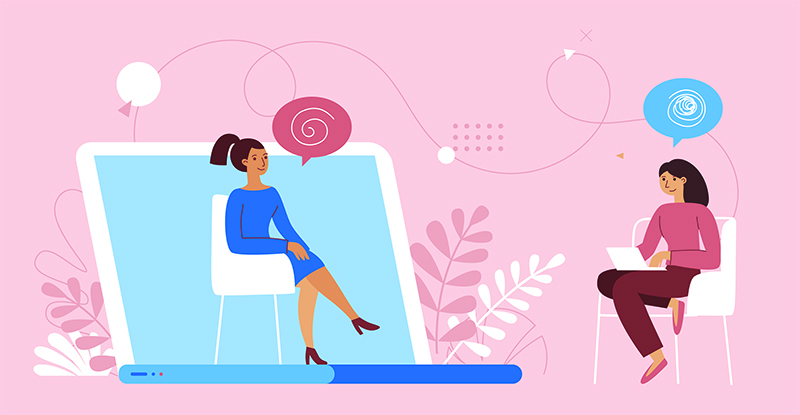 Photo credit: venimo/iStock/Getty Images
In our podcast epsiode, Kerri Wilcox, CPABC's Vice President, External Affairs & Communications, speaks to Deloitte's BC Regional Managing Partner, Jodi Evans, and its national mental health leader, Sarika Gundu about how Deloitte is supporting its employees. Part of our Coffee Chats with CPABC podcast series.
---
According to the Canadian Mental Health Association, many are experiencing unprecedented stresses and feelings of anxiety related to the COVID-19 pandemic. In fact, 40% of Canadians say their mental health has deteriorated since the onset of the pandemic. Poor mental health not only affects the individual and those around them, such as family and friends, but also adds tremendous costs on employers.
Approximately 30 of every 1,000 Canadian workers miss work due to mental health reasons each week, which adds up to approximately $6.3 billion in lost productivity each year according to a Deloitte report. In addition, it is estimated that the annual cost of poor mental health in the workplace in Canada is at least $50 billion.
Organizations that invest in mental health programs for their employees appear to mitigate these impacts; to better understand findings from the Deloitte report and how Deloitte is supporting its employees across Canada, we spoke with the firm's BC Regional Managing Partner, Jodi Evans, and its national mental health leader, Sarika Gundu.
Organizations that invest in mental health programs for their employees appear to mitigate some of the impacts around productivity loss. What are some findings from your report, "The ROI in Workplace Mental Health Programs"?
Sarika: In our report, we explored historical investment data from seven large Canadian companies at various stages of rolling out mental health programs and support. And our analysis revealed that companies with mental health programs in place for even just a year had a median annual ROI of $1.62 for every dollar invested.
For companies with programs in place for three or more years, the median annual ROI is more than double, valued at $2.18 for every dollar spent. Employers could achieve greater program ROI by prioritizing investing in higher impact areas, such as leadership training and preventative interventions, including psychological care benefits.
If employers measure their baseline data and take stock of existing initiatives, many organizations would realize that they already have some form of a mental health program in place, and that they already have the right tools to help strengthen their workplace. By putting in mechanisms to measure the performance, it can enable organizations to achieve a desired program impact and improve adoption rates and enhanced decision-making.
Jodi: Like all other professional firms, we are a people organization by nature, so it is critical to support our people through whatever different challenges they may be facing. And the ROI for Deloitte became more tangible after we started the momentum behind our programs.
Supporting our employees' mental health is so critical because people don't leave their home self at home and bring only their work self to work. If you really want to be there for your people, you have to support them as a human, not just as a worker. And I think that the fact that all of these organizations are finally starting to recognize that investing in your workforce and investing in people's wellbeing, is absolutely essential if you want to keep people healthy and productive. And it's the right thing to do.
Do you think the COVID-19 pandemic has accelerated progress for addressing mental health in the workplace?
Jodi: I've been with Deloitte for over 20 years, and I've seen a significant shift in addressing mental health issues. At our firm, we've been having conversations about mental health and wellness for about five years now. We work in a very demanding profession and it can be high-stress. I think there's always been mental health challenges.
But I don't think they were typically talked about. And in the past few years and particularly with COVID-19, I think the conversations, the openness, and the transparency around mental health has shifted. And there's more people feeling comfortable talking about it and sharing their stories. We've had open forums at Deloitte, we've had conversations with staff and partners, and have a lot of different programs in place. But there's definitely a lot of things happening that have been accelerated because of COVID-19.
Sarika: One of the most positive shifts I've noticed since the pandemic, is that more people are talking about their physical and mental wellbeing. We've had more open conversations around mental health, with our leaders, such as our CEO, sharing their stories, talking about mental health at townhalls, doing videos, and having an internal dialogue through our Yammer, which is like our Twitter.
And people are sharing their mental health stories. By having our leaders talk about mental health, we are not only highlighting the resources we have for our people but also creating a safe space for our people to talk about mental health.
In 2019, we recognized that that $300 isn't a lot of coverage to see a specialist, so we've increased our mental health benefits to $4,000. We've not only increased the benefit, but expanded coverage for the types of professionals our people can see with regards to getting mental health treatment and how the modality from in-person to also telephone and virtual care.
And to raise awareness among our staff, we launched a complementary campaign and started a real conversation with our staff about mental health. We are lucky to have established the benefit expansions and the conversation with our staff before the pandemic hit in March 2020; so we were able to go to our people and say, "You have this."
Since the shift to full-time remote work, what is Deloitte doing differently in terms of mental wellness support for your people?
Sarika: Any organization can have the best resources – they can have a lot of tools and resources for their people, but the key is how you promote them. And so when COVID-19 hit, while we've already had initiatives in place, we really had to think differently about how we encourage our people to use these programs and to feel that it's okay to use them. It's not just about promoting the resources, but also being authentic about why you should use them.
We wanted to make sure our people, regardless of their location, were able to prioritize their physical health as well as their mental health. We have wellness centres called Recharge in Montreal and Toronto and they held in-person fitness classes pre-pandemic, and also had meditation lounges, and paramedical services on-site, such as a chiropractor and dietician.
We've always wanted to make these centres virtual so that the services could be accessible by our people across the country. COVID-19 was the catalyst for us. Now everyone, regardless of their location, can access the virtual fitness classes, guided meditations, and stretch breaks. Since launch, we've had a lot of our people, including their families, participate in these.
What do you hope for the future in terms of Deloitte's approach to mental health and wellness?
Jodi: We're at the beginning of the journey and there's a lot of opportunity ahead. We've done some great things, but there's more to come. I think what will be key is listening to our people and learning from them. There's no cookie-cutter approach to this. Everybody has different needs and the way mental health impacts people varies. I look forward to what this looks like and as we work towards the new normal.
We're spending a lot of time now on developing what we want our future of work to look like. We have this concept "My Work, My Way" at Deloitte. We've tested the concept, we talked about it, and we did okay. And I think there's a real opportunity to do this extremely well in the future, so that our people can decide what makes sense for them, where's the best place to do their work, and what they need personally. Our job is to ask, "How do we support that?" I'm excited about what the future holds.
Do you have any advice for other organizations who want to increase awareness around mental health initiatives or other wellness initiatives at their organization?
Sarika: Start somewhere, stay committed, and set realistic expectations. This is a journey. This didn't happen overnight for us at Deloitte. Throughout our journey, we've ran into some bumps and forks in the road. We also recognize that our workforce is going to evolve over time. Make sure that you do regular pulse surveys with your people so that you can have real-time live data on how your people are really doing. And also look at the other data, tools and resources you already have.
Ask yourself: What's the utilization of these tools and resources? What's the uptake? What's the feedback? Look at your engagement surveys. You need to understand your landscape, because it will give you a lot of information to help you get started. Always make sure you engage your people. You can come up with the best strategies, but if you don't test it and ultimately engage your people, your program won't be successful.
Learn more about Deloitte's mental wellness initiatives by listening to our podcast episode with Jodi and Sarika.
---
Kerri Wilcox is the vice president, external affairs and communications for CPABC.