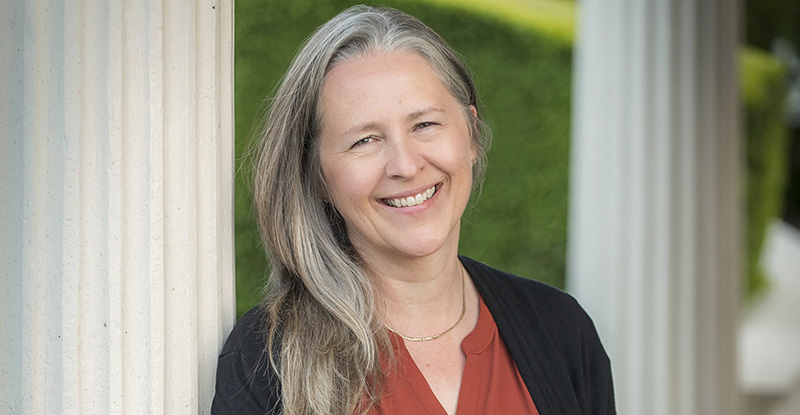 Photo credit: Coates Portrait Design
A CPA Disruptors profile
Jody Kidd has never been one to be held down by limitations. As a young adult, she knew she wanted a career that would not restrict her to any one particular industry. She was also inspired by strong female role models who've successfully balanced careers and family lives, and she knew she wanted to follow the same path. In pursuing her goals, Jody was led to the CPA profession and a place at Copperleaf®.

Jody was working towards obtaining a business diploma at Okanagan College in Kelowna, BC, when she discovered the Chartered Professional Accountants (CPA) designation. What attracted Jody to the accounting profession was that her skillset would always be in demand in every industry, thereby opening her to the limitless career trajectory she wanted.

Life-changing opportunity
Jody was introduced to a life-changing opportunity while working as a financial analyst at BC Hydro. As a member of the organization's Generation Capital team, she collaborated with a local tech startup with a bold vision. The startup company was Copperleaf.

Founded by Lynn Casey in 2000, the company served as a consultancy for electrical utilities companies looking to mitigate challenges such as aging assets, financial constraints, environmental issues, and increased regulatory requirements.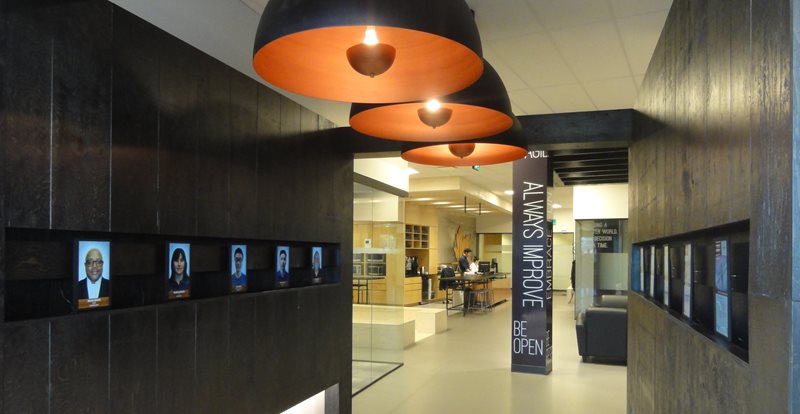 The Copperleaf head office in Vancouver. Photo credit: Christina Faminoff

Copperleaf was at the forefront of innovative change and Jody knew she wanted to be part of it. She recalls, "As I worked on the project I became very interested in what Copperleaf was offering and was excited about the opportunity to help them grow. I really believed that Copperleaf had an untapped market with a lot of potential."

Entering the untapped market
Jody's foresight was correct. Shortly after joining the company in 2007, Copperleaf experienced a pivotal stage when it unveiled its patented software, the Copperleaf Decision Analytics Solution. As many of Copperleaf's clients are companies managing critical infrastructure, billions of dollars are invested every year in maintaining and expanding existing infrastructure.

Copperleaf's Decision Analytics Solution uses operational and financial data, as well as artificial intelligence and machine learning, to help these companies decide where and when to invest in their assets, ultimately delivering the greatest value to the organizations, their clients, and the public.

For example, if a water utility is looking at several projects such as building a water treatment centre, refurbishing storage points, or replacing pipelines, Copperleaf can help identify which projects to execute and which to defer in order to manage risk, deliver against performance expectations, align to strategic objectives, and maximize overall value. The demand for Copperleaf's solutions continues to grow, and the heightened focus on environmental, social, and corporate governance (ESG) around the world has no doubt contributed to this demand.

Copperleaf now supports organizations across five continents, representing more than $1.5 trillion worth of assets. This success has been recognized with numerous accolades such as placement on the Americas' Fastest-Growing Companies in 2021 by Financial Times; Canada's Top Growing Companies by The Globe and Mail's 2020 Report on Business; and the 2021 BC's Top Employers list.

The CPA designation was key
Having started as a senior consultant/accountant, Jody is now Copperleaf's director of finance. She credits her experience at previous organizations in different industries for preparing her for success at Copperleaf, and recognizes her CPA education as the basis for it all.

"Without the CPA designation I would not have had access to all these different roles, which allowed me to share my knowledge and draw from past experience. In each company, I was able to progress and take on new challenges."

She also attributes continuous professional development as key to her career journey. "The CPA's professional development (PD) requirement has been critical to my career growth. I feel very strongly about continuously working to improve my skills and knowledge and keeping up-to-date with current trends and changes in standards. I encourage all our staff to participate in PD, even if they are not CPAs."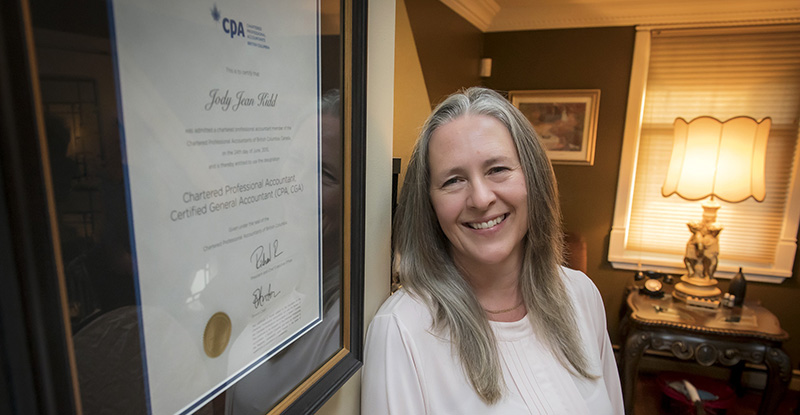 Jody credits her CPA designation as a stepping stone to her career success. Photo credit: Coates Portrait Design

Leading with an innovative spirit
On a daily basis, Jody focuses on helping Copperleaf plan for the future, training and guiding her finance team, and balancing the workload in her department.

In describing her leadership style, she acknowledges that she takes a mentor/coach approach. "I believe in encouraging team members to learn and take on new challenges. I don't micro manage, and I am happy to jump in when required."

Jody also doesn't believe in complacency. "Something my team will hear me say a lot is 'If you see a process that you think you can improve – do it!' Just because we are doing something a certain way doesn't mean it can't be improved," she says. "It may have been good a year ago, but it might no longer be the best approach."

As a leader, Jody understands the impact her guidance has on others and says, "As Copperleaf continues to grow, I want to continue developing my leadership skills so that I can help with the career development of my team. I want to ensure my team is feeling supported and able to progress through their careers."

While many younger team members may look to Jody as a role model, Jody feels that finding inspiration from others shouldn't follow a set hierarchal direction. She says, "There are many people that I look to as role models, from our younger team members who challenge us to more senior experienced people. I think we can learn from everyone we interact with, and I am always looking for opportunities to learn."

She also expresses her admiration for strong female leaders – the type of women who have helped influence the leader she has emerged as.

"I am really inspired by women who have not been afraid to show their strength. In particular, those who have been in fields or industries that have been traditionally male-dominated and didn't back down or become intimidated because they were the only female at the table," says Jody. "For example, our CEO, Judi Hess, is a great role model and takes an active role in empowering women in STEM."

The new era ahead
Jody has achieved what she had always aspired for – thriving in a career not restrained by factors such as industries and gender biases. She's been able to balance a healthy work/life balance and in her spare time she enjoys spending time outdoors with her husband, and catching up with her three young adult children.

As the world emerges from the pandemic, a resurgence is expected in all aspects of the economy; and a rise in critical infrastructure development to support this resurgence can be expected. With her commitment to continuous learning and improvement, Jody is in a fine position to help lead Copperleaf into the new era that awaits. After all, she has never been one to be held down by limitations.
---
Vince Kanasoot is a communications specialist with CPABC.