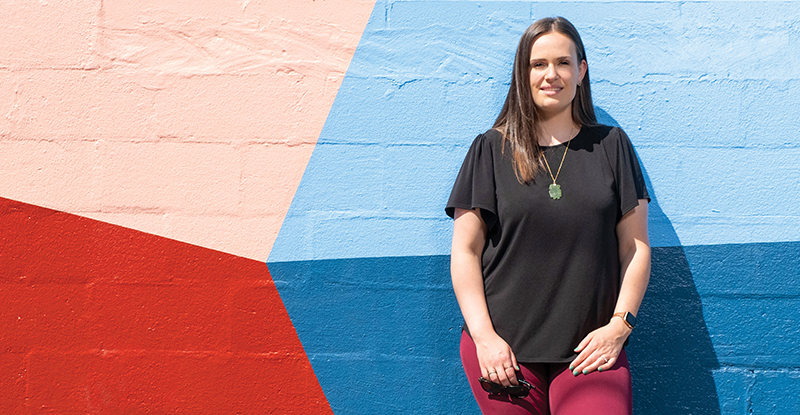 Photo credit: Kent Kallberg Studios
It was while working reception at Madison Pacific Properties Inc., a real estate management and development company in Vancouver, that Rhian Quarry realized she wanted to become a CPA. She had just completed her bachelor's degree in health sciences and was looking for a new direction when inspiration struck.
"Madison shares its office space with other associated companies. So while there were only 3 CPAs on staff at Madison at the time, there were about 15 of them working in the office," Rhian recalls. "I wasn't looking to become a CPA, but once I was surrounded by them—it just clicked."
This epiphany marked the start of Rhian's CPA journey, but she was already familiar with the CPA profession.
"My late mother, Denise Quarry, was a CPA, CGA," she explains. "When I was little, she ran a tax practice out of our home. She worked very hard but was still able to be home with me and my siblings."
Nevertheless, a career in accounting wasn't something Rhian had ever envisioned for herself. She'd had her heart set on being a physician since she was young.
"When I was a kid, I got hooked on the TV show ER and decided I wanted to be an emergency room physician," she says. "I had my sights set on medical school, and throughout high school and university, that's what I was striving for."
Doubt began to set in during her third year of university, however, so Rhian decided to take a semester off to travel and do some soul-searching. The experience gave her a new perspective.
"That's when I realized medicine might not be the direction for me," she reflects. "Helping people had always been a passion of mine. But becoming a doctor would have required many more years of school, and what I really wanted to do was jump into the workforce."
Eager to explore her career options, Rhian accepted a job at Madison during her last year of university. As she began to develop a rapport with the CPAs in her office, she started to see the kinds of opportunities the designation could offer her.
"I listened to my peers talk about the CPA program, and I remembered my mother's experience," she recounts. "I realized that the designation really complements the seasons of life. Whether you want to travel the world or work close to home, as a CPA, you can really mould your career into what you want it to be."
Thus inspired, Rhian decided to pursue the CPA designation in 2014, six months after earning her bachelor's degree in health sciences. To meet the pre-requisites for the CPA Professional Education Program (CPA PEP), she completed the UBC Diploma in Accounting Program while continuing to work at Madison. Along the way, she moved from the reception desk and worked her way up the ranks of the finance department—from junior accountant to senior financial analyst.

Photo by Kent Kallberg Studios.
In 2017, Rhian enrolled in CPA PEP through the program's Experience Verification Route (EVR). The EVR path requires candidates to complete detailed practical experience reports to demonstrate their skills in specific areas of competency. These reports must also be verified by a CPA mentor.
Rhian says she found an invaluable mentor in her boss, Dino Di Marco, CPA, CA—Madison's CFO at the time.
"Completing the required work experience in industry can be hard because your role might not give you enough exposure to meet the requirements," says Rhian. "Dino was key to my success—having him as both my CPA mentor and my boss meant that he knew what exposure I needed to complete my designation."
Dino had completed his own CPA training and early work experience with PwC LLP. He says his time at the firm informed his approach as a CPA mentor, but mentoring a candidate in industry was a new experience.
"Having worked in public practice for several years mentoring CPA candidates, I had a good sense of the broad experience that would be required for a CPA designation," he says. "but I had to think outside the box to find work for Rhian that could help her gain equivalent knowledge in areas like assurance. We worked through the CPA material together, so we were on the same page about what kind of experience was needed to reach the various competency levels."
They focused on creating opportunities to expand Rhian's role at Madison in ways that would help her develop her skills.
"We reviewed our finance team's projects and tried to involve Rhian in specific tasks to meet certain requirements," says Dino. "For example, sometimes we'd have her lead the discussion in a team meeting—something typically done by someone more senior."
"Dino always pushed me to try new things and expand my skills," says Rhian, "and he always found ways to help me get the experience I needed."
Rhian earned her CPA designation in 2020. That same year, she was promoted to finance manager at Madison.
"Becoming a CPA is one of my most rewarding accomplishments to date," she says. It requires a lot of hard work and late nights, but the rewards far exceed the effort."
"There were challenges along the way, and completing the program while working full-time is not easy," Dino agrees, "but Rhian's tenacity and enthusiasm towards completing the CPA program was amazing."
Rhian's CPA journey shows what's possible with an open mind, a determined spirit, and the help of a good mentor.
"It might sound a bit cheesy, but having someone there to support and coach you really makes the difference," she says. "Dino has always believed in my abilities. He has always reminded me that I'm in control of my future and it's up to me to decide how far I want to go. He's been the one telling me that if I want it, I can get it."
Rhian plans to keep refining her skills so she can connect her CPA experience with her passion for helping others.
"Right now, I'm just eager to learn and soak up all the experience I can," she says. "But down the road, I want to use my CPA skills to give back to the causes close to my heart. I may not have gone to medical school, but I never lost my desire to help people."
---
Megan Hooge is a communications coordinator with CPABC.
A shorter version of this profile was published in the July/August 2021 issue of CPABC in Focus.