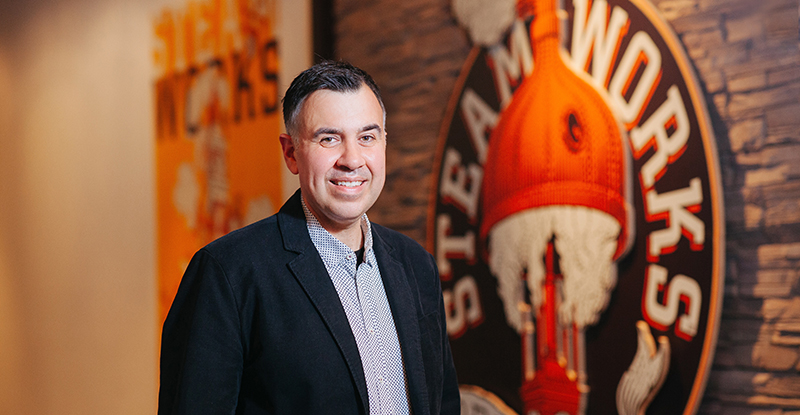 Photo credit: Bobo Zhao Photography
If there was one activity that feels most altered by the pandemic it would have to be dining out.
"At the brewery, all of the staff must wear masks, physically distance where possible and follow a very strict cleaning regimen," says Director of Finance for Steamworks Brewing Company, Mike Patterson, CPA, CA.

"The brewery floor operates as its own bubble; access is restricted to the staff that are brewing and packaging the beer—even something as simple as how and where our staff eat their lunch requires consideration and discussion."

Yet, patrons continue to crave social spaces in which to eat, drink and socialize. The service industry has faced immense challenges, and in order to survive, restaurants need to be adaptable, persistent and devoted.

Patterson, along with the team at Steamworks Brewing, has had to make many adjustments in order to keep the business afloat, and that task continues to change each day.

"My biggest contribution to Steamworks has been studying all of the various government Covid stimulus programs and ensuring that all of the filings have been made in a timely, accurate manner," says Patterson. "I also spent a lot of time planning out our company's cash flow."

As Director of Finance, applying for the complex assistance programs comes in addition to managing all the financial components of the business, requiring a healthy amount of flexibility and patience.

Thankfully, Patterson gained the ability to be versatile long before he worked for the brewing company.

"People are surprised to hear that I work for a brewery and restaurant group and I'm a Chartered Professional Accountant."

Patterson decided to pursue a career in accounting after witnessing firsthand the multitude of opportunities his father was offered as a professional accountant.

"I was impressed that he was able to pivot from one industry to another without needing to do a bunch of extra schooling," says Patterson.

"I realized that having an accounting designation was a good background in business and that it would help me to open doors and do what I wanted to do with my career, giving me the ability to choose my path rather than having my path chosen for me."

That background carried Patterson to a Finance Controller role with St-Moritz Watch Corporation before landing at Steamworks.

"For me it's important to work in an industry where I'm also interested in the product that the company sells," adds Patterson.

With that experience in tow, Patterson has juggled the multiple aspects of the Steamworks business through the pandemic, which has been no easy feat.

"My role has been focused on managing not only working capital cashflow but also the short, medium and longer term capital demands of the business which has changed significantly since the onset of the pandemic."

"On one hand you have a brewery business that has had to divert nearly all of their production out of the kegs that normally ship out to our restaurant clients and invest in additional packaging materials to cater to the sudden change in customer preference to consume alcohol through packaged products purchased at the liquor store."

"On the other hand, you have a restaurant business that been harmed significantly by the pandemic; with decreased customer traffic and the need for capital investment in PPE to keep our customers and staff safe."

"Properly forecasting our cash flow and effectively allocating our financial resources has never been more important and the picture changes daily."

Nowadays, finance professionals who are able to withstand volatility, like that currently present in today's economic world, are in high demand and thanks to his previous education and diversified CPA skillset, Mike feels poised to handle any obstacle that comes his way.

"The need for timely financial information has never been greater and I'm proud to say that my team and I have risen to the occasion," says Patterson.

"Our quick response has allowed the operations staff to pivot quickly with each new health order and has made me feel that we will emerge from Covid stronger than ever as a company and as a team."

Patterson and the team at Steamworks are pushing forward with new ideas and measures to ensure that going out, whether that is to eat or drink or socialize, will continue to be a safe and enjoyable endeavor.
---

Business in Vancouver provides essential business information that helps readers engage, interact and succeed.

Originally posted by Business in Vancouver