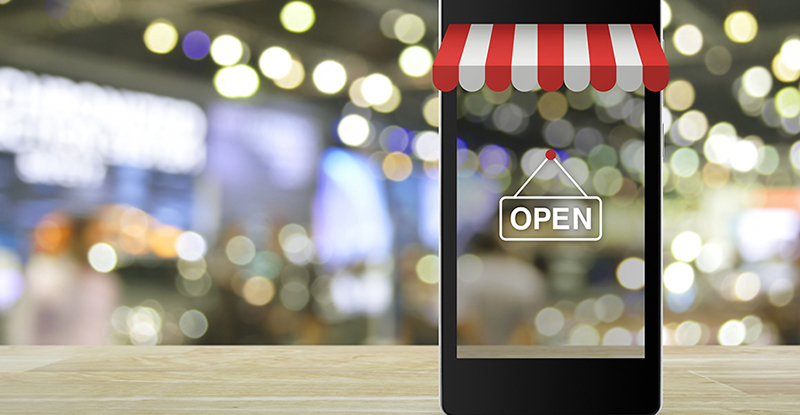 Photo credit: grapestock/iStock/Getty Images
Listen to our podcast episode with this article's author, Aaron Aerts, and PwC Canada's Robert Coard, CPA, CA. Part of our Coffee Chats with CPABC podcast series.
---
Prior to the COVID-19 pandemic, the way consumers preferred to shop had begun to morph, with an increasing demand for in-store experiences, greater e-commerce, and more sustainable products. The COVID-19 pandemic has only expedited these trends. To better understand the shift, we spoke to PwC Canada's Technology and Consumer Markets Leader, Robert Coard, CPA, CA, to discuss its recent "Canadian Consumer Insights" report.
What were the key findings from the report?
Robert: In the fall of 2019, PwC surveyed 1,000 consumers in Canada located in some of the biggest centres. Following the pandemic, we surveyed another 1,000 Canadians to explore the impact of COVID-19 on their shopping habits.
The pandemic is accelerating the use of e-commerce as well as changing patterns of in-store shopping. It also sped up the shifts that retailers have been dealing with for several years, such as adapting their products to reflect rising interest in locally made, environmentally sustainable and socially conscious products.
In terms of consumer habits, consumers are more likely to resume their previous behaviour in controlled environments, particularly those that involve necessities. For example, consumers are showing greater comfort going back to previous behaviours at physical retail and grocery stores, but not as much for restaurants and malls.
The report focuses on how different generations want to shop. Can you highlight some of those generational divides?
Robert: The survey shows the gaps are widening between adult Gen Z (aged 18 to 22) and baby boomer shoppers (aged 55 to 73) around digital shopping behaviours in areas like grocery, clothing, and sports equipment. Gen Z were 25% more likely than baby boomers to shop online. For Gen Z, they need more reasons to justify the trip to the store, with about 40% looking at a shopping trip as a source of entertainment. Gen Z consumers are also more likely to want additional services as part of that shopping trip.
About half of the Gen Z segment are now adult consumers, translating into increased purchasing power. This generation was born in a digital world and as they become a more influential segment of consumers, their consumer habits will fundamentally reshape the Canadian retail space to be more e-commerce focused over the next decade.
How should retailers capitalize the growing work from home consumer base?
Robert: Working from home, in some form or another, is a growing trend and retailers are going to have to adapt. In the short to medium term, we will see a rise in demand for products that will improve the work from home experience. But once this cohort of working from home consumers has made their improvements, their consumer habits will shift again. There's a few things retailers should focus on:
Adapt fulfillment options. Many saw spikes in their online purchases over the last few months, which put a strain on their e-commerce platforms. Going forward, retailers will have to build capacity in their e-commerce platforms to meet online demand.
Innovate supply chains. Before COVID-19, shoppers often preferred to return products in-store. But there is an increasing trend for consumers to return their products via post to reduce physical interaction. This will require investment in reverse supply chains.
Change product mix offerings. Retailers need to shift product offerings. For example, working from home will reduce the demand for business attire while demand for athleisure wear will increase. Retailers need to adapt to those buying trends where consumers will have different shopping interests moving forward.
How important is sustainability in the purchasing decision process for consumers?
Robert: Sustainability is very important to the average consumer – approximately half of the survey's respondents say that they expect businesses to be accountable for their environmental impact. Retailers are beginning to respond to that. For example, London Drugs recently established a central aisle in its stores for local, small businesses to sell their products. This allowed London Drugs to help many small BC-based businesses continue during the shutdown, while also responding to consumer demand for locally-sourced products.
Can you explain "retail circularity" and how it works in practice?
Robert: Retail circularity is an emerging trend and it's becoming more and more prevalent.
Take the apparel industry. In recent years, it focused on a business model that relies heavily on low-cost inputs and volume production in off-shore jurisdictions. This has resulted in shorter life cycles for apparel products.
Retail circularity attempts to buck this trend and extend the life of goods and make them more sustainable:
With Arc'teryx's used gear recovery program, consumers who are not using an Arc'teryx product to the fullest can return it and receive a credit against a future purchase. The company will then resell the product on their used website, preventing it from ending up in a landfill or sitting in somebody's closet.
If you have a piece of MEC equipment or clothing that you no longer need or want to use, you can do a "gear swap" and list it and sell it via MEC's web portal. It's a great way to help people get into purchasing a product that they may otherwise be unable to afford at full retail price.
Social media has also contributed to the trend. Facebook Marketplace has become an increasingly popular place to resell used products. These platforms allow consumers to easily sell used products, extend the life of products and reduce the environmental impact.
Learn more about PwC's Canadian Consumer Insights report and listen to our podcast episode with PwC's Rob Coard to find out how consumers' demands are shifting and how retailers need to adjust their business models to succeed.
---
Aaron Aerts is an economist for the Chartered Professional Accountants of BC (CPABC).