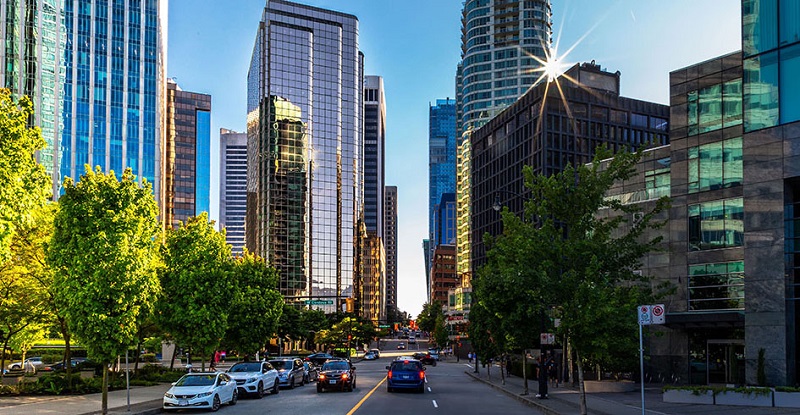 Photo credit: Aolin Chen/iStock/Getty Images
Listen to our podcast episode with CPABC's economist, Aaron Aerts, and communications manager, Vivian Tse. Part of our Coffee Chats with CPABC podcast series.
---
After March and April brought historic collapses in employment, consumer activity, exports, and increasingly negative GDP forecasts, new data continues to suggest the worst of the economic damage from the COVID-19 pandemic is behind us. While the situation remains precarious, June data shows the economy is continuing its rebound that began in May.
Employment: June brings back more jobs
The most overt sign of economic damage came in BC's employment data from previous months. After years of a robust labour market, containment measures in March and April brought devastating job losses. But as the economy began reopening in May, employment has been on the uptrend with the province adding 43,000 jobs in May and 118,000 in June.
Despite the gain, there is still a gap of 235,000 jobs between February and June 2020, a decline of 9.3% of pre-crisis employment. BC's unemployment rate saw its first decline post-crisis in June, falling to 13%, but still remains 8 percentage points higher than in February. Meanwhile, Canada as a whole has gained 1.2 million jobs since April lows, 1.8 million lower than pre-crisis levels.
It is important to note the Labour Force Survey was conducted before Phase 3 of the Restart Plan began in BC which allows for greater travel across the province and for businesses to reopen or expand services. As the economy continues to reopen, the expectation is that the province will see continued gains in employment levels.
Consumer sentiment: Confidence and spending surges in June
In March and April, many British Columbians lost their jobs, saw reduced hours, or changed spending habits as they self-isolated. As a result, BC consumer confidence index plummeted to 55, the lowest on record and down 84 points compared to February. Similar to employment numbers, BC consumer confidence rebounded to 91 after gains in both May (+13) and June (+23) as people began to face less uncertainty, with more individuals returning to work as the economy continues to reopen.
RBC's weekly consumer spending tracker has shown a corresponding bounce back from the March/April lows which saw spending down 20-40% compared to pre-crisis levels. Throughout May and June consumers began to spend more, and by the end of June spending approached pre-crisis levels.
However, consumer spending has shifted away from services like travel, entertainment, and dining to purchases of household products, hobby items, and electronics, which could have larger implications on our economy. As the economy continues to expand, it will be critical to track consumer habits to understand the longer-term shifts that may emerge as a result of the pandemic.
International trade: Commodity exports still weak, but may fare better over the summer
Meanwhile, weakness in global demand and low commodity prices continue to take a toll on BC's crucial export industry. Five of BC's six largest commodity exports were down from a range of 14% (machinery and equipment) to 28% (energy products) in May compared to the same time last year.
However, energy and forestry products prices have experienced a rebound from March and April lows. With stronger prices and global economies reopening, the summer months could see a boost in the export sector. The Canadian dollar has also strengthened compared to the start of the crisis against the USD, sitting at $0.74 CAD per USD as of July 10, down $0.03 since the start of the year.
Economic forecasts: Short-term pain, long-term recovery
As we better understand the implications of COVID-19 on our society and the measures required to curb its growth, organizations are updating their economic forecasts in real-time. With some of the improved data emerging from May and June, some organizations like Scotiabank have revised their BC GDP forecast upwards.
Still, the outlook is bleak with six forecasters tracked by CPABC expecting a marked decline in BC's GDP, averaging a -5.6% contraction in 2020. The forecasts range from -4.2% (RBC) to -6.8% (Central 1), primarily based on estimates of how well the reopening of the economy will balance with COVID-19 containment measures. Negative economic impact is expected to peak in Q2 followed by a healthy economic recovery in the latter half of 2020 and into 2021.
The silver lining is the total number of active COVID-19 cases has stayed relatively low, allowing continued widening of economic activity with more and more businesses permitted to reopen or expand services. Suppressed consumer demand, expansion of business activity/employment, and government supports should help drive the economy going into the second half of the year, leading to a recovery with an average GDP forecast of 5.4% in 2021. As mentioned, the strength of this recovery will depend on how successful we are with balancing the restart of economy activity with containment of COVID-19.
---
Aaron Aerts is an economist for the Chartered Professional Accountants of BC (CPABC).