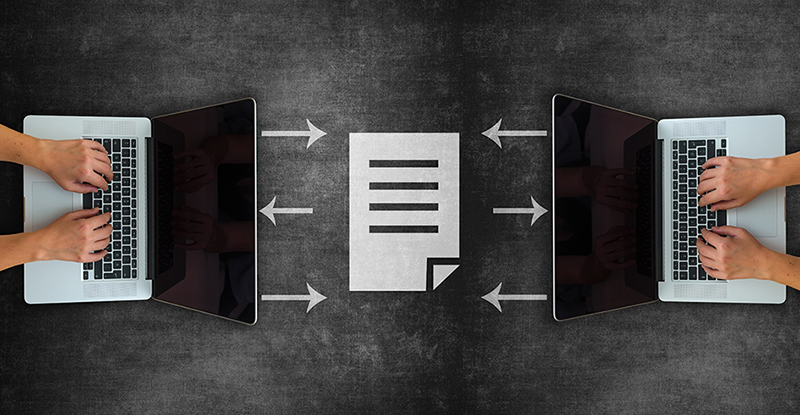 Photo credit: fatido/iStock/Getty Images
With most of us working remotely during the current COVID-19 pandemic, finding the right file-sharing solution has become critical. We have put together some tips to assist you in starting your search, but these are just tips, not a substitute for your own due diligence.
Most important to CPAs is our need to keep client information secure. When searching for an online solution in Canada, all businesses have a responsibility to safeguard information in their care and control.
Avoid using email
Email is often used to share files, but it is not very secure especially if you or your clients are using one of the larger free email services such as Yahoo!, Gmail, or Hotmail/Outlook.com. Even most pay-for-use services provide limited security to you and your clients since you can only ensure that your end of the email transmission is secure.
If you must send a file by email, you should password protect it and ensure that only your client knows the password, thereby minimizing the risk of an untended recipient accessing a confidential file. Do not send the password by email; instead send the password by text message or via a phone call to your client.
Consider cloud-based sharing
There are a variety of cloud-based file-sharing services, some of which are great for family sharing, but may have security risks for confidential information. However, there are some cloud-based file-sharing services that have improved security and can be used for businesses purposes, as these cloud services are designed to address strict legislative requirements.
It's important to be aware of the risks involved with such activity as well as to understand how different cloud services may store, manage, process, and disclose data. Without proper security measures, information that comes into contact with cloud services may run the risk of being exposed to hackers, sold for third-party profits, lost, exploited, or stored in a way that breaches privacy legislation.
When selecting a cloud-based file sharing service, here's what you should consider:
Vet your cloud service provider
It is important to do your due diligence when selecting the cloud service for your business. Use the checklist developed by Michela V. Fiorido, a privacy lawyer at Harris & Company LLP in Vancouver to vet your cloud service provider.
As mentioned earlier, there are many cloud-based file sharing service providers, and you must do your own due diligence as to which one is right for you. Here are two that have dedicated Canadian services.
For more information on what you need to do before choosing a cloud-based service, read our article.
Related articles
Secure electronic signatures
When a signature is required from a recipient, it's common for the recipient to print the document, sign it, and then scan the document so it can be returned to the sender.
A more secure method is to use providers that offer a "secure electronic signature" service, where you can upload the file requiring a signature, indicate the spot where the signature is required, and send the file to your recipient. The recipient receives a secure email link to the document where they can review the document and utilize a unique signature to sign the document without the need for printing and scanning.
The advantage to these types of services is that they allow you to audit the route of the document to prove who did what and when. Both British Columbia and Canada have specific requirements detailing what is acceptable as a "Secure Electronic Signature". Here are two Canadian-based services that meet these requirements:
For more information on using electronic signatures and managing document sharing, CPA Quebec has a resource page on other potential tools and options.
DISCLAIMER: Certain links on this article take you to other websites, resources or tools maintained by third parties over whom CPABC has no control. CPABC provides these links only as a convenience and is not responsible for the contents of any linked website. CPABC makes no representations or warranties regarding, and does not endorse, any linked website, the contents thereof, the information appearing thereon or any of the products or services described thereon. Links do not imply that CPABC sponsors, endorses or is affiliated or associated with the entity that owns or is responsible for any linked website. If you decide to visit any linked websites, you will do so at your own risk. CPABC bears no responsibility whatsoever for the content, accuracy or security of any websites that are linked (by way of hyperlink or otherwise).
---
Jeffrey Nyeboer is CPABC's process improvement program manager.
More information and resources on COVID-19 can be found in our resource centre.