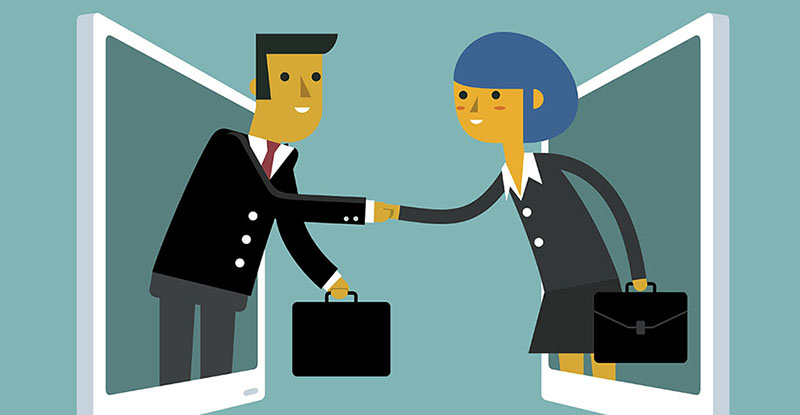 Photo credit: sorbetto/DigitalVision Vectors/Getty Images
Listen to our podcast episode with this article's author, Stephanie Roy, manager, employer relations, CPABC, along with Vivian Tse, manager, communications, CPABC. Part of our Coffee Chats with CPABC podcast series.
---
In normal times, interviewing to get a job can be a daunting task. Layer it with a pandemic and doing a virtual interview may seem even more stressful and difficult. But if you think about it, the job interviewing process hasn't changed. The preparation you'll do beforehand will be the same as what you would have done before COVID-19. You'll just add on a few more tasks to your checklist to adjust for the virtual delivery.
Let's walk through what these tasks are so you can ace your next virtual job interview.
Research the company
Do your homework on the company and see how you can sell your skills and fill the gaps for what they need:
Visit the company's website and read through their About Us section to learn what their values and mission is and how these qualities align with you.
Browse the company's social media channels to learn about the brand.
Read through employee reviews on Glassdoor to learn about the organization's culture.
Look up your interviewer on LinkedIn and identify any common grounds to use as conversation points. However, it's not recommended to add them as a contact at this point.
By taking the time to do your research, it shows your genuine interest in the company and sets you apart from other candidates.
Test your technology
This is where the difference of doing your interview virtually comes into play. Before your interview, take time to test your technology. Check your tools, such as your computer, mic, and web camera (webcam) to make sure they support the video conferencing app used by the employer. Make sure you have a stable internet connection. If your internet connection is unstable – try disconnecting devices that you won't be using during the interview or resetting your connections the morning of your interview.
A great way of testing your webcam and mic is to do a video chat with a friend or family member. Using any type of video chatting platform on your computer (Facebook Messenger, WhatsApp) will work, but if you can do a test run using the platform the interview will be conducted on (likely Zoom or Skype), that would be ideal. If you live with roommates or family, consider investing in a headset with mic to help reduce external noises.
Prepare for the interview
As you normally would for any interview, review the job description and identify examples from your achievements and experiences that relate to the job. You should also prepare how you will respond to common interview questions.
Plan your interview attire as you would for an in-person interview. Be sure to dress professionally from head to toe – don't skip the pants. While you'll position your webcam to only show the top half of your body during the interview, keep in mind that any sudden movements or position changes may incidentally show your lower body, hence the importance of ensuring your outfit is complete.
If you haven't had any virtual interview or meeting experiences, consider attending an online event and using it as a dry run. Be mindful of your attire and surroundings, turn your video on, and get comfortable with virtual software.
If you don't have any events coming up, consider doing a practice interview with a friend or family member, perhaps when you're testing your computer's webcam and mic as mentioned earlier. Send them questions that you think the interviewer may ask so you can practice your responses.
Limit your distractions
The best place to do the interview is in a quiet spot with minimal distractions. If you have an office space in your home, that may be ideal, but make sure you clean up any clutter beforehand.
If you don't have an office, other possible locations could include your bedroom, den, or kitchen. Make sure your chosen location is well-lit and that your background will not be distracting to your interviewers. Find a way to set up your laptop so that the webcam is at eye level. For example, you might place your laptop on top of a shoebox.
Let everyone else in your household know you have an upcoming interview and respectfully ask them to stay away from the interviewing space and be as quiet as possible during that time.
Just before your interview…
Use the following checklist at least 15 minutes before your interview to make sure you have everything set to rock your interview:
Have your resumé and the job description near you.
Have a pen and some paper to jot down any notes during the interview.
Turn off notifications from your devices.
Close all unnecessary windows and programs on your computer.
Sign into the app and test the sound and video to ensure everything is in working order.
Angle your webcam to put your best face forward.
Remind your roommates or family about the interview and ask that you not be disturbed.
Prepare a list of questions to ask the interviewer for when they invite you to ask any questions.
---
Stephanie Roy is the Manager, Employer Relations at CPABC.