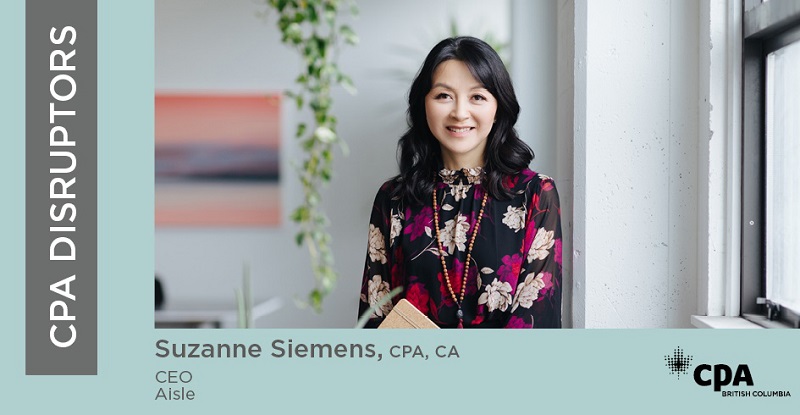 Photo credit: Bobo Zhao Photography
Periods. They're a natural event that billions of people around the world experience. Relationships with periods differ from person to person: some love-hate, others embrace. But it's still something that's not talked about enough.
One Vancouver-based brand is working to change this, and periods as we know them: Aisle (formerly Lunapads).
In 1999, Suzanne Siemens, CPA, CA, the co-founder and CEO of the company, was working as a CPA in a senior finance role for a large publicly-traded company. But she was at a crossroads, as the work she was doing wasn't aligned with her values.
"I felt the pull to do work that mattered to me and would make a difference in the world, both socially and environmentally," Suzanne explains.
This is when she happened to meet her future business partner, Madeleine Shaw, who had the concept for Aisle — but was struggling with how to scale the company's growth.
The pair quickly realized that they had shared values and wanted to support people while taking the shame out of the conversation around periods. From here, their business concept grew organically, and in 2000, the company was incorporated.
At this time, people weren't actively talking about climate change or body positivity, but Suzanne and Madeleine saw a huge opportunity to make people aware and get them period-educated.
Madeleine created the washable pads and period underwear in 1993 and started out by approaching natural and health food stores to carry the products. However, she found limited success. Suzanne says consumer demand for zero-waste products wasn't as developed as it has become today, and retailers weren't receptive to the pitch.
"We quickly pivoted to focus on e-commerce and pioneered a community of early adopters who were interested in a progressive, eco-friendly approach to periods," she explains. Fast-forward to 2019, and Aisle is a successful, direct-to-consumer brand selling reusable options including cloth pads, period underwear, and menstrual cups to clients in North America and Europe.
For Suzanne, the biggest challenge as an entrepreneur has been persevering in the early years when cash flow was tight and consumers were yet not ready to fully embrace Aisle products. "We overcame this by doing what all entrepreneurs must do: bootstrap the business down to the most essential expenditures while securing other forms of capital to keep cash flow alive," she says.
Suzanne explains that her CPA designation allowed her to be a confident business leader and provided her with a solid foundation to build a socially-impactful business.
To-date in her career as a CPA, Suzanne says she is most proud of helping Aisle gain B Corporation Status. There are only 3,111 Certified B Corporations in the world, and these companies meet the highest standards of verified social and environmental performance, public transparency, and legal accountability to balance profit and purpose.
"We heard about the B Corp movement in 2011. It aligned with our values of being authentic about what we say and what we do," Suzanne notes. Aisle has taken continuous measures to improve its business processes and has been honoured as a top 10% "Best for the World" B Corporation for the past four consecutive years.
The apparel company strives to minimize the amount of waste it produces. By working with textile waste management companies, almost all the offcuts from Aisle production are repurposed and used in children's clothing or as stuffing in furniture. Nothing goes into the landfill.
Although the reusable period care industry has become a very competitive space, Suzanne says their values, long-standing authenticity, and transparency as a B Corporation ensures Aisle stands out from the crowd.
"Through our range of size and gender-inclusive products and use of period-positive messaging, we believe that, by choosing reusable pads, underwear, or cups, how we feel about our periods and by extension, our bodies overall, can be meaningfully improved," says Suzanne.
The entrepreneur-CPA (a title she likes to reframe as "Creative Period Activist") tells us there are some exciting plans in the pipeline for Aisle in 2020. "We, like our consumers, have evolved a lot from our early days and are preparing to update our brand and launch some beautiful new products that are not only kind to the planet but outperform disposables. We want to build the best place in the world to have a period."
Read more profiles on CPAs who are leading innovative BC-based companies who are disrupting the traditional business landscape.
Face masks for frontline workers in Vancouver's Downtown Eastside

Since the rise of COVID-19, Suzanne has helped lead Aisle in working with its local manufacturing partners to produce washable, reusable fabric masks for frontline workers in Vancouver's Downtown Eastside.

"The response to our COVID-19 initiatives has been overwhelmingly positive. Our team, suppliers, lenders, customers, and business colleagues have all stepped up to support us because they know we have the skills and integrity to do this well," says Suzanne. "At a time when people can feel helpless or overwhelmed at the magnitude of the challenge caused by COVID-19, being able to support a campaign that they believe in is a meaningful way to make a difference."
Suzanne's team started with an initial run of 1,500 masks, with a revised goal to produce 2,500 masks. Aisle has a GoFundMe page to help with the necessary fundraising.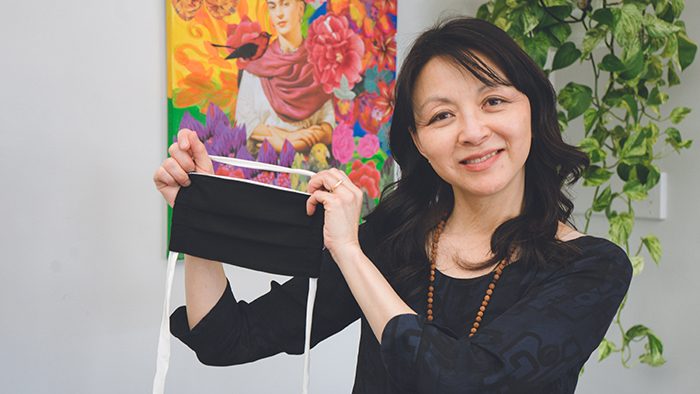 ---
Daily Hive connects millennials to their communities through trusted content that speaks to their unique mindset, passions, and interests.