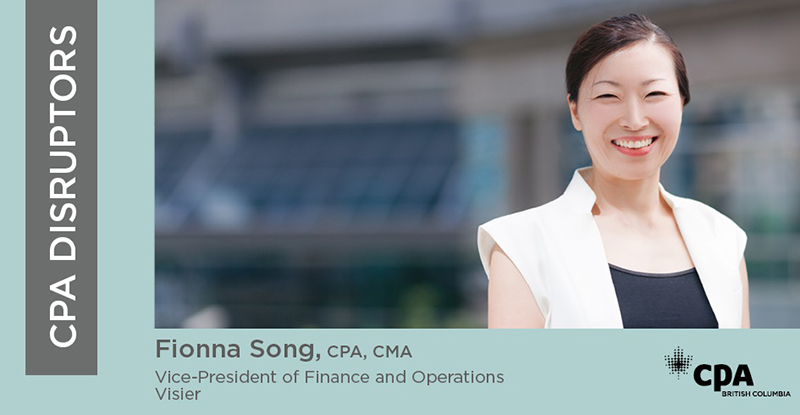 Photo credit: Bobo Zhao Photography
Disruptor company: Visier
Vice-President of Finance: Fionna Song, CPA, CMA
Headquarters: Vancouver, BC
Key technologies: Proprietary and emerging business intelligence software
Disrupting: Business intelligence market

Strategic people management is key to helping organizations thrive. Through innovative software technology that provides insightful analytics and action plans, Vancouver-based Visier has disrupted how organizations manage their most important resource – their people.
Organizations using Visier's technology have experienced reduced turnover, improved customer satisfaction, increased diversity, stronger talent acquisition strategies, and more. Often, these also come with significant operational cost savings for the organizations.
"Data is everywhere and businesses no longer rely on making decisions based on a gut feeling," says Fionna Song, CPA, CMA, vice-president of finance and operations at Visier. "Getting insights out of data to make data-driven decisions is critical for organizations looking to implement analytic solutions."
As an example of Visier's services in action, if an organization wanted to understand the current state of its workforce and the factors affecting that workforce, it can use Visier People: Talent™ to look at turnover analytics to highlight where and why it is losing talent and who is most at risk of leaving. And then to identify how the loss of critical employees can directly affect customer satisfaction.
A closer look at Visier People: TalentTM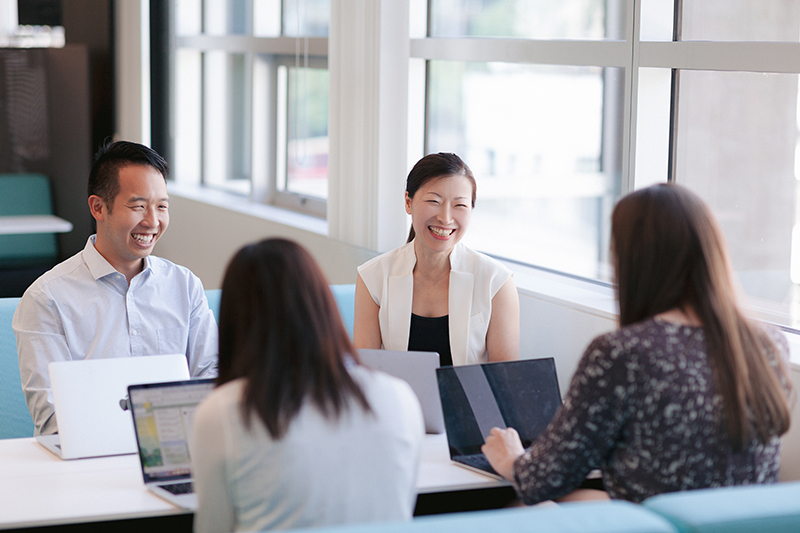 Fionna Song, CPA, CMA, vice-president of finance and operations at Visier (top right) meets with her colleagues. Photo credit: Bobo Zhao Photography
"Visier People: Talent™'s ability to answer critical questions can help an organization make strategic decisions to improve engagement and retain top customer-facing talent," notes Fionna. "This is done by using AI to mine through large amounts of data using tools such as predictive analytics and data management. Our technology is malleable enough to be adjusted for very specific queries."
This was the case for Electronic Arts (EA), where Visier's data analysis found that employees who joined EA through the company's university recruitment efforts outperformed and were promoted quicker than other employees. These findings led EA to ramp up its university recruitment.
"Insights from our data analysis can pinpoint the root cause of issues a client may be experiencing," explains Fionna. "For example, we helped a major healthcare provider realize that they should raise its minimum wage to $14/hour as a solution to minimize staff turnover. As a result, the organization's turnover rate reduced significantly, resulting in cost savings of $14 million."
By automating data collection, Visier eliminates the need for organizations to do manual reporting and reduces the chances of human error. In many client cases, highly skilled HR and IT professionals within organizations had been responsible for collecting and validating data, as well as troubleshooting system glitches, leaving little time to actually work on analysis, strategy, and action plans.
How has the CPA designation added to Fionna and Visier's success?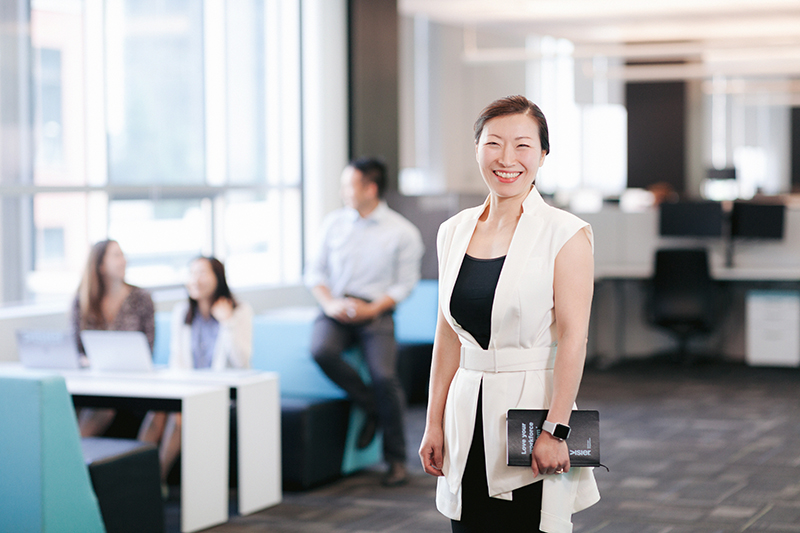 Photo credit: Bobo Zhao Photography
Prior to joining Visier, Fionna worked at a number of fast-growing tech companies in Vancouver, where she enjoyed building financial infrastructures and developing high-performance teams – something she continues to do on a daily basis, especially as Visier scales up.
She credits her CPA education for providing her with the structured and disciplined approach, and professional integrity that she has used throughout her career.
"An example of how my CPA background helps me bring value to Visier, is how it prepared me to create meaningful and relevant stories around the numbers. I can look at our financial data and help my company interpret what it all means to us. I'm able to show how the numbers measure business performance according to key performance indicators. My CPA training provided the groundwork for this level of insight."
When describing her leadership style, she highlights three things she uses to keep her team members motivated: communication; accountability and integrity; and a push-model.
"Informing each other, proactively communicating potential impacts, and collaborating via communications are key to a successful team," she explains. "We hold each other accountable - if you say you are going do something by a certain time, you need to keep that promise."
Related articles
In addition to serving as vice president of finance, Fionna has also now taken on managing Visier's IT and facilities department – a major step forward in her career.
"Not having a prior in-depth experience in these areas made me uncomfortable, not wanting to fail and put the company in a worse place," says Fionna. "As with other challenging situations, whether successful or not (in this case I was successful), I have gained tremendous learning and think this is the whole point of taking on a new challenge. Even if you fail in the desired outcome, it's never a failure in your personal growth."
What's next for Visier and Fionna?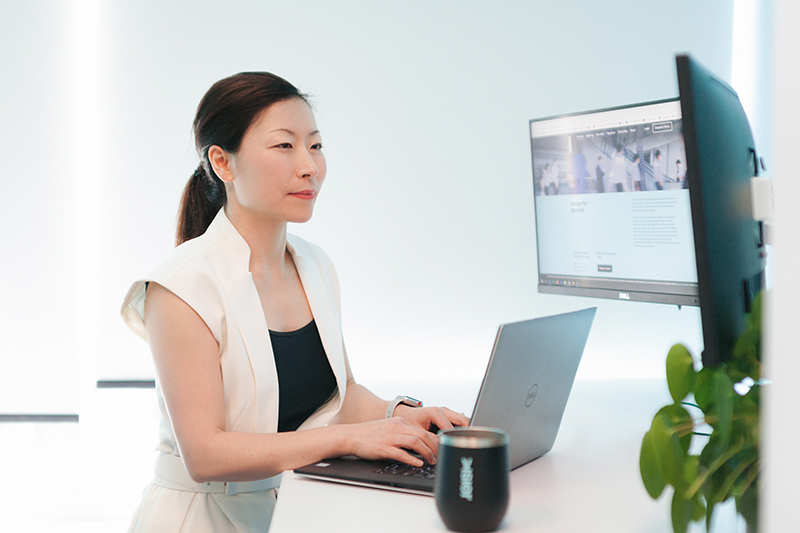 Photo credit: Bobo Zhao Photography
Since its launch, Visier has grown to nearly 500 employees working out of two downtown Vancouver offices. Visier was named one of Canada's Top Growing Companies in 2019 by the Globe and Mail, and the company now has its sights set on expanding beyond the HR market.
"While we have begun in the HR analytics space, that is just the tip of the iceberg," explains Fionna. "The big data and business analytics total addressable market size is massive at over $150 billion. We have an opportunity to go beyond HR and to connect people data with various businesses such as finance, sales, marketing, and operations."
And while Visier's target client markets are currently located in North America and Europe, Fionna notes the demand for Visier's products is global.
"The biggest opportunity of all is to ultimately change how all of us use data and analytics on a daily basis," adds Fionna. "When computers were first invented, nobody thought of how they would become a part of our daily life. When cloud applications started, a lot of people thought it would fail. We believe analytics will follow a similar path and become a part of our life in everyday decision making."
As both Visier and her own career continue along their upward paths, Fionna shares what she feels is integral to success – staying grounded and humble. "There is a proverb, 'The boughs that bear the most hang lowest'. I am a big believer in becoming more modest as we become more successful."
Read more profiles on CPAs who are leading innovative BC-based companies who are disrupting the traditional business landscape.
---
Vince Kanasoot is a communications specialist with the Chartered Professional Accountants of British Columbia.