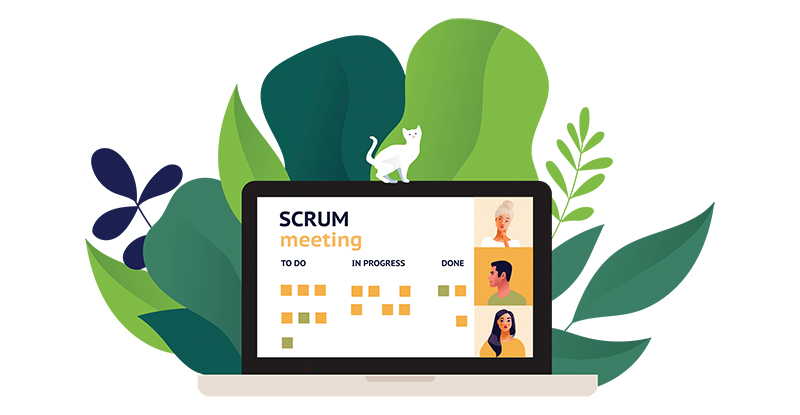 Photo credit: Anastasia Molotkova/iStock/Getty Images
Many business leaders and accounting professionals are wondering how best to recover from the disruptions of the COVID-19 pandemic and set their organizations up for success in the uncertain months and years ahead. Amid this uncertainty, organizational inefficiencies and legacy approaches previously dismissed as mere frustrations now pose an existential threat. Recognizing this, some high-performing organizations have started to approach COVID-19-related challenges not simply as threats and risks, but also as opportunities to reset business practices and realign operating models.
If we look at the techniques and approaches used by the most effective and resilient of these organizations, some common themes emerge.
Staying effective while working remotely
COVID-19 has created tremendous challenges for most businesses, and many of the world's most successful companies have responded by changing their approach to remote work. Leveraging the possibilities for remote work that digital technology allows, these companies have closed their offices either partially or entirely. Several Silicon Valley tech firms have already announced plans to make working from home the default, and Canadian companies aren't far behind. For example, Shopify founder and CEO Tobias Lutke recently announced the company's intention to make the option of working remotely permanent for all staff.1
Whether this becomes a pervasive trend remains to be seen. What we know so far is that even with the relaxation of physical distancing measures, many offices continue to allow or even encourage staff to work remotely. While some employees can't wait to get back to the office after being cooped up at home for months, others are equally eager to continue working from home—whether to avoid the daily commute, experience fewer distractions, work more productively, or some combination thereof.
Ironically perhaps, while the shift from the full lockdown to a more flexible working environment has given organizations more options, it has also created unique challenges—specifically with regard to team collaboration. How do you conduct a meeting effectively, for example, if a significant portion of your team works remotely? To prevent asymmetry, some organizations are mandating that all critical meetings take place entirely online.
Of course, companies with workforces that remain entirely remote also face the challenge of ensuring team unity. Indeed, every organization needs to consider ways to improve day-to-day collaboration and communication practices. One strategy is to hold a daily "scrum"—a quick check-in with the whole team that enables staff to connect and co-ordinate day-to-day tasks. Another strategy is to limit scheduled meeting times to mornings or afternoons to allow for uninterrupted work time. Virtual after-work social events and "theme days" can help teams develop camaraderie, providing the kind of informal communication opportunities that are vital to workplace relationships.
Implementing the right digital collaboration tools
For organizations that have delayed their digital transformations, the COVID-19 pandemic has provided a sudden catalyst to go digital. It's no longer viable to be tethered to a physical office space, and today's teams must quickly learn how to leapfrog into new workplace paradigms. Fortunately, there has never been a better time to make this transition, as a plethora of new tools and resources are available.
Digital collaboration tools range from simple videoconferencing tools to task-tracking boards to more full-fledged platforms. Many workshop facilitators, for example, are turning to digital "whiteboarding" tools to replicate the dynamic qualities of in-person workshops, and many IT organizations are using a combination of online tools that work in concert but have their own distinct uses.
Larger organizations with distinct units and teams may want to standardize collaboration tools companywide to prevent a patchwork of different products from springing up. Having a single toolset that's visible to the entire team can be a powerful way to create collaborative, transparent work practices.
Making flexibility a top priority
Although the shift to more flexible ways of working was already underway before the pandemic struck, the pace of change has accelerated over the past several months as businesses have had to respond to the emerging challenges of COVID-19. Business agility and adaptability are now critical success factors, and in order to strengthen these qualities, leaders must re-evaluate their strategic planning, governance, reporting processes, and more. At the same time, they must continue to deliver on their operational mandates.
Even before the pandemic struck, static, multi-year strategic planning was becoming a poor fit for the fast pace of business and technological change. Recognizing that it's no longer possible to plan effectively and accurately for years in advance, smart leaders are exploring ways to guide strategic vision and direction while allowing for quick pivots and adaptability. Increasingly, leaders are combining long-term goal setting with short (e.g., monthly) planning cycles to identify high-priority goals and set measurable target outcomes that can be adjusted as needed. For example, a Canadian services agency recently shifted from a traditional strategic plan and multi-year roadmap model to an iterative, principles-based framework that allows the organization to pivot and realign priorities to meet emerging challenges. This framework enables leaders and teams to plan their priorities iteratively to respond to shifting requirements while still aligning to the organization's overarching strategic goals and vision.As organizations shift to more adaptive approaches, teams are adopting agile planning tools and techniques to co-ordinate day-to-day work. In addition to the aforementioned daily scrum, these tools and techniques include online digital task boards that ensure the transparency of assignments and short planning sessions that allow teams to adapt on the fly.
Lessons learned
Although the challenge of effective remote work has been thrust upon us, navigating challenges has always been central to success in business leadership. Smart business leaders are taking the lessons learned from leading organizations and incorporating them into their own approaches. Businesses of every size must make the changes necessary to meet the challenges of COVID-19, and having a solid strategy for digital transformation is key to ensuring the best possible outcome.
---
Helen Fotos, PMP, is an independent technology and management consultant with Metronome Consulting Inc. in Victoria. She specializes in helping enterprise-scale clients improve business agility through organizational design, technology modernization, and digital transformation.
Originally appeared in the September/October 2020 issue of CPABC in Focus.
1 Twitter, May 21, 2020. See also: Jack Kelly, "Here Are the Companies Leading the Work From Home Revolution," Forbes, May 24, 2020.