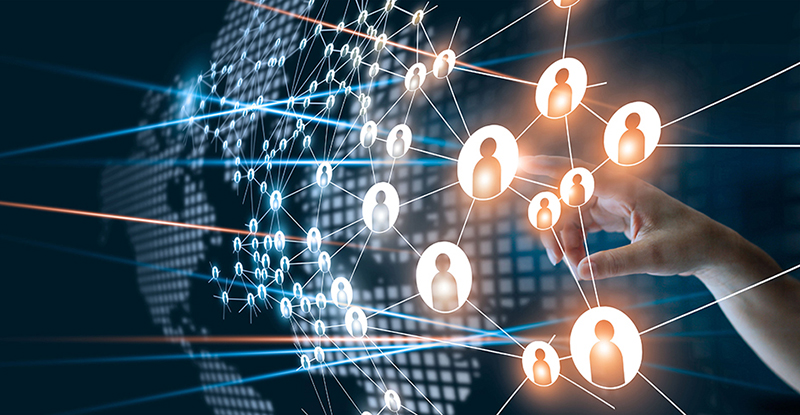 Photo credit: ipopba//iStock/Getty Images
Digital technology defines the world we live in and affects all areas of business performance. And while 27% of Canadian executives say the lack of suitably skilled teams is the top barrier to success in digital initiatives, they are less likely than their global counterparts to invest in training their people to work in the digital age according to PwC's 22nd annual CEO Survey.
However, today's environment demands that organizations invest in training. As fast-moving fields like AI, automation, and blockchain enter the mainstream, everyone will need to adopt an always-on approach to learning.
Most important digital skills
When it comes to digital, Canadian executives demonstrate some differences in comparison to their global counterparts. For example, they rank strategy and planning as the digital skill most important to their organizations, while global leaders place user experience and human-centred design at the top of their list.
While Canadian executives are positive about their digital strategy and planning, they are less likely to say their organizations have well-developed digital skills. When asked to choose three skills that are most important to their organization, Canadian respondents only gave, on average, 2.15 digital skills out of the five listed below, versus their global peers at 2.5. Compared to their global counterparts, the data shows that Canadian organizations have a shortsighted view of digital strategy. They underestimate the value of emerging tech and cybersecurity skills to their organizations.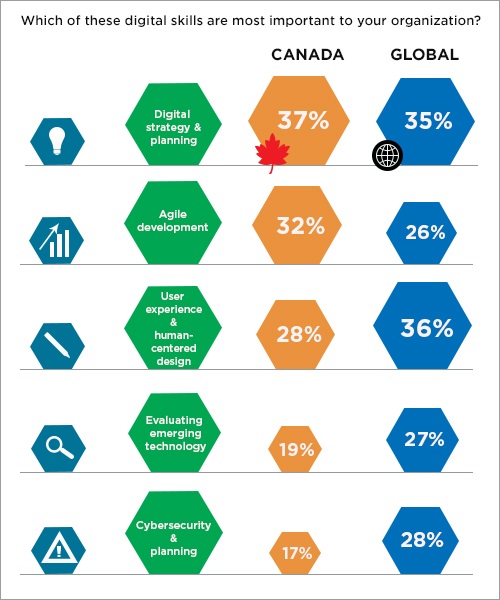 This suggests they are less positive overall about the actual digital skill sets they have within their organization, versus their overall plan, about which they were more positive. This speaks to the gap between having a digital strategy, but not investing in the skills training necessary for their teams to put this strategy into action.
The lower result in human-centred design approach (28% said it was important) also speaks to Canadian organizations' lack of the digital skills necessary to foster the cultural change and agility required to set them apart from their counterparts on the global stage.
Training is a low priority
Interestingly, Canadian executives are significantly less likely than their global counterparts to say their organization trains their employees to work with new technology. The survey also showed they're slightly less likely to train employees on changes to their jobs, with only 36% of Canadian executives saying they do so, compared with 40% globally.
While this could be due to the larger percentage of respondents from the energy, utilities and mining sector than last year's survey, it could also speak to the broader view of the value of people and training.
Examining the skills training issue from a provincial perspective, CPABC's president and CEO, Lori Mathison notes, "For BC's economy to grow sustainability its workforce needs to be versatile and have the skills that employers require, both in the short and long-term. This involves ongoing collaboration between employers, post-secondary institutions, and government."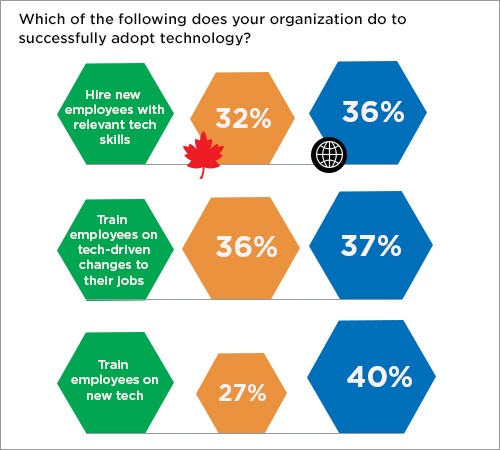 The relationship between EX and CX
A higher digital IQ is connected to better financial performance. But the danger is that the digital strategy is inherently top-down and hierarchical. This doesn't bode well for employee experience (EX) because workers aren't included in the digital strategy. When employees are disconnected from both the digital and broader strategies of the organization, workers are less inclined to use the technologies at hand to make sure the customer experience (CX) is positive.
EX has been shown as critical to the financial performance of an organization. Of the organizations with the best financial performance, the global digital IQ results showed that 91% had an executive in charge of EX. Canadian organizations are less likely to make the business case for having an executive in charge: only 74% of respondents said this was the reality. Similarly, when it comes to CX, Canadian organizations often make it the responsibility of human resources, rather than appointing a specific person to address the issue.
Key takeaway: Invest in the workforce
Unlike their global counterparts, some Canadian executives think they can hire their way out of a skills gap or rely on educational institutions training the workforce of tomorrow. Many Canadian leaders still lack an appreciation of the importance of digital transformation and experience to their success.
The reality is, businesses need to step up investment in increasing their employees' skills, particularly in their tech capabilities. Organizations that have done this have seen noticeable payoffs: 74% of those who reported an improvement in talent retention and recruitment because of digital investments said the level of improvement met what was expected, if not more.
---
Kate Furber, CPA, CA, leads PwC Canada's BC Region Private Company Services practice. As an audit and risk assurance partner, Kate not only leads audit teams, but also assists companies with their risk assurance, controls, and corporate governance requirements.
This article is a summary of the PwC publication, Workforce of the Future.