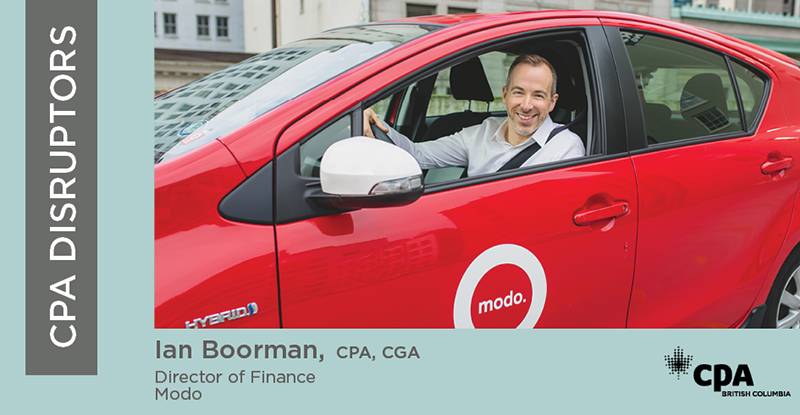 Photo credit: Wink Photography
Disruptor company: Modo Co-operative
Director of Finance: Ian Boorman, CPA, CGA
Headquarters: Vancouver, BC
Key technologies: Booking software, vehicle hardware and telematics, keyless fob vehicle access
Disrupting: Transportation and household economics, carsharing versus privately owning or using company vehicles
The sharing economy has erupted worldwide in recent years and continues to boom. Whether it's the short-term usage of cars, bikes, accommodation, or even furniture or sports equipment, there's been a shift towards paying for temporary usage versus committing to ownership. One business at the forefront of this movement is Modo Co-operative, the first carshare co-operative in North America.
"Modo was the first organization in BC to disrupt the idea that one needs to own a car to get around. This in turn significantly disrupts household economics, when you consider the cost of transportation is the second largest monthly expense for many people after housing," says Modo's director of finance, Ian Boorman, CPA, CGA. "Our purpose is to transform communities by connecting people with places in a way that's affordable, convenient, inclusive, and sustainable."
"Choosing carsharing over ownership allows for significant savings and much better uses of disposable income, while maintaining convenient access to a vehicle when needed," adds Ian. "Had Modo not paved the way for carsharing 22 years ago, it's possible Vancouver would not be the carshare capital of North America today."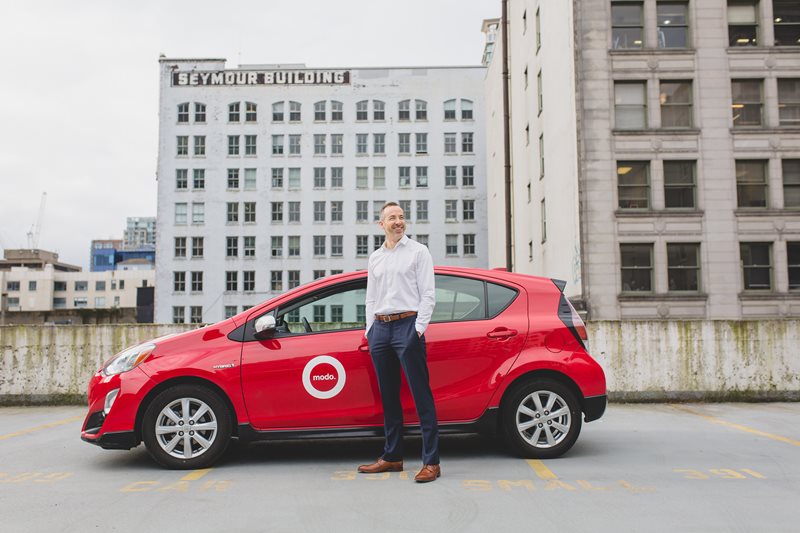 Modo's director of finance, Ian Boorman, CPA, CGA. Photo credit: Wink Photography
Early beginnings
Modo launched in 1997 as part of a Simon Fraser University thesis project aimed at making vehicle access affordable and convenient without the cost and hassle associated with car ownership such as insurance, car maintenance, and gas. A co-operative business, Modo began with two vehicles servicing 16 members in Vancouver's West End community, and has since expanded to 22,000 members and 700 cars located across the province in over 25 municipalities.
Modo's business model proved to be an early leader in the cultural shift towards a sharing economy, a movement that is now collectively projected to reach $335 billion by 2025. Furthermore, there's also been a shift by organizations to extend beyond a sharing economy to a circular economy, where assets are shared with a strong focus on sustainability – a focus that has always been top-of-mind with Modo, given its goals of reducing traffic congestion and greenhouse gas emissions.
And despite the onset of other carshare companies throughout BC, Modo continues to innovate and find new ways to disrupt transportation and household economics, while also leading the way as a good corporate citizen and respected employer.
Disrupting traditional transportation
Modo provides access to a diverse fleet of vehicles for round-trip purposes. Members book online through Modo's website, or on a smartphone via Modo's app or by phoning in to select a vehicle, date and time, and pick-up location. Vehicles can be booked for under an hour or up to a week, with usage fees determined by time used and kilometres driven.
When Modo began in 1997, customer usage was manually recorded in trip log books. As Modo grew, it developed one of the world's first carshare booking software systems, which Modo eventually licensed to developing carshare companies. Today, there are 10 carshares across North America that use this booking software, helping to grow the carshare movement.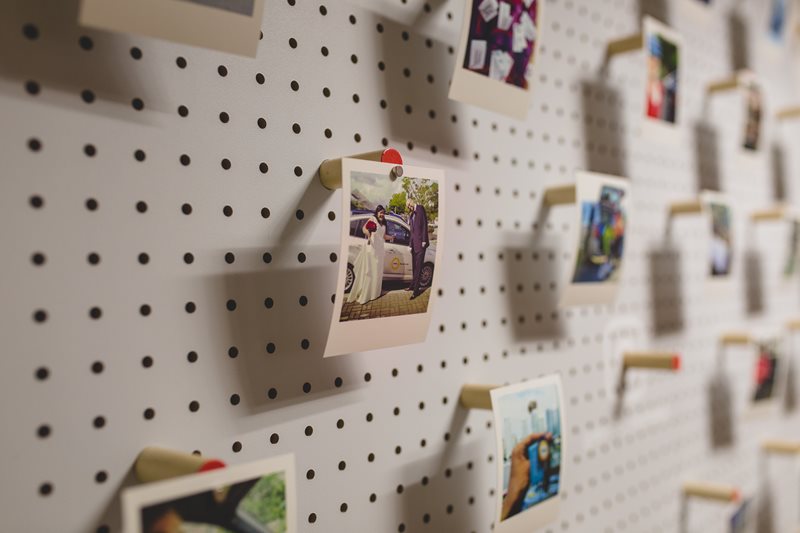 The Modo office has a wall dedicated to displaying photos that capture happy Modo member moments. Photo credit: Wink Photography
Other firsts include Modo's work with the City of Vancouver to develop the first shared vehicle parking permits, and an incentive program to get carshare vehicles into residential developments. And while all of this has paved the way for other carshares to enter the space, Ian explains this doesn't necessarily serve as a threat. Modo provides a large selection of vehicles to choose from allowing users to book vehicles for specific needs, such as truck for moving, or a SUV for a camping trip.
The diversity of vehicles available, as well as the ability to book up to a year in advance are features that differentiate Modo from other carshares in Vancouver such as Evo and Car2Go, in addition to being a local and member-owned co-operative. In fact, over half of Modo's 22,000 members are member-owners, having purchased shares.
Modo operates on a cost recovery model as shares are not traded nor do they appreciate in value, and surpluses have not historically been paid out to shareholders. Much of the revenue generated from Modo's three income streams – membership fees, vehicle usage charges, and the licensing of its vehicle-booking software – go towards making carsharing as affordable as possible for Modo's members.
Ian's journey to Modo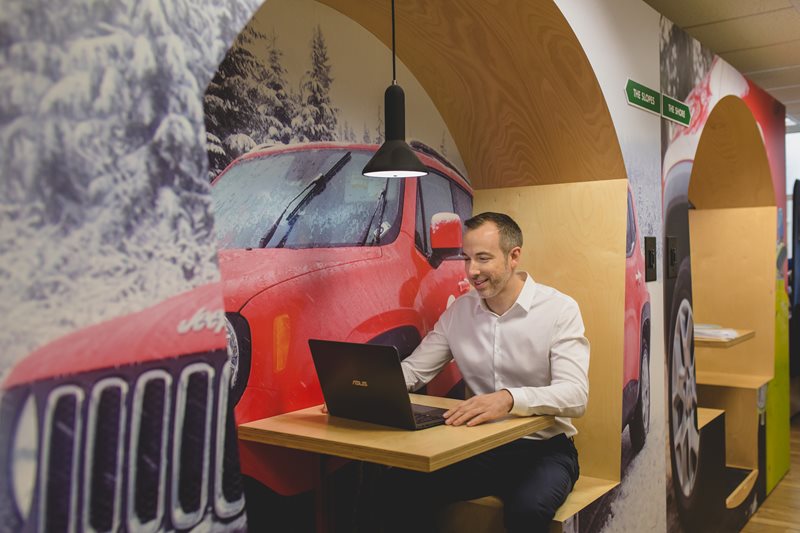 Ian's passions for the scenic outdoors and entrepreneurship eventually led him to Vancouver and Modo. Photo credit: Wink Photography
Originally from Gloucester, UK, Ian studied law before his aptitude for numbers and interest in business led him to accounting and pursuing his Chartered Professional Accountant designation. After working for a management consulting and private equity firm in London for seven years, Ian's love for travelling and the outdoors transported him to New Zealand, where he eventually took on the role of finance director for Teletrac Navman, a global vehicle GPS fleet management business.
"Teletrac Navman was an exciting business to work for, given the mix of innovation and entrepreneurship inherent in a tech company, combined with the responsibilities of reporting to a NYSE-listed parent company," Ian explains.
Ian's time at Teletrac Navman proved to be advantageous when he relocated to Vancouver and joined Modo. Besides providing him with experience leading a transportation and technology-centred company, Ian credits Teletrac Navman's balanced mindset as beneficial to his current role.
Related articles
"At Teletrac Navman, we made sure to not let perfect get in the way of better. While it's tempting to strive to achieve perfection in all things, in business (and particularly in fast-moving and innovative businesses), it can become counter-productive and often does not get the best results," explains Ian.
In carrying this mindset with him to Modo, Ian adds, "Members of co-operatives often see themselves as part owners and hold high expectations. Not only do they demand the best value, they also want timely solutions to their needs. Modo's ability to be nimble, react quickly, and refine later, is one of its keys to success and strong member satisfaction."
Driving to new opportunities
As the popularity of carsharing continues to rise, Ian notes the largest increases to Modo's demand outside Metro Vancouver has been in Greater Victoria, Nanaimo, the Okanagan, and Squamish.
"Demand is especially strong in the suburbs, which are markets that have historically been underserved by rapid transit and other carshare operators," notes Ian.
Ian explains that Modo's business strategy always incorporates its commitment to communities and sustainability. Photo credit: Wink Photography
"As a co-op, it's important we keep our rates affordable, so we only add cars when demand warrants it. This differs from the 'build it and they will come' approach many corporate operators take."
Ian notes that Modo's triple bottom line – effectively its commitment to communities, sustainability, and business success – continues to drive the organization to new business initiatives.
Some of these new initiatives include Modo's partnership with West Vancouver's Kiwanis Seniors Home which gives residents exclusive usage of Modo. Modo has also launched a "vanpool" project with TransLink, combining carsharing and carpooling, as an extension to public transit for employers with difficult-to-reach worksites.
An employment leader
Throughout Modo's business success, it has also continued to lead the way in valuing employees. In 2018, Modo became Living Wage certified, ensuring all employees receive at least $20.91 an hour, which is currently determined to be the minimum wage required to reflect the true cost of living in Metro Vancouver.
"Being a Living Wage employer is not only good for people, it's good for business," states Ian. "By paying our employees and major contractors a wage that reflects the true cost of living, we are making a much-needed investment in the long-term prosperity of our communities and economy."
Modo is a proud Living Wage-certified employer. Photo credit: Wink Photography
As Modo continues to find new ways to serve communities across BC, Ian points to a quote from former Italian race-car champion, Mario Andretti, that he draws inspiration from: "If everything seems under control, then you're not going fast enough."
Ian explains, "This quote speaks to me as we continually need to be pushing boundaries. It's a reminder to never sit back and enjoy the status quo when you could be improving processes and quality to make a real difference to your business."
Read more profiles on CPAs who are leading innovative BC-based companies in disrupting the traditional business landscape.
---
Vince Kanasoot is a communications specialist with CPABC.