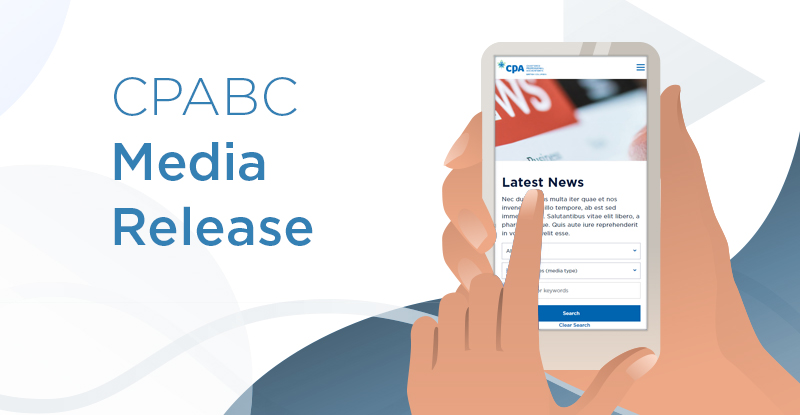 VANCOUVER, February 4, 2019 — The Chartered Professional Accountants of British Columbia (CPABC) is proud to recognize 25 exceptional CPAs that make up this year's CPABC Member Recognition Award recipients at the annual Member Recognition Awards Dinner on February 12, 2019.
Of the 25 recipients, four honourees – Lenard Boggio, FCPA, FCA, Shelley Brown, FCPA, FCA, CM, Gordon Holloway, FCPA, FCA, and Peter Norwood, FCPA, FCA, FCMA – will be presented with a Lifetime Achievement Award, the profession's top accolade to recognize their achievements in their careers and in their community.
In addition, CPABC is recognizing 14 B.C. CPAs with a fellowship (FCPA), which is the highest distinction to be bestowed upon a CPA. These individuals are among today's leading accounting and business professionals proudly representing their profession and designation: Roger Bissoondatt, FCPA, FCA FCMA; Starr Carson, FCPA, FCA; Carlo De Mello, FCPA, FCA; Terry Duggan, FCPA, FCGA; Divyesh (Dave) Gadhia, FCPA, FCA; Kenneth Laloge, FCPA, FCA; Nancy McKenzie, FCPA, FCA; Cathy McLay, FCPA, FCMA; Jennie Moushos, FCPA, FCA, FCMA; Steven Reed, FCPA, FCA; David Schellenberg, FCPA, FCA; Eric Stebner, FCPA, FCA; Alexander (Sandy) Stedman, FCPA, FCA; and Michael Stubbing, FCPA, FCA.
Two B.C. CPAs have also been recognized for their exceptional achievements early in their careers, and dedication to their communities with an Early Achievement Award: Matthew Anderson, CPA, CA and Judy Hoang, CPA, CA.
The Member Recognition Awards Dinner will also present five CPAs with a Distinguished Service Award for their volunteerism: Caroline Andrewes, CPA, CMA, Robert Holden, CPA, CA, Leigh Sindlinger, CPA, CGA, Vickie Whitehead, CPA, CGA, and Christine Woodington, CPA, CGA.
"We are thrilled to recognize the 25 individuals who embody the best qualities of a CPA – integrity, professionalism, and dedication – in everything they do. We are proud of their accomplishments and successes," said Lori Mathison, FCPA, FCGA, LLB, president and CEO of CPABC.
CPABC's Member Recognition Awards are given in four categories: Lifetime Achievement, Fellows of the Chartered Professional Accountants (FCPA), Distinguished Service, and Early Achievement. Recipients come from diverse professional backgrounds from across British Columbia.
To read the profiles of all the award winners, visit bccpa.ca/members/recognition-program.
NOTE TO JOURNALISTS: Publication quality photos of the recipients are available.
---
About CPA British Columbia
The Chartered Professional Accountants of British Columbia (CPABC) is the training, governing, and regulatory body for more than 36,000 CPA members and 6,000 CPA students and candidates. CPABC carries out its primary mission to protect the public by enforcing the highest professional and ethical standards and contributing to the advancement of public policy. CPAs are recognized internationally for bringing superior financial expertise, strategic thinking, business insight, and leadership to organizations.
– 30 –
For more information or to arrange an interview, contact:
Vivian Tse, Public Affairs Manager
604.488.2647