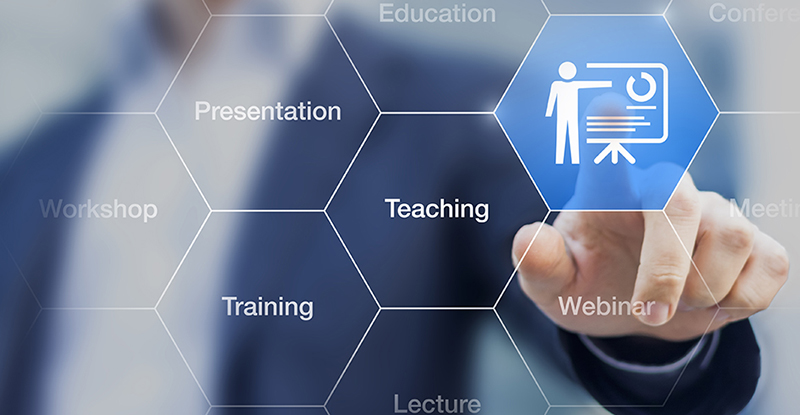 Photo credit: NicoElNino/iStock/Getty Images
Hear from Lisa Dorian at her upcoming seminars:
---
Learning in the workplace has evolved dramatically over the last decade. Whereas before we would wait for a course or a conference to attend, we now have access to all sorts of online and on-demand learning resources, thanks to the rapid advance of technology.
Another contributor to this evolution is a change in employee preferences related to job satisfaction. A recent survey by the online learning and teaching provider Udemy shows that 46% of employees are bored in their current position because of limited opportunities to learn new skills. This has led organizations to consider moving to a culture of learning.
The question for now is, how can learning be offered in a way that takes advantage of technological advances, and satisfies employee needs and desires? Some organizations rely on their human resources learning and development (L&D) team to identify learning programs that may be relevant or of interest. However, according to Gartner Research, only 31% of business leaders think L&D provides learning solutions that are relevant to their needs. Further, in a 2014 Gartner survey1, 79% of respondents said their learning came from sources outside the L&D function. What does this all mean? Primarily, it means that until companies can elevate their learning and development to create a culture of learning, it is left to the individual to seek out their learning opportunities.
The key is to identify the skills you wish to develop and how you will obtain them. In this way, you will avoid the shotgun approach – learning targeted at as large an audience as possible, not customized to individual needs – that often leads to lost productivity with little benefit to you or your organization.
Performance-adjacent learning
So, how can you take control of your learning at work? One approach that's starting to gain momentum is the concept of performance-adjacent learning – that is, learning in short bursts while working, on topics that are connected to the task at hand. This concept is continuous in nature and is meant to be minimally disruptive to workflow. It also flows nicely into a learning culture. Performance-adjacent learning suggests that we have access to the learning resources we need on-demand to solve our immediate work-related challenges. But what do we need from those learning resources and how are they provided?
Develop a learning agenda
Looking first to content, the "what" of learning resources, the best approach to knowing what you need to learn is to develop a learning agenda. Consult with your L&D team (or those who fills a similar role in your office). By working with them collaboratively, you can identify what key skills you need to most efficiently perform your work. From there, you can prioritize the learning that will be required, and your L&D team can assist in helping to identify the necessary content.
Identify resources that fit your needs
The second consideration is the delivery methodology, the "how" part of the equation. In a recent study conducted by O'Reilly Media it was found that 42% of people don't learn in a linear fashion, and this is especially true of learners who have a higher degree of proficiency in their current position. In performance-adjacent learning, this translates to having access to learning resources when needed, not when available. It also means those resources must be highly searchable, so the learner can access the specific topic they need to solve a problem for, without having to watch an entire e-learning module, sit through a training session, or flip through an e-book.
Examples of learning resources could include searchable and interactive pdfs, micro-learning such as short "how-to" videos, and training via videos on mobile devices, all of which, when compiled, produce a learning management system (LMS). This infographic from The L&D Innovations Bullseye report by CEB, gives an example of the latest innovations in L&D. Using this as guidance, you can identify components that can nicely fit into a performance-adjacent learning platform.
Summing up
Performance-adjacent learning doesn't negate attending in-person seminars and conferences, which offer substantial value both to the organization and the individual. In-person learning events allow for social learning to occur and to build a network of resources that can complement performance-adjacent learning.
However, the personalized training opportunities provided by performance adjacent learning are increasingly suited to today's workplace, allowing you to avoid the generic or irrelevant in favour of learning that is customized to your own needs and preferences.
---
Lisa Dorian, CPA, CA, CPA (IL), CRMA, is managing director of Learning Strategies Group's US operations. She has designed, developed, and delivered numerous training programs for organizations globally.