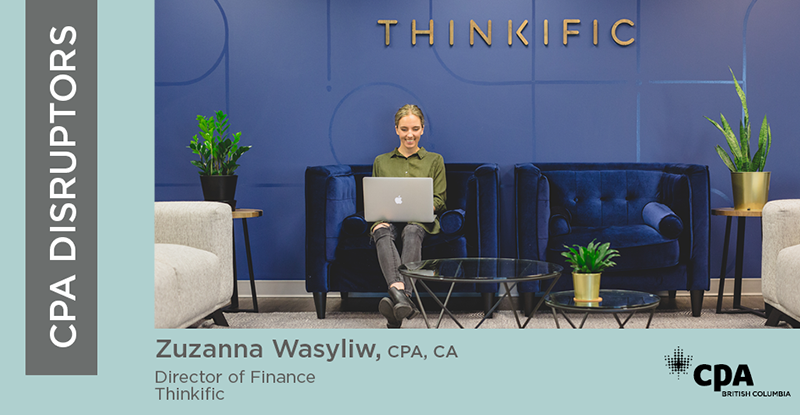 Photo credit: Wink Photography
Disruptor company: Thinkific
Director of finance: Zuzanna Wasyliw, CPA, CA
Headquarters: Vancouver, BC
Key technologies: Learning management systems; a self-serve platform to create your own online course website.
Disruption: Education
In today's digital age, "e-learning" might not seem like a revolutionary technology. But when the co-founders of Thinkific created their first online course in 2007, it set them on a path to disrupt the way people around the world create and access education.
At the time, Greg Smith was teaching a weekend LSAT prep course at the University of British Columbia. As his course gained popularity, Greg and his brother Matt created an online version to reach more students. The online course went viral and soon other educators were reaching out to Greg and Matt for help with building their own online courses.
Seeing an opportunity to help others with their expertise, Greg and Matt launched Thinkific in 2012. The web-based learning platform enables entrepreneurs and businesses to create, market, and sell their own online courses. Thinkific's customers—including former NFL player Lewis Howes and social media app companies Hootsuite and Later—are now teaching everything from self-empowerment and social media management to ukulele lessons and speed reading techniques.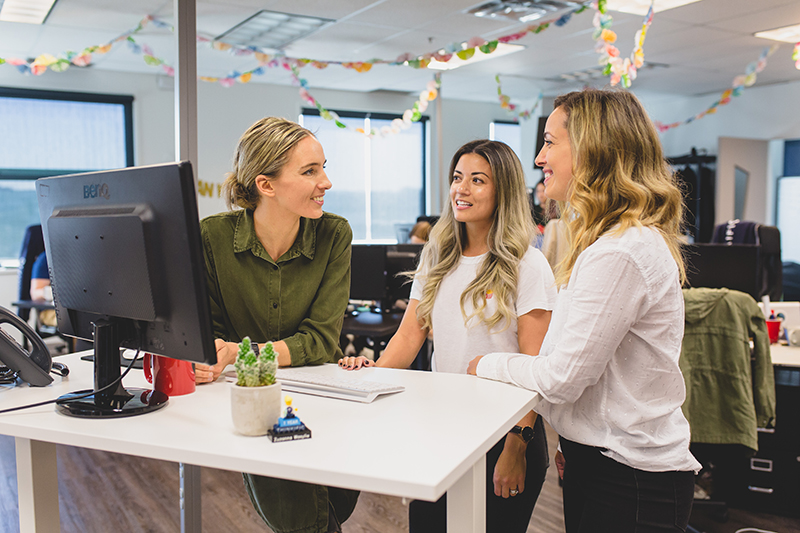 Zuzanna Wasyliw, CPA, CA, director of finance at Thinkific (left) with her co-workers. Photo credit: Wink Photography
Prior to Thinkific's launch, the technology behind online learning—Learning Management Systems (LMS)—was typically used by educational institutions or by businesses that were looking to train employees. Thinkific was a first-mover in making it easy for businesses and individuals outside the traditional educational sector to offer courses to drive revenue.
If you haven't heard of Thinkific, that's because the software is designed to work behind the scenes to allow content creators to customize everything, so it looks and feels like their own brand.
If you wanted to take a course taught by one of Thinkific's customers, you'd access the content directly from the course creator's website. These course creators are able to manage their website, course offerings, customer support, and other features by selecting the Thinkific subscription plan that fits the scale of their business.
In August 2019, the company launched a new tier—Thinkific Plus—to support businesses with aggressive growth projections. 'Plus' customers are assigned an account manager and have access to advanced customization and integration options, compliance documentation, and Plus security features.
"Thinkific's platform gives people the tools they need to turn their expertise into a sustainable business," explains chartered professional accountant Zuzanna Wasyliw, the company's director of finance. "It makes it easy for them to create their own courses to drive revenue, attract new customers, or pair with existing products and services."
In just a few short years, Thinkific has grown from a small start-up to a company with over 36,000 course creators teaching in 164 countries, in more than 20 languages. Since its launch, the company has achieved a 191% compound annual growth rate year-over-year, and its customers have earned more than $200 million from running their courses through Thinkific.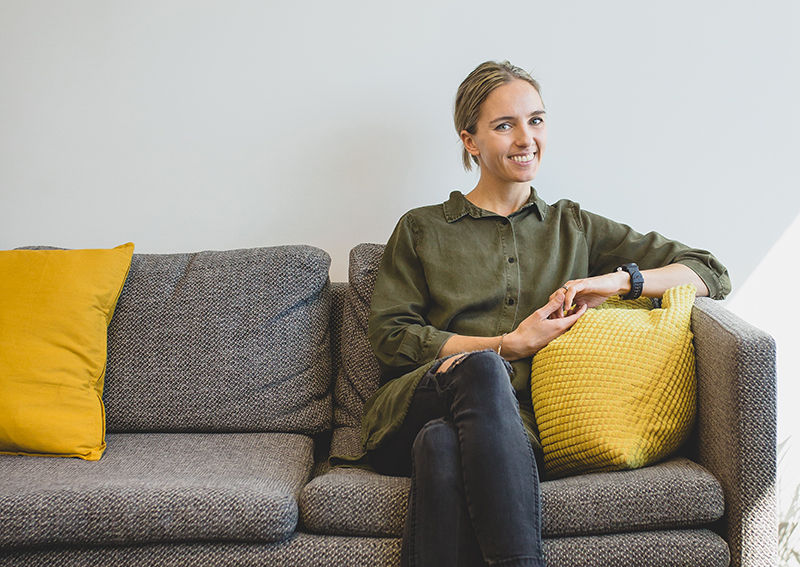 Photo credit: Wink Photography
Disrupting e-learning through customization and scalability
"Thinkific is designed to be the core operating system for a business," Zuzanna says. "Our users have total control over their courses, settings, and data. They can set pricing, schedule lessons, and automate their content to curate a unique learning experience for their students." So, how does it work?
After choosing a subscription plan, the customer can start creating their courses on Thinkific's platform, with the option of adding videos, quizzes, discussion forums, and other features to supplement their content using a drag-and-drop builder. From there, users can choose to transfer their content to their existing website or run their courses directly through Thinkific. Once courses are ready for delivery, Thinkific also offers e-commerce tools to market, sell, and measure the success of the courses.
In response to customer experiences, Thinkific has continued to add new features. For example, after recognizing that some customers may not have the resources—or the coding knowledge—to set up and maintain their own website, Thinkific launched a Site Builder tool. And to make sure courses are easy to share with a growing audience base, the company has ensured compatibility with thousands of marketing and business automation tools through both native features and partner integrations.
Related articles:
Capitalizing on new market trends
While Thinkific was initially designed for independent educators, now entrepreneurs and even large companies are using Thinkific to create online courses under their own brand.
"Businesses are realizing that offering training to potential and existing customers can be a massive revenue driver," Zuzanna explains.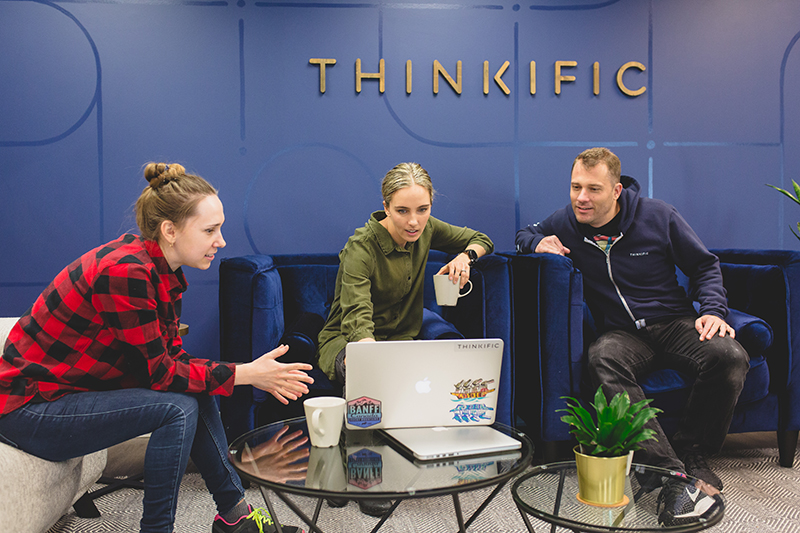 Photo credit: Wink Photography
A prime example is Hootsuite Academy, an online portal powered by Thinkific that teaches Hootsuite customers to become social media managers. Since it launched in 2016, Hootsuite Academy has reached more than 400,000 students and partnered with 1,000 universities worldwide.
The success of Hootsuite Academy made Thinkific aware of the opportunities available in this new customer segment, and the company has since worked on similar projects with other customers. In fact, Thinkific continually follows market trends to identify commonalities among its customers and then build products or services based on those attributes to enhance customer success.
For instance, since a large number of Thinkific customers are active on YouTube, the company hosted a "YouTube Creator Summit"—a free, three-day virtual conference featuring presentations from 12 YouTube experts who have harnessed the power of monetizing their video channels.
The 2019 summit allowed content creators around the world to gain valuable takeaways and strategies to grow their business—including tips for supplementing their YouTube channels with online courses. At the same time, Thinkific hosted a daily YouTube Live Q&A session through the company's own YouTube channel to answer questions about online courses and content strategies.
Transforming a self-employed start-up into a financially-savvy industry leader
In 2017, Zuzanna joined Thinkific as the director of finance to ensure the company could sustain its high-growth trajectory in a way that allowed its operations to catch up to its revenue. Armed with 10 years of public practice accounting experience with KPMG—including a two-year secondment in their Geneva office—Zuzanna had been exposed to business models ranging from small private entities to multi-billion dollar publicly-traded corporations and the unique challenges that each of them faced.
"I was gaining invaluable experience at the firm," she recounts. "But I wanted to widen my skill set by having the opportunity to focus on one company and directly influence its growth and strategy."
Her first task was building Thinkific's finance department from the ground up—and doing it quickly.
"I was taking on a company that didn't have a finance or accounting function—nor did it have official processes or controls," she explains. "While in some ways it actually made it easier to try to design and implement everything from a clean slate, there were also tasks that I had never done before that I was now responsible for. But these challenges are what make the role so exciting."
Empowering employees to drive success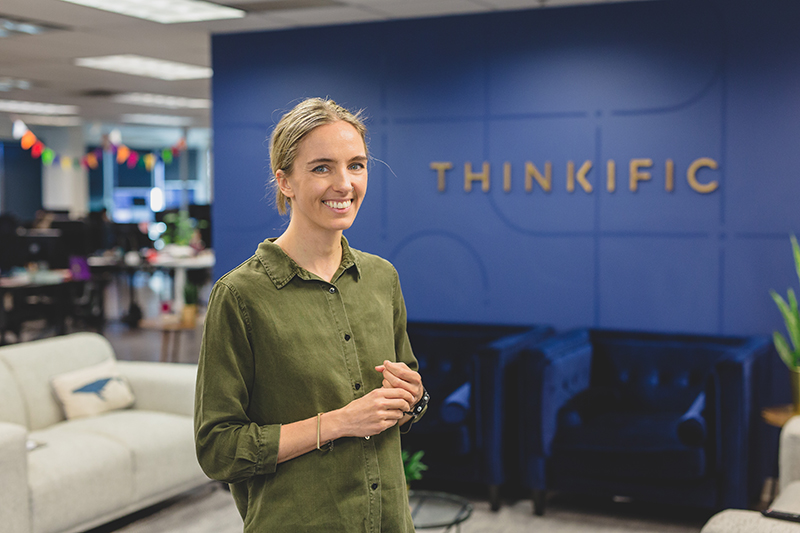 Photo credit: Wink Photography
Since her arrival, Zuzanna has led the development and execution of the finance strategy, hired and trained additional finance staff, and implemented the necessary controls and processes to support the scalability of the company.
"Everyone now has a better understanding of our finances, and they are more conscientious about cash flow management and their impact on the company," she says.
With additional cash inflows, Thinkific has been able to grow sustainably and strategically—hiring more staff, increasing training budgets, and implementing new systems to make operations more efficient.
"The benefit of working at a fast-growing company is that the dynamic is ever-changing. We work as a team and regularly achieve milestones that we are all proud of," Zuzanna notes.
And in a customer service-driven environment such as Thinkific, teamwork is at the heart of all business activities.
"I truly believe that team members are a company's most valuable asset. I believe that people are motivated when they have the ability to contribute to the final decision-making process," she says. "I always want to hear other people's inputs as it helps me see things from different perspectives."
Staying future-focused
Looking ahead, Thinkific continues to focus on expanding its revenue channels and growing its customer base.
"One of our most effective ways of reaching new customers has been to establish meaningful, reciprocal partnerships with influencers, affiliates, agencies, and other software companies," Zuzanna explains. "The key to this success has been finding partners with complementary services and a similar audience base."
While Thinkific continues to expand and disrupt the online learning space, it still remains true to its mission to "revolutionize the way people learn and earn online" by allowing millions of people worldwide to follow their passion or discover a new one through accessible, customized content.
"With today's easy and instant access to mainstream media and the influence it can have, it can be difficult to independently determine who you are, what drives you, and what you want to accomplish," Zuzanna says.
"At Thinkific, we're trying to use that influence for 'good.' We're helping our customers share their passion with others—and build a thriving business out of it—so they can help their audience carve their own way and accomplish their own goals. It's really rewarding to be a part of that."
Read more profiles on CPAs who are leading innovative BC-based companies in disrupting the traditional business landscape.
---
Megan Hooge is a communications assistant with the Chartered Professional Accountants of British Columbia.